'Frozen' Niagara Falls Pictures Renew Interest In Struggling Tourist Town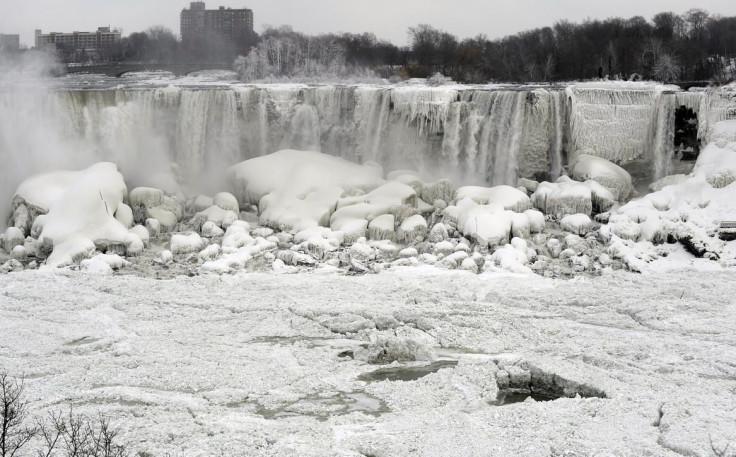 Mix together some new and outdated photos, swirl in some crafty public relations work, zest it up with some viral marketing and then blanket everything in frozen icing. That, in essence, was the recipe for Niagara Falls' very good week in the international spotlight.
It all started last Tuesday when photos of an icy Niagara Falls fooled many around the world into believing that the famed cataract -- which sees more than 700,000 gallons of water per second -- had suddenly frozen in place. Soon "Frozen Niagara Falls" was the second highest trend on Yahoo in the United States, while photos of the icon garnered headlines from Singapore to South Africa.
However, despite the photos, despite the headlines and despite myths to the contrary, Niagara Falls did not freeze during the polar vortex, nor has it ever entirely frozen in recorded history, though an ice jam upstream in the Niagara River reduced the flow of water to a mere trickle for several hours on March 29, 1849.
Frozen or not, the public relations team behind Niagara USA capitalized on the opportunity to showcase their region on Twitter, Facebook and Instagram. Thanks to the attention, the Explore Niagara Falls USA Facebook page trebled to "a solid 40,000 likes."
"Still flowing and going strong like #NiagaraUSA," the tourism board wrote on Facebook Saturday. "Thank you for helping us reach 40,000 likes!"
If it were any other American attraction, such good fortune would hardly be newsworthy. But Niagara Falls, N.Y., has spent the past 50 years as the perpetual underdog -- and who doesn't like to root for the underdog?
Niagara Falls Reborn
The border-straddling cities of Niagara Falls, N.Y., and Niagara Falls, Ont., receive a combined 12 million visitors each year. But these numbers are much smaller than the region saw in its heyday when it was known as the honeymoon capital of the world and a place of jaw-dropping spectacles.
Of the two cities bisected by the falls, the New York side faces much greater economic woes than its glitzy, Las Vegas-like neighbor. Once home to more than 100,000 people, the city lost half of its residents and, in the process, gained the look and feel of a place long past its peak.
Yet things are looking up. New York Gov. Andrew Cuomo launched a $40 million development competition in October to select a team of world-class designers, developers and operators to revitalize downtown Niagara Falls. The biggest problem, experts agree, is a lack of quality hotel rooms.
The New York side of Niagara Falls attracts about 8 million visitors annually, and while that's more than most U.S. national parks -- and nearly double visitor figures at the Grand Canyon -- overnight stays and visitor spending pale by comparison.
Consequently, Niagara Falls, N.Y., is in the midst of a hotel boom with seven projects either planned or under way, representing a combined $100 million in investment. These projects are expected to provide the city with almost 1,000 new or renovated rooms aimed at higher-end clientele -- most of whom are currently lost to hotels on the Canadian side.
A 2011 study by HVS Consulting and Valuation Services found that 66 percent of the accommodation options in Niagara Falls, N.Y., catered to budget or economy travelers, putting it at a competitive disadvantage to its Canadian counterpart. Those invested in the city's tourism industry hope the new hotel rooms will not only provide a nicer place to stay, but also give visitors a reason to stay longer and spend more.
Of course, they need to attract more people if they're to add more hotel rooms, which is why the "frozen Niagara Falls" pictures could not have come at a better time. "P.T. Barnum was right, there really is no such thing as bad publicity," Niagara Falls Mayor Paul A. Dyster told the Niagara Gazette Sunday. "Any attention we get certainly bodes well for our upcoming 2014 tourist season."
John Percy, head of the Niagara Tourism and Convention Corp., told the paper that the added media attention supported ongoing efforts to boost tourism numbers during the traditionally slower winter months. "It's more coverage than we get sometimes in the summertime," Percy said. "We really are trying to market Niagara as a year-round destination, so we'll take the coverage."
The cherry on top for Niagara Falls, N.Y., came over the weekend when The New York Times named the city one of its top spots to visit in 2014, saying the "once kitsch capital" had now earned a reputation for its food scene.
"A year ago, the Niagara Falls Culinary Institute opened a high-end restaurant, deli, patisserie and gelateria steps from the American Falls, transforming the area's dining scene overnight," the paper said in its roundup. "A gastro pub called the Griffon Pub, which features 50 beers on tap and creative New American dishes like gnocchi poutine, opened a few miles east of the falls in August."
If the nod from The New York Times, the unprecedented publicity this past week and the ambitious redevelopment plans are any indication, 2014 may finally be the year when Niagara Falls, N.Y., breaks free from its reputation as a city "frozen" in a bygone era.
© Copyright IBTimes 2023. All rights reserved.