'Furious 7' Trailer Release Date Scheduled For Nov. 1; Michelle Rodriguez Opens Up About 'Fast & Furious' Star Paul Walker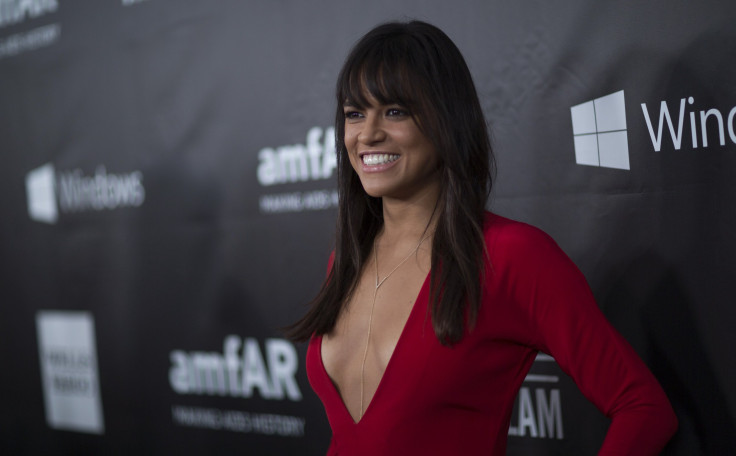 The first trailer for "Furious 7" (formerly titled "Fast & Furious 7") is set to debut on Saturday, Nov. 1. The film has been long awaited and highly anticipated following its delay after star Paul Walker died in a tragic car accident on Nov. 30, 2013. Now, with the franchise revving up its engines once again, some of Walker's co-stars are speaking out about their late friend.
In a recent interview with E! at an amfAR L.A. red carpet event, "Furious 7" star Michelle Rodriguez was asked what Walker would have thought about the upcoming film. Her response was both heartfelt and touchingly jovial.
"He would gaze with his beautiful blue eyes and that wonderful, amazing, childlike smile that he would get whenever he'd have, like, a cargasm... [he] would just go from ear to ear, and he'd be like, 'Finally, it's in the f--king can!'" she said.
Rodriguez worked with Walker in three of the seven "Fast" films.
"'Cause that's his whole thing, the entire franchise, after every single one," Rodriguez said, miming a Walker shrug: "'I just don't think it's in the can yet.' That was the ongoing thing."
Meanwhile, Walker's on-screen wife, Jordana Brewster, told E! recently that she's excited for fans to see Walker's character again.
"I think the beautiful thing is that they get to see Paul again (in the film) ... and in a way celebrate him," Brewster said, "I've heard he's really really good in it (film), so I look forward to seeing him too."
Walker was killed in a car accident during the production of the upcoming film. Production of the movie was stopped while the creators figured out what to do. According to The Hollywood Reporter, they decided to use existing footage of Walker and "retire" his character rather than kill him off. The late actor's brothers, Cody and Caleb Walker, stepped in to help with this process.
"Furious 7" is scheduled for release on April 3, 2015. The trailer for the film will be out in full on Saturday.
© Copyright IBTimes 2023. All rights reserved.