'Game Of Thrones' Season 5 Spoilers: Theon Greyjoy Actor Alfie Allen Teases 'Light At The End Of The Tunnel' For Reek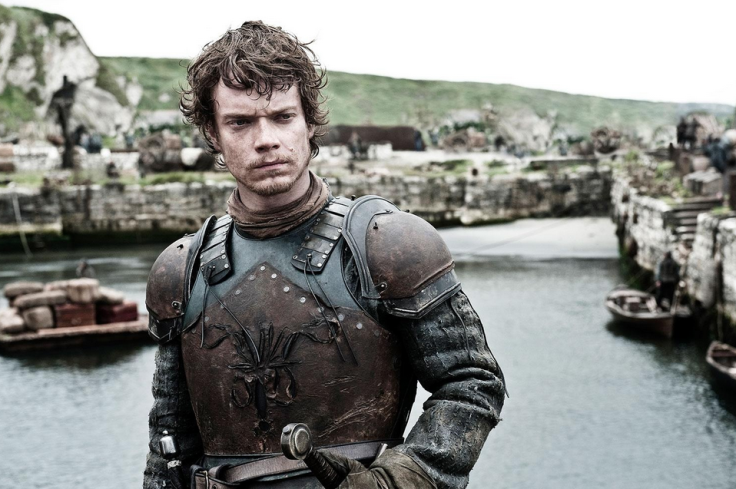 "Game of Thrones" is a massive show with more subplots and characters than most fans can effectively follow. It is not hard to forget about certain characters who have taken a backseat in the current storylines. For example, fans may have forgotten about Theon Greyjoy ("Alfie Allen"). The character was absent from the latter episodes of Season 4 and his few scenes from the season were brief -- though intensely disturbing. In a recent interview with Digital Trends, actor Alfie Allen hinted at what is in store for his character in the HBO series' upcoming Season 5.
For the past two seasons, Theon has not quite been Theon, but instead has assumed the guise of Reek – the tortured servant of Ramsay Bolton (Iwan Rheon). Last fans saw of the characters, Bolton had made Reek "pretend" to be Theon again to help ambush an Ironborn garrison at Moat Cailin. So, things have gotten pretty bleak for Theon/Reek, but according to Allen, there is still hope for the character.
"Theon will definitely go through his trials and tribulations this season. And there may be, in some sort of 'Game of Thrones' way, a light at the end of the tunnel for him," Allen told Digital Trends. "There's definitely a moment or two — and one in particular — that will really blow people away."
Does that "light at the end of the tunnel" mean Theon will finally break free from Bolton's imprisonment? His escape could be the moment that, as Allen describes, will blow fans away.
Fans of the "Song of Ice and Fire" book series might already know that Theon's future might be best described as "out of the frying pan and into the fire," but fans of the show will have to wait to find out what happens. Theon, Bolton and the rest of "Game of Thrones" will return to HBO on April 12 with the Season 5 premiere.
Will Theon escape from Ramsay Bolton? Tweet your thoughts to @Ja9GarofaloTV.
© Copyright IBTimes 2023. All rights reserved.