'Garage Sale Mysteries: Pandora's Box Murders' Hallmark Movies Premiere: Cast, Trailer, Synopsis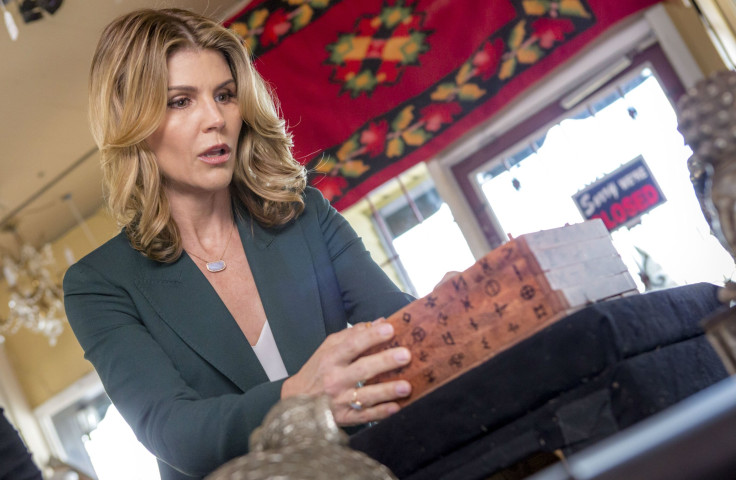 Between her popular drama series "When Calls the Heart" and her seasonal movies, Hallmark keeps Lori Loughlin very busy. Her work with the company goes above even all of that, though. She also heads up the "Garage Sale Mystery" franchise, which began in 2013 and is set to premiere its 12th installment on Sunday.
The latest movie in the series, titled "Garage Sale Mysteries: The Pandora's Box Murders," will air on Hallmark Movies & Mysteries and will act as the kickoff to the network's Garage Sale Mysteries Month. A new movie in the franchise will premiere every Sunday during August.
In this first new one, "garage sale shopper extraordinaire Jennifer Shannon (Loughlin) and her resale business partner Dani (Sarah Strange) have agreed to be the subjects of a new reality show where Jennifer comes in contact with a mysterious puzzle box that belonged to Elizabeth Andronicus (Terry O'Sulllivan), the matriarch of a powerful local family of real estate developers whose latest project is unpopular with many people in town," the synopsis begins.
Jennifer wonders if something valuable's inside of the box, according to the trailer. The mystery of what's inside isn't the only thing she must figure out, though. Tamara (Jessie Fraser), the daughter-in-law of the deceased woman, was the one to bring in the puzzle box, but she's later found dead by Jennifer. She's lifeless by the bottom of the same stairs that Mrs. Andronicus "fell" down a few days earlier.
"Her curiosity piqued, Jennifer embarks on her own unorthodox investigation of the murders," the synopsis continues. "Jenn learns that both of the grown Andronicus sons, who have been on the 'outs' with one another for some time, had returned to town from business trips before Elizabeth's death, so both become suspects in her mind. She begins digging for clues, which she willingly shares with Detective Lynwood (Kevin O'Grady), who by now has come to expect Jenn's 'off-the-record' investigation style. As always, he warns her to steer clear and, as always, she pretty much ignores his advice."
Aside from the case, Jenn's busy dealing with all that's going on with her family. Her daughter, Hannah (Eva Bourne), has her sights set on a young cop, while her son, Logan (Connor Stanhope), is working random jobs to pay for the damage he did to his dad's antique car.
"The set of the reality show provides another potential suspect, as the show's jittery producer Joel Jacobs (Locylyn Munro) reveals a past gambling connection to the Andronicus family, and he was the last person seen with the box before it went missing," the synopsis reveals. "The suspect list grows even longer when Jenn discovers a long-standing affair between Tamara Andronicus and lawyer Allan Demetry (Kirby Morrow)."
Just as family patriarch Harvey Andronicus (Fred Henderson) returns to town, Jenn realizes she knows who's behind the deaths. Unfortunately, it's just after she's able to decode the puzzle box that she finds herself in danger of being the next victim.
Watch Jenn solve the case when "Garage Sale Mysteries: The Pandora's Box Murders" premieres on Hallmark Movies & Mysteries on Sunday at 9 p.m. EDT.
© Copyright IBTimes 2023. All rights reserved.