'Signed, Sealed, Delivered: To The Altar' Hallmark Movies Premiere: Cast, Trailer, Synopsis
The moment "Signed, Sealed, Delivered" fans have been waiting a long time for is almost here. In the franchise's latest installment, "Signed, Sealed, Delivered: To The Altar," which airs Sunday on Hallmark Movies & Mysteries, Norman (Geoff Gustafson) and Rita (Crystal Lowe) are finally getting married.
This is the 12th movie in the series, which also had one season of a show in 2014, and will once again feature Eric Mabius and Kristin Booth alongside the aforementioned actors. Here's what else can fans expect to see in the latest "Signed, Sealed, Delivered" flick.
"Last-minute plans are underway during the week leading up to the Haywith-Dorman nuptials, including a girls' night out, a surprise bachelor party, and all the things that can go wrong," the synopsis begins. "At the DOL office, Shane (Booth) retrieves an undeliverable package that is now earmarked for auction. The package contains a lace wedding gown and Shane wants to purchase it outright. However, when she tries it on and discovers a hidden pocket with a letter inside, it becomes clear that, with this new clue to consider, the team must surely make another attempt to reunite the wedding dress with its rightful recipient before giving up."
The package was sent almost a year ago and the letter doesn't have much information about who the sender was, or who was supposed to receive it. This is what the POstables do best, though. There are some clues, including "high-quality paper with the top portion cut off, a pastiche of commemorative stamps on the package, each of which celebrates women who were courageous pioneers of their time, and the language of the letter itself," the synopsis reveals.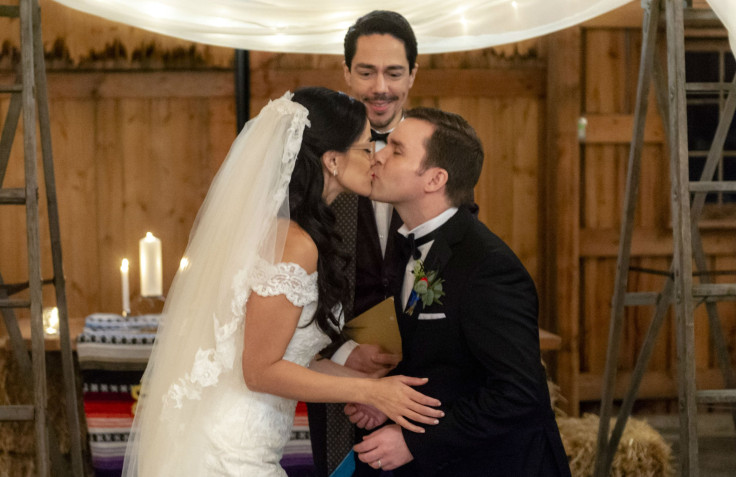 On the wedding side of things, Shane asks Joe O'Toole (Gregory Harrison) to help his son Oliver thrown a surprise bachelor party for Norman because she knows that stuffy Oliver doesn't really know what to do. Over at the Haywith farm, Bill (Barry Bostwick) gives Rita and Norman a handmade canoe for their wedding gift. Unfortunately, Norman shares with Oliver that he doesn't know how to swim.
"At long last, the team puts together all the clues and successfully place the package in the hands of its rightful recipient, author Jessica Gordon (Jessica Sipos)," the synopsis continues. "Even though this part of their mission is complete, Shane convinces Oliver that they need to press on to reunite mother and daughter, especially since they are so close to locating the mother."
After getting some help, Oliver's bachelor party for Norman ends up being a big success, with a major surprise. Norman's grandmother Ardis (Carol Burnett), who had been somewhere in Patagonia, makes an exciting appearance. Once the party's over, and the mother-daughter reunion with the package is complete, the group must deal with a new challenge. The wedding venue, a church, becomes overrun with skunks. Luckily, they're quick on their feet and Norman and Rita decide to have their nuptials at Bill's farm.
Attend the ceremony when "Signed, Sealed, Delivered: To The Altar" premieres on Hallmark Movies & Mysteries on Sunday at 9 p.m. EDT.
© Copyright IBTimes 2023. All rights reserved.
FOLLOW MORE IBT NEWS ON THE BELOW CHANNELS