Gavin Newsom's Sean Hannity Interview: Homeless Crisis, Biden's Fitness And Other Key Takeaways
KEY POINTS
This marked the governor's first interview with the conservative cable news network in over a decade
Newsom also addressed concerns about President Joe Biden's mental fitness
The interview was broadcast on "Hannity" at 9 p.m. on Monday night
California Gov. Gavin Newsom sat down with Sean Hannity for an interview on Fox News' "Hannity," facing questions about the homeless crisis in California, among other topics.
This marked the governor's first interview with the conservative cable news network in over a decade. The complete interview broadcast on "Hannity" at 9 p.m. on Monday night.
According to an excerpt provided by Fox News, the California governor candidly stated there has been no progress in addressing homelessness in the state over the past two decades.
During the interview, the host, Hannity, questioned Newsom about the reasons for the state's backsliding on the issue of homelessness. Hannity also pushed back when Newsom attempted to attribute the blame to a Republican governor from 18 years ago.
"Because housing costs are too high," Newsom said. "Our regulatory thickets are too problematic. Localism has been too impactful, meaning people locally are pushing back against new housing starts and construction. I've been here four years. I can't make up for the fact in 2005 we had an historic number of homeless under a Republican administration."
During the interview, Hannity brought up the topic of Gov. Ron DeSantis of Florida, a Republican, in relation to Newsom. The feud between the two governors has been escalating in recent weeks, with Florida enacting "anti-woke" legislation while California grapples with issues like homelessness and population, according to the Deadline.
Hannity also expressed his interest in organizing a series of debates called "The Great Debates." He proposed he would moderate these debates, featuring "the best, brightest leading conservative minds" as well as some of the "best, brightest left-wing minds" or "liberal minds," including Governor Newsom, whom he placed in the latter category.
Newsom was asked about receiving requests to join the presidential race, particularly in light of recent polls indicating concerns about President Joe Biden's mental fitness for office. Governor Newsom responded by saying, "I see where you're going with that. No--I'm not answering."
Although rumors about Newsom's potential presidential ambitions have circulated, he previously endorsed President Biden's re-election bid in April in an effort to dispel such speculations.
Meanwhile, Newsom addressed concerns about President Biden's mental fitness and expressed his belief the latter was mentally sharp. Newsom stated he has frequent conversations with President Biden, and asserted, "I have conversations with him all the time. Yes, I do [believe he's sharp enough]. I'm dead serious about that." His comments indicated Newsom's confidence in President Biden's cognitive abilities.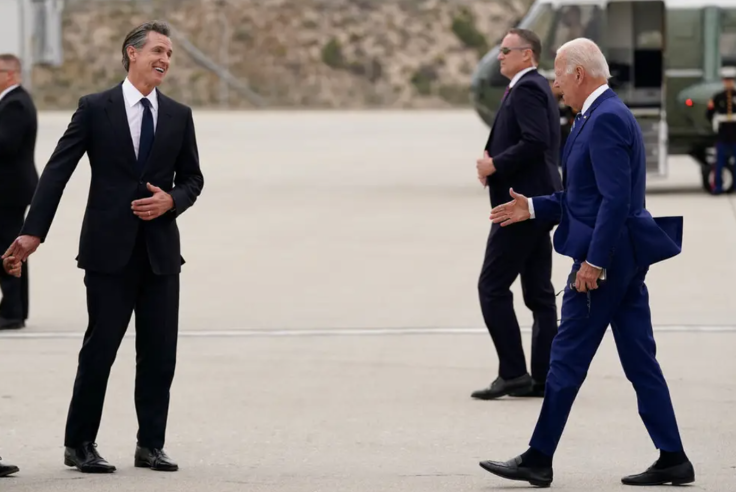 © Copyright IBTimes 2023. All rights reserved.