'General Hospital' Spoilers': Will Nina Use Harmony To Manipulate Michael, Willow For Wiley?
Nina is determined to be a part of Wiley's life, and on the Monday, March 21, episode of "General Hospital," she will see an opportunity to move a step closer to her goal.
In the promo video for the ABC soap opera, Nina (Cynthia Watros) wishes Michael (Chad Duell) and Willow (Katelyn MacMullen) would have a revelation. "GH" spoilers reveal Nina uncovers a connection.
In the previous episode, Nina suggested she and Harmony (​​Priscilla Garita) team up to exercise their visitation rights to Wiley (Viron Weaver) since they are his grandparents.
Harmony agreed to the plan just as Phyllis (Joyce Guy) recognized her as Lorraine Miller. Viewers are aware that Lorraine was Harmony's real name before she joined a cult.
This means Phyllis could have known Harmony before she joined the cult or during her early days as a cult member.
It appears Nina and Phyllis will eventually have a private conversation in which Nina reflects on wishing Michael and Willow would realize the value of having her in Wiley's life.
Nina will also learn Harmony and Phyllis had a past together. Will Nina use the new information she learns about Harmony to further manipulate her into gaining access to Wiley?
Also in the ABC promo video, Sonny (Maurice Benard) appears to be at the police station as he yells what do you want from me. "General Hospital" spoilers reveal Sonny gets an unexpected call.
In the previous episode, Michael was arrested after he punched a reporter who spoke rudely about Josslyn's (Eden McCoy) leaked sex tape. Michael was unaware of his sister's scandal and furious with the reporter.
It appears Sonny will receive a call about his son's arrest and rush down to the police station. However, Michael won't be interested in anything his father has to say.
Michael is still furious with Sonny for cheating on Carly with Nina and destroying their marriage. Will Michael and Sonny's latest argument add further strain on their relationship?
Other "GH" spoilers reveal TJ (Tajh Bellow) and Epiphany (Sonya Eddy) treat one of their own, Michael finds himself in some trouble, and Alexis (Nancy Lee Grahn) hears a pitch and is torn about whether to run the story.
"General Hospital" airs weekdays at 3 p.m. ET on ABC.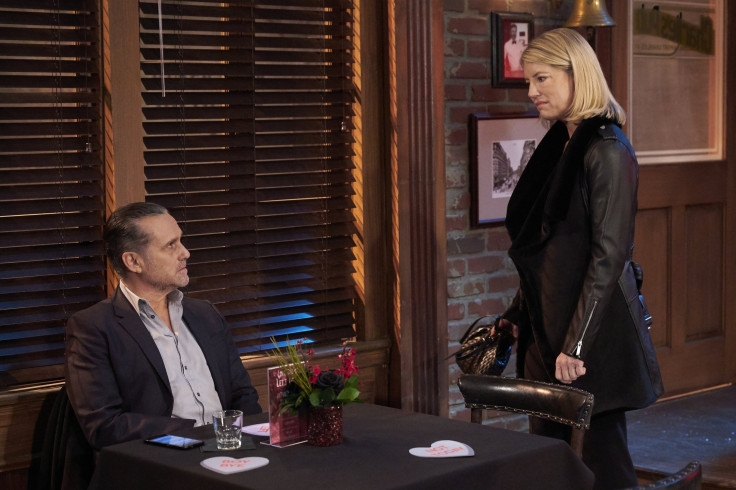 © Copyright IBTimes 2023. All rights reserved.