'Genital Jousting' Multiplayer Game Designed To Stir Serious Discussion Among Men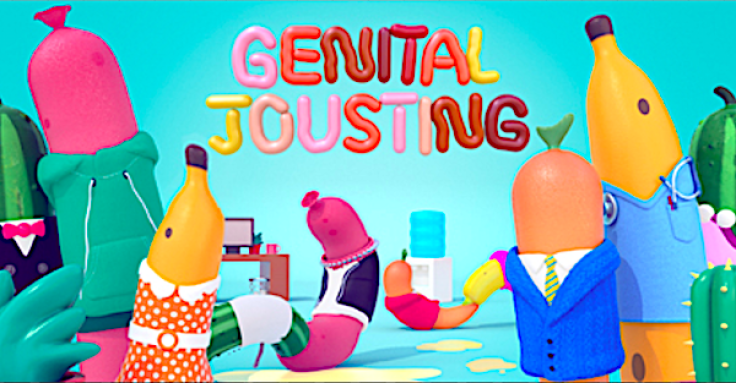 Developer Free Lives' unique multiplayer game "Genital Jousting" has just left Early Access. This means the PC game that is sure to bring in several rounds of laughs is officially live on Steam.
In case you missed it, "Genital Jousting" is "an online and local multiplayer party game about flaccid penises and wiggly anuses for up to eight players at once." The idea behind the game is actually ludicrous, but Free Lives maintains that it created the game "because we want to, and because we think it should exist."
The developer admits on its blog that "Genital Jousting" is indeed a comedy game that houses a couple of silly penis-themed mini-games. However, Free Lives maintains that the game delivers a strong message to those who dare to indulge in its silliness.
"'Genital Jousting' is undoubtedly a joke. It's a comedy game, and a lot of the design is simply formed by what we think is funny, ridiculous or gross," the developer explained. "But we like to think of the game as a trojan horse — a way to deliver a sex positive message to an audience that might never get to hear it otherwise."
Free Lives also admitted that it is a team composed of "white dudes with a passing interest in sticking things in our butts." This perhaps explains the Party Mode mini-game titles "Double Delight," "Obstacle Intercourse" and "Weiner Round Up." Plus, the game also allows players to consensually penetrate their peers.
Interestingly, "Genital Jousting" features a narrative that's made for two. According to Eurogamer, the special romance mode follows the story of John, a penis who is eager to find someone to bring to his high school reunion. In this mode, players can do a lot of typical human activities like picking roses or bowling. Check out the story mode below.
"How do you feel about penises touching each other? Why do you feel that way? What about anal pleasure? — these are the kinds of questions we hope the game can elicit. These are also the kinds of conversations we want to have with our friends, but as men, we've been socialized not to," Free Lives said.
The developer also shared that during the early stages of development, "Genital Jousting" provided them with a platform to discuss the aforesaid ideas among themselves. And now that the game is going public, it wants to share that platform with others.
"The most rewarding moments are when we see it provoking discussion or critical thinking amongst players," the developer stated. "If even just a few people challenge their assumptions about sexuality, then perhaps we've made something worthwhile?"
"Genital Jousting" is now available on Steam for $6.99.
© Copyright IBTimes 2023. All rights reserved.