'Genshin Impact 1.5: Weekly Boss Azhdaha Video Showing Intro, Phase One Showcase Leaked
KEY POINTS
"Genshin Impact" 1.4 is now live
Rumors about the next "Genshin Impact" update are rife online
A new leak reveals the identity of a new weekly boss
A new "Genshin Impact" 1.5 leak recently surfaced online showcasing the video of the rumored new boss Azhdaha also known as Dahaka.
'Genshin Impact' New Weekly Boss
Industry insider and reliable "Genshin Impact" tipster AeEntrophy shared on Twitter a new video showcasing the new boss Azhdaha or Dahaka. The brief clip apparently shows the introduction and phase one scenes of the upcoming "Genshin Impact" 1.5 weekly boss. The new boss seems to be one of the toughest bosses ever released in the hit gacha title.
His enormous size is remarkably larger compared to that of the PrimoGeovishap. Interestingly, Wangsheng Funeral Parlor, via DualShockers, shared more details about the new boss coming to "Genshin Impact" 1.5. It appears that the new boss respawns in the same way as the weekly bosses.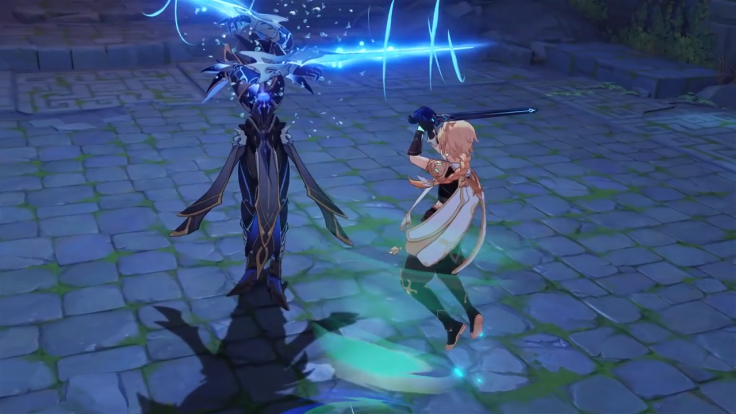 Azhdaha reportedly observes the same rotation and requires 60 resin. Its resin requirement system is a permanent feature, according to the report. In terms of damage caused, Dahaka causes damage similar to Childe. If players do not dodge properly, in-game characters like Ganyu could easily get killed.
Apparently, Azhdaha has several elemental types. It can use Cryo, Pyro, Hydro and Electro, but it could only utilize two elements each time. Additionally, just like all other weekly bosses in "Genshin Impact," players can fight him anytime, including in co-op fight.
Azhdaha Lore
Based on the "Genshin Impact" lore, the term Azhdaha refers to a dragon introduced in some Liyue legends. The term is also mentioned in the ancient tablet in Tianqiu Valley, which begins the Trails in Tianqiu world quest. Azhdaha is a mythical creature in Iranian mythology, considered a snake while it is estimated to be equivalent to a dragon.
According to myths, Azdahas grow too large and caused terror on land. As a result, God cast them down to the sea to continue to grow and eventually developed fin-like wings. In the lore for The Unforged, Jiu's dialogue hinted that the dragon sealed under the trees found at Nantianmen is also Azhdaha.
© Copyright IBTimes 2023. All rights reserved.