Georgia Deploys National Guard After Breaking Daily COVID-19 Case Record
KEY POINTS
Kemp said approximately 196 National Guard troops will be deployed across Georgia hospitals and testing sites
Georgia logged a record single-day increase of 13,670 new confirmed and probable COVID-19 cases Tuesday
The Republican governor has refused to implement new restrictions or mandates
Georgia will deploy the National Guard after the state shattered its single-day record for COVID-19 cases. Despite a surge in infections, Republican Gov. Brian Kemp has refused to implement measures related to vaccine and mask mandates.
In a statement Wednesday, Kemp said the government "will be deploying approximately 200 troops starting January 3."
In August, Georgia authorized the deployment of up to 2,500 National Guard troops for the state's COVID-19 battle. At that time, more than 100 troops were deployed. This time, about 96 troops will be deployed across testing sites and the local Department of Public Health (DPH), while an estimated 100 troops will be assigned to hospitals. Other servicemen will "be operating at capacity and fulfilling assignments by January 18," Kemp said.
Kemp's announcement came one day after the state logged 13,670 new confirmed and probable COVID-19 cases Tuesday, breaking the previous record of 10,165 in a single day on Jan. 8.
The surge in COVID-19 cases across the state, driven by the Omicron variant, also triggered increased demand in testing. Georgia's DPH has also been ramping up testing capacity over the last few weeks. In the last seven days, the number of PCR tests administered across the state increased by 31%, WGCL-TV reported.
In Atlanta, several testing sites saw an influx of people lining up for tests. Vehicles were seen lined up along several blocks as online and physical stores ran out of rapid tests, The Atlanta Journal-Constitution reported.
Despite the rising COVID-19 cases in Georgia, Kemp did not announce mask or vaccine mandates. The governor himself is fully vaccinated and has received his booster shot. He has also reiterated that he "will absolutely not be implementing any measures that shutter businesses or divide the vaccinated from the unvaccinated, or the masked from the unmasked."
"I will continue to urge Georgians to talk with their doctors about the benefits of getting this life-saving vaccine or receiving their booster shot," Kemp said.
Data from the government's Vaccine Distribution Dashboard showed that 60% of the state's total eligible population have received at least one dose of the vaccine, and 53% have been fully vaccinated. The state had administered more than 13 million vaccines. Since the pandemic started, Georgia has recorded a total of 1,384,606 confirmed COVID-19 cases and 26,358 deaths linked to the disease, the government data revealed.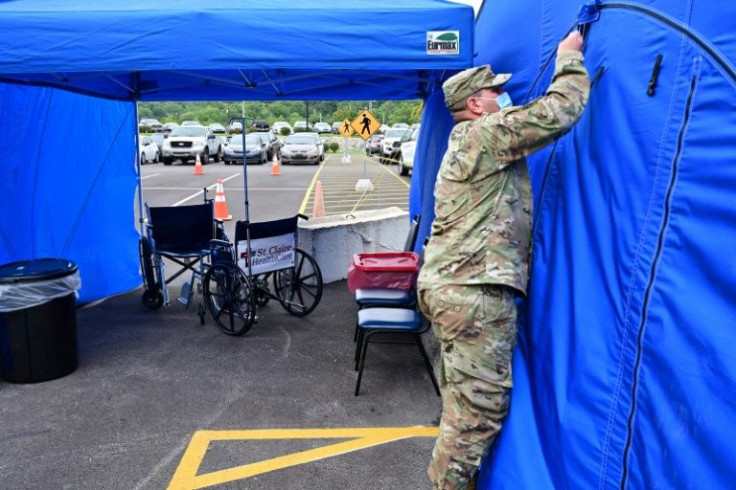 © Copyright IBTimes 2023. All rights reserved.