Georgia, Kentucky Primaries: Women From Democratic Party Score Big
Tuesday was a big day for two Democratic women — Stacey Abrams and Amy McGrath — who emerged victorious in the primary elections in Georgia and Kentucky respectively, ahead of the 2018 midterm elections.
Abrams won the Democratic primary for governor in Georgia on Tuesday, thus becoming the first black female nominee for the post in the United States. She beat former state Rep. Stacey Evans. A lawyer by profession, Abrams represented the House of Representatives from 2007 to 2017 and was also the house minority leader for the Georgia General Assembly. She was the first woman to hold the post in the Assembly.
Abrams, 44, was born in Madison, Wisconsin, and she grew up in Gulfport, Mississippi, with her five siblings. Her family later moved to Atlanta, where she attended Avondale High School. Abrams was also the first African-American valedictorian in the school. She received her law degree from Yale University.
In an interview to CNN's Kyung Lah before the elections, Abrams said, "As an African-American woman, I will be doing something no one else has done."
Recalling an incident where she was denied entry inside the Georgia Governor's mansion to attend an event honoring the state's top students, she said, "In front of the most powerful place in Georgia, telling me I don't belong there, that's resonated for me for the last 20 years. The reality is having a right to be places does not always mean that you'll gain admission."
If she wins the general election in November, she will become the nation's first black female governor and also the first woman to hold the post in Georgia. At present, six states — Alabama, Iowa, New Mexico, Oklahoma, Oregon and Rhode Island — have female governors.
Abrams had the backing of many including Hillary Clinton and Vermont Sen. Bernie Sanders, New Jersey Sen. Cory Booker and California Sen. Kamala Harris. Booker and Harris even campaigned for her in Georgia.
Georgia congressman and civil rights leader John Lewis called Abrams "the only leader in the race who has the experience and an ambitious vision to uplift all families in our state.
"Georgia is a fast-changing state with demographic parity," Abrams said. "But, I'm running to be the governor of all Georgians, because all Americans deserve leaders who care about them and who don't work only for the privileged, but for justice."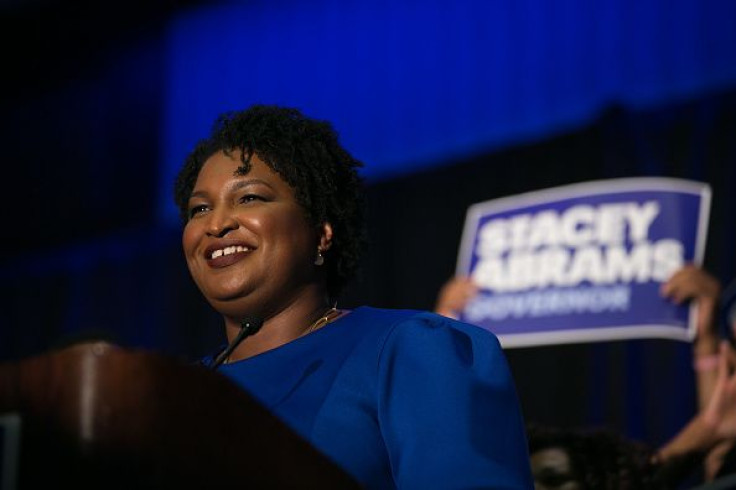 Abrams's victory came hours after McGrath, a former fighter pilot, defeated Lexington Mayor Jim Gray in a Democratic primary House race in Kentucky. A political newcomer, McGrath won the Democratic nomination in the state's 6th congressional district by receiving 49 percent of the vote against Gray's 41 percent, according to the Associated Press. McGrath will now face Republican Rep. Andy Barr in the midterm election to be held in November.
According to a report in the Huffington Post, McGrath, as a child, started a letter-writing campaign to lawmakers in Kentucky urging them to lift the ban on female fighter pilots. She enrolled in the U.S. Naval Academy after the Pentagon lifted its ban some years later. She was the "first ever female marine to fly a combat mission in an F/A-18 fighter jet" and had served in Afghanistan and Iraq.
Speaking after her victory Tuesday, McGrath said, "Six months ago, political pundits and establishment insiders didn't think we could pull this off. Did you ever show them! What those insiders maybe still don't know is how this happened. Well, I know how it happened. It's because you all care about the future of our country, and you have a renewed sense — a purpose — in fighting for what America really is," Vox reported.
During her campaign, McGrath used her "newcomer" status to argue she would be able to bring a fresh generation of leadership to Congress.
© Copyright IBTimes 2023. All rights reserved.