Georgia Teen, Malik Cortez-Lidal Johnson, Killed 'Playing Chicken' With Freight Train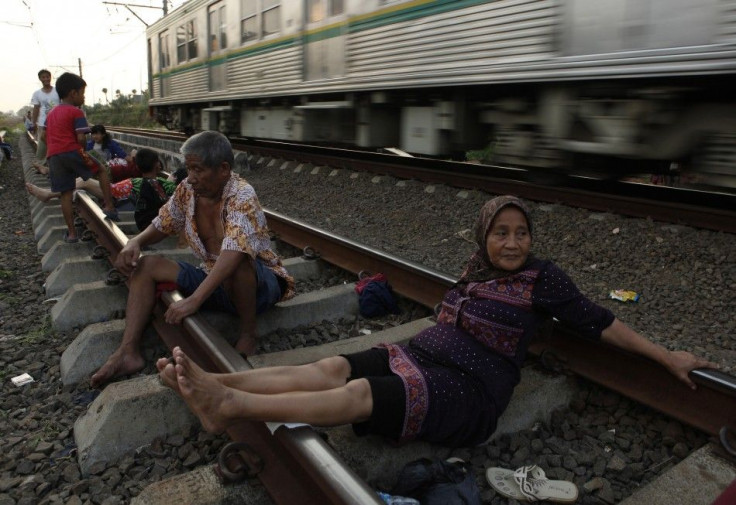 A Georgia teenager was killed by an ongoing freight train early Sunday morning after playing what police described as a game of "chicken."
According to the Rome News-Tribune, Malik Cortez-Lidal Johnson, a 17-year-old from Rome, Ga., had been playing on the railroad tracks with five other teens when he was fatally struck by the freight train at approximately 12:25 a.m. The train was reportedly traveling at 55 mph and heading southward toward Atlanta when it struck Johnson near the intersection of Callahan Street. Floyd County Deputy Coroner Ernie Studard pronounced Johnson dead at the scene.
Lt. John Walters of the Rome Police Department said Johnson and his friends had been playing a game in which each of them laid on the tracks as a train approached and competed to see who could hold out the longest before fleeing. In a move that proved fatal, Johnson reportedly waited the longest before he finally leapt to avoid getting hit by the train. However, according to Walters, just as Johnson was jumping off the tracks he was pulled back down by the train.
Walters said that all of Johnson's friends managed to escape without injury. "They were laying on the tracks and the last one to get up [before a train came] wasn't chicken," Walters said. "He didn't jump up quick enough."
Walters speculated that Johnson and his friends may have been drawn to the game by YouTube videos showing similar stunts.
"If you go on YouTube and type in something like 'kids playing chicken with a train,' you get all these videos of ways kids are playing," Walters said. "Kids have access to everything."
Walters added that the teens' behavior violated trespassing laws. "The biggest thing people need to understand is that railroad property is private property. You're not supposed to be walking on that property at all," he said. "Sometimes it's an attraction for people to walk down it. I don't know what the attraction is, but there is one. Stay on the sidewalks and on normal paths of travel."
The Rome Police Department is reportedly conducting a joint investigation into the matter along with Norfolk Southern Corp., the transportation company that owns the railroad tracks.
Although criminal trespassing charges are possible, Susan Terpay, a public relations director for Norfolk Southern Corp., said on Sunday that no charges had yet been filed.
Johnson was formerly a student at Rome Middle School, but school officials say that he had withdrawn almost a year ago and moved to Alabama.
"Malik Johnson has not been a student at Rome Middle School since September 4, 2012," the school's principal Greg Christian said. "He left our school and moved to Centre, Ala. We regret the terrible tragedy that happened to Malik … and offer our prayers and sympathies to his family and many friends."
© Copyright IBTimes 2023. All rights reserved.