'Ghostrunner' Sequel Officially In The Works, Here's What We Know
KEY POINTS
"Ghostrunner 2" has been announced by 505 Games
The game is expected to retain the same fast-paced action-platformer style of the original
"Ghostrunner" is praised for its lightning-fast gameplay and beautiful graphics
A sequel for the lightning-fast, first-person platformer-slasher "Ghostrunner" is officially underway, just seven months since the original game's release on Steam, Xbox One, PS4 and Nintendo Switch.
The announcement came from the official "Ghostrunner" Twitter account, which confirmed that "Ghostrunner 2" is in production. The tweet showed a press release from publisher 505 Games and Digital Bros saying that they will once again be working with One More Level, the original "Ghostrunner" devs, to produce the game's sequel.
"We are particularly excited about the future release of "Ghostrunner 2. Together with One More Level, we have created a thrilling and engaging video game" Digital Bros co-CEO Raffaele Galante said.
The first game sold a total of 600,000 copies, which is an impressive feat for a relatively unknown game developer. The game was widely praised for its extremely fast-paced gameplay and stunning visual design.
"Ghostrunner" is a story-driven action-platformer that focuses on fast movements, quick thinking and lethal combat. Players take on the role of the titular Ghostrunner, a cybernetically enhanced warrior equipped with a sword and a multitude of abilities that grant them an edge in combat.
The game is set in a cyberpunk-themed megastructure that's locked in a power struggle between the ordinary folk and those in power. The Ghostrunner must recover his memories and combat abilities to overthrow the tyrannical ruler before humanity is driven to extinction.
"Ghostrunner's" gameplay is simple: go from point A to point B while accomplishing all objectives without dying. The fun of the game comes from its fast and fluid movement systems and one-shot combat system that rewards fast reflexes without being too punishing.
Players have compared the game's combat to that of a dance of a puzzle, similar to how "Hotline Miami" approached its combat system. Trial and error lie at the heart of "Ghostrunner's" gameplay, and the way it urges players to be pixel-perfect with their aim, timing and positioning is what makes it extremely fun and addicting to play.
There is not much information regarding "Ghostrunner 2" as of now, but it's expected to retain the same style of fast-paced action that made the first game so fun to play.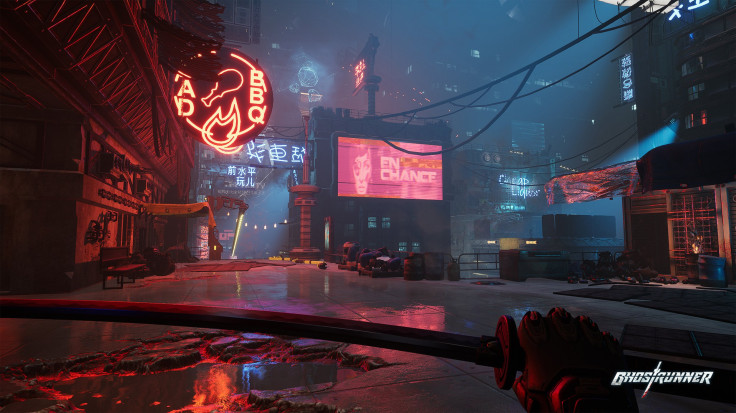 © Copyright IBTimes 2023. All rights reserved.