Giant B31 Antarctic Iceberg Drifts Toward Southern Ocean, Resembles 'Large Sheet Cake' [VIDEO]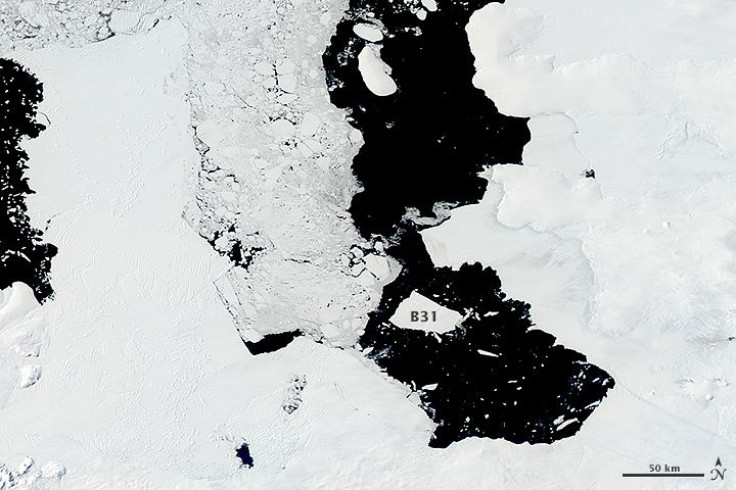 An Antarctic iceberg six times the size of Manhattan is drifting toward the Southern Ocean.
NASA's Earth Observatory captured the data in November. A time lapse video that was released this week shows how the ice island, named B31, was calving from the Pine Island Glacier, in western Antarctica.
"Iceberg calving is a very normal process," Kelly Brunt, a glaciologist at NASA's Goddard Space Flight Center, in Greenbelt, Md., said in a statement. "However, the detachment rift, or crack, that created this iceberg was well upstream of the 30-year average calving front of Pine Island Glacier (PIG), so this a region that warrants monitoring."
The Pine Island Glacier has been studied for the past 20 years since its melting may contribute to rising sea levels. In this case, the drifting iceberg may not only represent warming temperatures but could also pose a hazard to ships in its path. At the moment, the iceberg isn't near high traffic areas.
"There's not a lot of shipping traffic down there," Brunt told Reuters. "We're not particularly concerned about shipping lanes. We know where all the big ones are."
B31 measures 20.5 miles long by 12 miles wide, making it large enough for scientist to track. Grant Bigg, a professor of earth systems science at the U.K.'s University of Sheffield, and his team have been following B31 using synthetic aperture radar and visible satellite imagery.
"It has been very interesting how little sea ice there has been in the area," Bigg said. "In the video, you can certainly see clouds suggesting strong katabatic wind flow off the glacier in the first month or two, which would have kept the Bay ice-free and helped guide the iceberg out."
As the Pine Island Glacier continues to retreat, it drops icebergs as part of the process, according to Angelika Humbert, a glaciologist at Germany's Alfred Wegener Institute for Polar and Marine Research, who has studied the glacier, told LiveScience.
"Glaciers are constantly in motion," Humbert said. "They have their very own flow dynamics. Their ice is exposed to permanent tensions and the calving of icebergs is still largely unresearched."
According to a study published in March, on the Pine Island Glacier, the ice sheet along with five other glaciers on the continent, have contributed to 10 percent of the global sea rise level, Jeremie Mouginot, a glaciologist at the University of California-Irvine, who was a co-author on the paper, told Discover Magazine.
Based on satellite images from 1973 to 2013, researchers were able to track the cracks on the glacial ice and how far glaciers can travel over time. The study concluded that the total ice discharge from the six glaciers in Antarctica has increased by 77 percent since 1973. Half of the increase occurred between 2003 and 2009.
B31 is expected to float across Pine Island Bay, before being swept into the Southern Ocean. Its movement has been erratic, where the iceberg experienced periods of no motion, followed by periods with rapid flow, Brunt said.
"It's like a large sheet cake floating through the Southern Ocean," she added.
© Copyright IBTimes 2023. All rights reserved.