Girls Generation's Upcoming Performances Canceled After Seohyun Tests Positive For COVID-19
KEY POINTS
Girls Generation will not be appearing on a few music shows this month
Seohyun apologized for getting COVID-19
Taeyeon said Aespa reminds her of the rookie days of Girls Generation
Upcoming shows of veteran K-pop idols Girls Generation shows have been canceled after Seohyun tested positive for COVID-19.
The group's management label, SM Entertainment announced the cancelation of the eight-piece act's appearances on Korean music shows "M! Countdown" and "Inkigayo". Seohyun will also be taking a temporary break from group activities until she recovers from the illness.
Seohyun also posted an apology to fans on her Instagram story, which was translated into English by AllKpop. "To SONE (fandom name) who've been patiently waiting for our promotions more than anyone else and my unnies, I'm sorry. I thought I wouldn't get sick because I'm healthy. I ended up getting COVID. I'm so disappointed and sorry. I'll recover quickly and meet you for next week's music shows!!!" she wrote.
On the work front, the "Lion Heart" singers expressed their awe over rookie girl group Aespa in a new interview with Rolling Stone.
When asked whether there are new girl groups that remind them of their younger selves, Sunny expressed her support for new girl groups and said she is willing to mentor them should they need help.
"Whenever I see younger girl groups, I feel very proud of them, yet at the same time, I wonder if there's anything that I can do for them," Sunny said. "I hope they know that I'm always watching from afar with open arms, so if you ever need something, please don't hesitate to reach out!"
The group's youngest member Hyoyeon said she is impressed with the talented members of Aespa after previously working with them.
"I got to work with Karina and Winter of Aespa as part of GOT the beat, so I've been keeping an eye on them. It's great to see them promoting overseas as well," the "Good Girl" actress said.
'GOT the Beat' is a musical group comprised of various members of girl groups under SM Entertainment including Girls Generation's Taeyeon and Hyoyeon, soloist BoA, Winter, Karina and Red Velvet's Seulgi and Wendy.
Tiffany also revealed she is a fan of Aespa and has been enjoying watching performances of the group.
"I've also been keeping my eye on Aespa! It's been a joy to watch and learn their productions visually and musically," she told Rolling Stone.
Group leader Taeyeon said Aespa reminds her of the early days of Girls Generation and said, "I'm watching their promotions closely. Also, when I see new groups, the freshness they have is so similar to how we were when Girls' Generation first debuted. The no-makeup looks with the plain hair, it makes me think of Girls' Generation," she said.
Taeyeon, Sunny, Tiffany, Hyoyeon, Yuri, Sooyoung, Yoona and Seohyun dropped the music video of their new track, "Forever 1" on Aug. 5. The track is a cut from their new studio album which was released on their 15th-anniversary celebration as a girl group.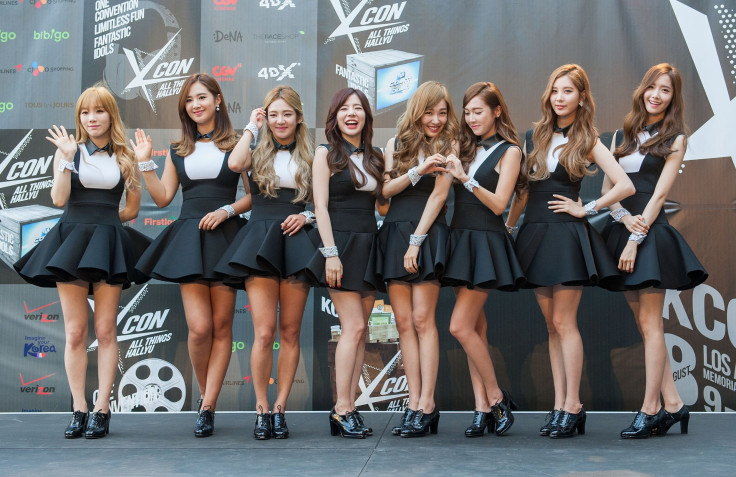 © Copyright IBTimes 2023. All rights reserved.