Glen Campbell Facts: Guitarist And 'Rhinestone Cowboy' Singer Dies At 81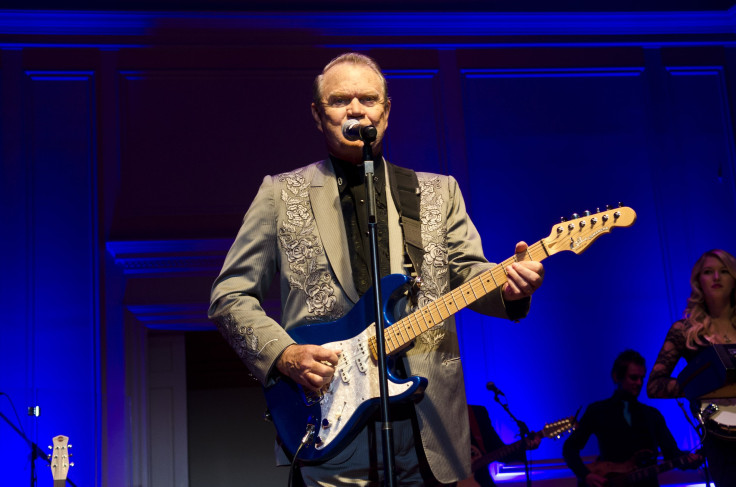 Iconic country music star Glen Campbell died Tuesday at the age of 81, his family announced on the star's official website. Campbell's Twitter page also confirmed the news.
"It is with the heaviest of hearts that we announce the passing of our beloved husband, father, grandfather, and legendary singer and guitarist, Glen Travis Campbell ... following his long and courageous battle with Alzheimer's disease," his family wrote on his official website.
Along with the news of the demise, the website also ran a video of the song "Adiós" from Campbell's final album released in June.
Trending: Video Shows Malia Obama Being Carted Out Of Lollapalooza In Chicago
His daughter Ashley Campbell posted a picture on Twitter after her father's death and wrote: "I owe him everything I am, and everything I ever will be."
According to TMZ, the singer "died after a long battle with Alzheimer's."
"Campbell died Tuesday around 10 a.m. EDT in a Nashville facility for Alzheimer's patients," a family source told TMZ.
It was known that the star was suffering from the brain disease as his family had made speaking about it their cause in recent years.
The Alzheimer's Association expressed sadness over the singer's death, saying he and his family "helped to bring Alzheimer's out of the shadows and into the spotlight with openness and honesty that has rallied people to take action on behalf of the cause."
His family also wrote on a CareLiving.org donation page that "In lieu of flowers, donations can be made to the Glen Campbell Memorial Fund at BrightFocus Foundation, which will support Alzheimer's research and education. BrightFocus drives innovative research worldwide and promotes awareness to defeat Alzheimer's." All the donations can be made through the page.
Fellow musicians and other famous personalities mourned Campbell's death and posted their condolences on Twitter.
Born in 1936 in Billstown, Arkansas, he was the seventh son in a sharecropping family having a total of 12 children. "We used to watch TV by candlelight," Campbell told Rolling Stone in an interview in 2011.
Campbell began playing the guitar during his youth and was fascinated with jazz guitarist Django Reinhardt. At the age of 14, Campbell dropped out of school and moved to Wyoming with one of his uncles, who was also a musician, and they played gigs at rural bars.
He moved to Los Angeles soon after that and by 1962 he became a regular player with the famed "Wrecking Crew" of L.A. session musicians, which included Carol Kaye, Hal Blaine, Larry Knechtel and Leon Russell. The famous crack band mostly played on records by the Monkees, the Beach Boys, Frank Sinatra, Phil Spector and Gary Lewis and the Playboys, according to the New York Times.
Read Also: Suspected Cartel Gunmen Open Fire At Tourists In Mexico Beach​
Campbell is well-known for a series of country-inflected hits that mostly ran from the mid-'60s to the late '80s: "Wichita Lineman," "Gentle on My Mind," "Rhinestone Cowboy," "Southern Nights," "By the Time I Get to Phoenix," "Galveston," and "The Hand That Rocks the Cradle" were a few among them. He had also been famous for a TV variety show called "The Glen Campbell Goodtime Hour," that ran from 1969 to 1972, CNN reported.
In 2011, Campbell disclosed he had Alzheimer's; despite that he went on to record two albums and play at over 150 concerts since then. At that time, his wife Kim Campbell said the tours and his music were a way to help him counter the disease and spend more time with his family members, who were also a part of his band and thus traveled with him.
He also starred in a documentary that spoke about his life with Alzheimer's called "Glen Campbell: I'll Be Me." He also won a Grammy for his song "I'm Not Gonna Miss You," which plays at the end of the documentary. The song was nominated for an Oscar in 2015.
His wife announced in March this year that the musician could no longer play guitar or sing. In an interview in April, Kim said, "Faith has always been the central part of our relationship. I'm so pleased that as Glen has entered the later stages of this illness, it's evident that he has retained his awareness of God. That really comforts me to know that he has that sense of God's presence in his life, that he's not alone," Fox News reported.
© Copyright IBTimes 2023. All rights reserved.