Global Mining Sector Reeling From Idle Drills, Stalled Projects And Lower Spending In February, Industry Study Finds
SNL Metals Economics Group is reporting that pipeline activity dropped significantly to a three-year low in February.
The Halifax, Nova Scotia, firm, which analyzes trends and figures about the mining industry around the world, has released its Pipeline Activity Index for January and February, showing a continued downward trend. The index has declined 43 percent since October 2012.
"Poor equity markets have made it extremely difficult for many junior explorers to raise capital," the report states. "The combination of weak financing conditions and budget cuts by major producers has resulted in idle drills, stalled projects, and lower grassroots spending, as companies focus primarily on their tier-one assets."
SNL MEG says this type of environment has shown a capacity for quick improvement in the past, but currently it is difficult to predict if a turnaround will come in time for the summer exploration season.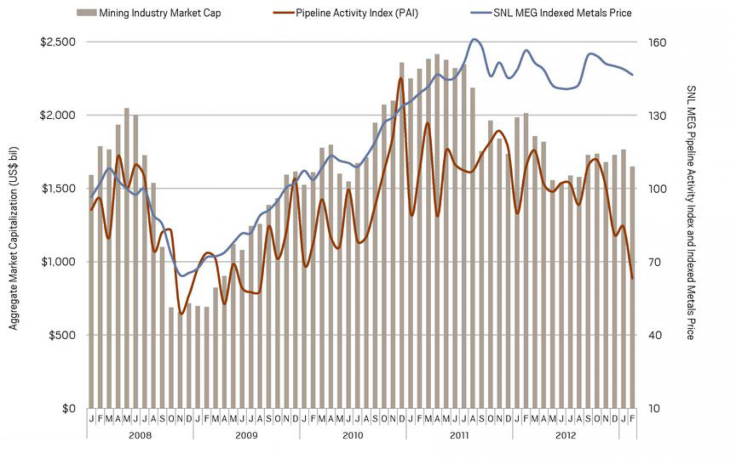 The recent slide in the gold price, plus very little movement in base metals prices, is expected to cause the industry's aggregate market cap to decline in the coming months.
"Drilling contractors are reporting idle drills," according the report. "Poor financing conditions hamper junior explorers and major producers cut noncritical spending to combat falling profits and rising costs."
Market conditions will especially affect grassroots spending. Financings for mining projects dipped to the lowest two-month total since early 2009. "Juniors and intermediates needing funding for 2013 work programs will likely need to scale back or delay plans unless they can find strategic investors."
© Copyright IBTimes 2023. All rights reserved.