Glu Mobile's Kim Kardashian, Katy Perry Whiffs Show Celeb Games Are Risky Business; Up Next: Taylor Swift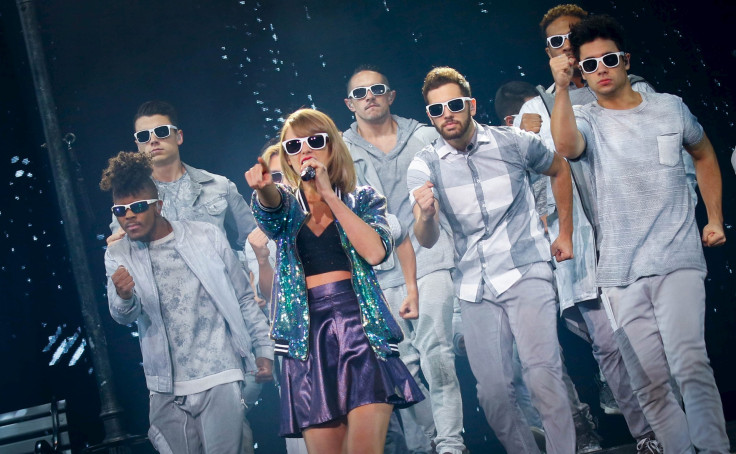 Much like fame itself, celebrity mobile gaming is a fickle business. Nobody knows that better than Glu Mobile, which started the whole craze with "Kim Kardashian: Hollywood" in 2014, and signed Taylor Swift to a multi-year mobile gaming deal last week. It's a matter of avoiding becoming a one-hit wonder that's remembered only as a footnote on a listicle.
A celebrity can get her fans to download a game with a single tweet, but that commitment does not include spending money within the game itself. Once the player arrives in the celeb's digital world, he or she may soon realize that it's a fun place to visit, but not somewhere to stay. For a developer, that means the next potential hit always needs to be in the pipeline.
"Kim Kardashian: Hollywood" launched in June 2014 to big success. The tens of thousands of five-star reviews and a spot in the top five in the Apple App store led an analyst to predict the game could generate annual revenue of $200 million. That was in July, a month after the game's release, but its shelf life turned out to be like a Hollywood starlet's.
"You're chasing fads, and where's the growth in that? You're replacing Kim Kardashian with Katy Perry and Katy Perry with Taylor Swift and on and on and on," said David Cole, CEO of DFC Intelligence, a video game industry research firm. Not only is getting fans to stick around difficult, but creating sales off them to grow and create a profitable business model is another challenge facing Glu.
After a hot summer, "Kim Kardashian: Hollywood" cooled off dramatically. By the time Glu reported its revenue for the year, in February 2015, sales from Kardashian's game were just $74.3 million. The disparity between prediction and reality was due to a sharp decline in audience after fans tuned out, stopped spending money within the game and seemed to tire of the quest to become an A-list celebrity .
In the celebrity mobile game business, there will be chart-topping successes and duds. "We view our celebrity platform as a portfolio, and there will be games that are more successful than others, no doubt about that," Niccolo de Masi, chairman and CEO of Glu, told International Business Times.
When it comes to licensed games, titles featuring celebrities should, in theory at least, have an advantage over film franchises or other properties, according to de Masi. A comic book license or a game based on a movie has a limited life expectancy once the property leaves theaters. Kardashian and other celebrities rarely leave the public eye, with media sites around the world serving up daily updates on their lives. "They do interesting things, they have interesting lives and have very large social followings to promote anything they work on," de Masi said.
Glu is not the only company to try to cash in on celebrities, but flops featuring Shakira and Lindsay Lohan have shown there's no guarantee of success.
"The celebrity game business is great for the celebrities, but what's the attraction for a business model? That's the bottom-line question," Cole said. A mobile game is a smart move for a celebrity who can take a nice percentage of the profits, but that eats into income for the developer. In the case of Kardashian, it was reported she received 45 percent of the profit generated from her game.
In search of a new hit, Glu's next big celebrity game was "Katy Perry Pop." Announced in February 2015 and launched in December 2015, the celebrity game featuring the pop star has, thus far, failed to capture an audience. In the Google Play store, "Katy Perry Pop" lags far behind other Glu games such as "Diner Dash" and "Tap Sports Baseball 2015." "Kim Kardashian: Hollywood" remained in the top 100 highest grossing games.
De Masi called the Katy Perry title "one of our biggest disappointments in 2015" in an earnings call for Glu's fourth quarter that ended Dec. 31. For the period, Glu reported GAAP revenue of $61 million, down 19.5 percent year-over-year. The company posted a $3 million loss for the quarter. For the year, Glu reported revenue of $249.9 million, compared to $223.1 million from fiscal year 2014. The company lost $7.2 million for 2015 compared to an income of $8.1 million for the year ending Dec. 31, 2014.
The initial success of Kardashian's game highlighted why Glu partnered with a celebrity. There's an audience that wants to be like this person and wants to do what they say. It's an easier, and cheaper, bet to create a hit celebrity game than creating more complex games like "Candy Crush" or "Clash of Clans." Compared to the next great idea that could captivate millions of players for years, there are hundreds of celebrities that could lead to a decent amount of sales.
Whiffing on Katy Perry means trying to find new success with partnerships with Kylie and Kendall Jenner, chef Gordon Ramsay, Britney Spears, Nicki Minaj and Taylor Swift. With the Jenner sisters, de Masi said the game is testing off the charts in beta, but that doesn't guarantee Kardashian-sized sales when it's released Feb. 18.
In an attempt to find other lucrative sources of revenue, Glu invested in Plain Vanilla Games for its "QuizUp" title. In addition to generating revenue from its users, Glu sees "QuizUp" as a potential primetime game show. Tencent invested $126 million in Glu and the deal includes a port of "WeFire," a popular mobile shooter game released in China.
"I don't want to give the impression that we nail the hammer on the head every single time. We have a big variance between our most and least successful products every year, but we are one of the bigger and more successful firms," de Masi said.
FOR FREE to continue reading
✔️ Unlock the full content of International Business Times UK for free
offer available for a limited time only
✔️ Easily manage your Newsletters subscriptions and save your favourite articles
✔️ No payment method required
Already have an account?
Log in
© Copyright IBTimes 2023. All rights reserved.