Shakira's Love Rocks Is Already A Flop, Signaling Trouble For Celebrity-Driven Mobile Games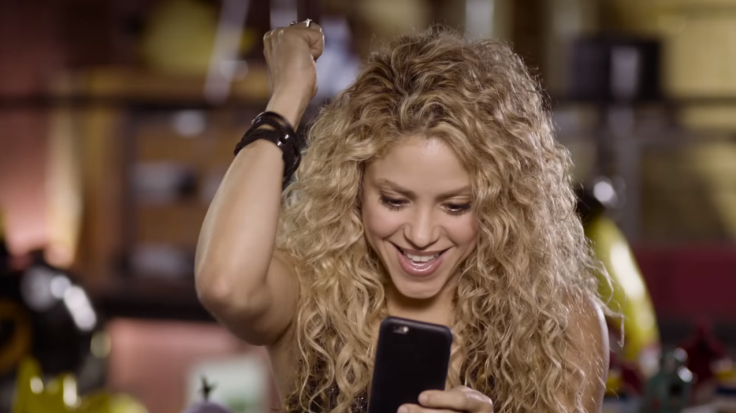 To hear Shakira and mobile-game developer Rovio tell it, her new game, Love Rocks, is a pitch-perfect union of art, commerce and technology. The Bejeweled-esque app, which challenges players to string matching gems together while listening to Shakira songs, is supposed to be the foundation of a new platform for an enormous artist to connect with fans and generate funds. "This game was such a fun way to bring an artistic sensibility to a gaming world," the pop star told the Guardian.
"What we have with Love Rocks is a massive new channel to distribute music and other digital content," Rovio marketing chief Peter Vesterbacka said.
What they do not yet have, it seems, is a massive moneymaker. Last week, Love Rocks ranked No. 304 in revenue generated among gaming apps, according to mobile-app analytics firm App Annie, and it has been falling steadily since the game peaked at No. 21 last month; the game debuted Oct. 14.
Games like Love Rocks are supposed to be the 21st-century versions of celebrity fragrances: business ventures in which celebs do little more than lend their name and likeness to a product, then profit handsomely on the back end. The most famous example of a celebrity scent, Elizabeth Taylor's White Diamonds, has earned more than $1 billion in worldwide revenue since first hitting store shelves in 1991, though there are plenty of recent successes as well, including three separate fragrance lines marketed by Shakira herself.
To date, the White Diamonds of mobile gaming is "Kim Kardashian: Hollywood," a role-playing game that instantly became a huge moneymaker for Kardashian and the game's developer, Glu Mobile. It pulled in more than $74 million in 2014, nearly a third of Glu's overall revenue, and it remains a dependable source of revenue. According to App Annie, Kim Kardashian: Hollywood has been a top-10 revenue generator in the games category for the past three months, and has been hovering in the mid-30s of overall app revenue generation over the past three weeks.
That success turned a lot of heads, especially among top music acts. Within months of Kardashian's success, Glu had locked up deals to make games for Katy Perry, Nicki Minaj and Britney Spears. And in Shakira, Rovio probably thought it had signed the perfect marketing partner. Beyond her status as a Grammy winner and social media dynamo, Shakira has enormous appeal in Latin America, one of the fastest-growing markets for mobile games and among women over 35, who according to research from mobile gaming research firm Newzoo are one of the fastest-growing demographics for mobile gaming in the United States.
Tapping into a fan base like Shakira's saves a developer Rovio lots of money. "To reach a similar impact without the help of a celebrity would cost at least $10 million in marketing spend," Newzoo CEO Peter Warman wrote in an email to International Business Times. "Probably much more."
Putting Love Rocks in front of all of Shakira's fans at once gave Rovio the chance to become an overnight success. But most mobile-game developers appreciate the opportunity to tweak their games based on user feedback, which allows them not only to correct errors but to make the gameplay more engaging and addictive as time goes on.
By pressing the game on thousands, or even millions of people right away took away that safety net. "With such a celebrity, the majority [of the game's possible players] will have tried it in the first two months," Warman wrote. "And if the game sucks they will have a huge issue in getting people to come back and try again."
The only way Rovio can reverse Love Rocks' revenue fortunes is to adjust its game play in some way that compels users to make more in-app purchases. But with a so-called matching game like Love Rocks, the number of tweaks that Rovio can make to Love Rocks' gameplay are limited. "One of the biggest issues you run into with matching games is the room for innovation is somewhat small," said Heather Nofziger, the head of consumer insights at EEDAR, a market research firm that focuses on the video game industry.
Love Rocks may still be able to turn things around. Generating more money might simply boil down to acquiring more players, something that could be set off by a viral surge. "That's often more crucial," Nofziger said. But because Rovio's already tapped into Shakira's fan base, acquiring those users might be costly. "It's not impossible to have a second wave," she added, "if you have the budget for a second wave of [user acquisition]."
Love Rocks' poor showing likely won't stem the tide of more artist-branded games. The deals Glu signed with Minaj, Spears and the others are part of a huge surge of developers looking to align themselves with famous people and other intellectual property assets. "It already is big," Warman wrote. "It will become even bigger."
But whether any of them manage to hit is a separate question. Kim Kardashian: Hollywood worked because it provided gameplay that allowed people to essentially live and act like a Kardashian in the game. Playing a game that is essentially unrelated to a fan's experience might not deliver the same returns. "In general, consumers are not superreceptive to celebrity branding," Nofziger said. "I think the biggest issue we've seen is whether those align well with the experience."
© Copyright IBTimes 2023. All rights reserved.