GM CEO Mary Barra Is Likely To Be Exonerated In Valukas Investigation Of Ignition Switch Recall: Report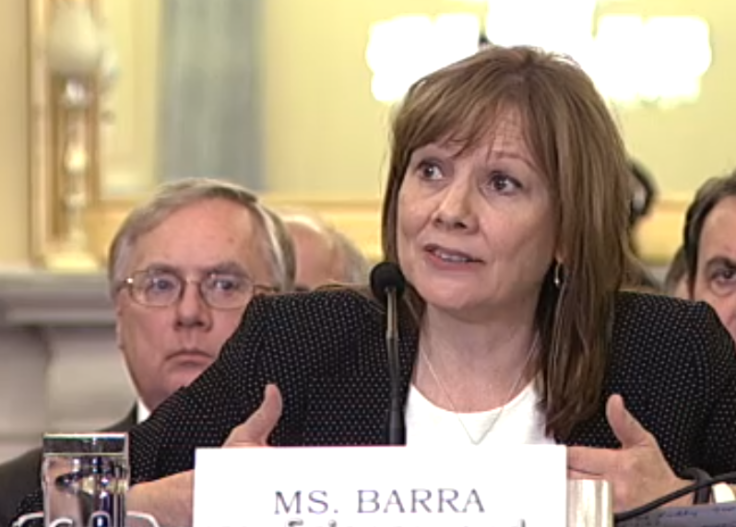 Story was updated to include the expected release date of the three-month investigation.
General Motors Co. (NYSE:GM) CEO Mary Barra is expected by her executives to be cleared of any wrongdoing related to the delayed recall of cars with faulty ignition switches that have been linked to at least 13 deaths and 47 crashes.
The results of a GM-funded three-month investigation by former U.S. Attorney Anton Valukas are due out on Thursday. The report is expected to name employees and departments responsible for ignoring warning signs of the fatal design flaw in older-model Chevrolet Cobalts and other sedans going back more than a decade. It will also recommend remedies that would bolster communication among departments of potential safety problems in GM vehicles so that top-level executives are made aware as soon as they emerge.
"There is so much riding on this report for Mary Barra," Harvey Pitt, a former head of the Securities and Exchange Commission, told the New York Times. "Lots of questions have been raised, and now she will have to answer them."
But one thing Barra isn't like to confront is any threat to her leadership. The 34-year GM veteran, who was head of GM product development from 2011 to 2013, became the first female auto company CEO on Jan. 15 and has said she wasn't aware of the ignition switch flaw until the company was preparing to issue a safety recall in January.
Barra has been meeting with employees, assuring them that the ignition switch recall hasn't hurt the company. Sales figures released Thursday seem to validate this view. Sales were up nearly 13 percent last month compared to the year-ago period, and GM reported the best monthly sales performance since August 2008, prior to the auto industry crisis that sent GM into Chapter 11 bankruptcy that cost taxpayers $11.2 billion. And despite the raft of recalls GM has issued since the start of the year as part of its initiative to rectify any past product flaws, consumers are still flocking to GM dealerships.
"It's important to realize that the two of the recalled brands [the Cobalt and the Saturn Ion] don't exist anymore," said Eric Lyman, vice president of industry insight for TrueCar. "People don't drive GM cars; they drive Chevrolets and Cadillacs. Today they go to a showroom and they see a Chevy Cruze, and they see a good vehicle."
Speaking anonymously to the Times, GM execs said they believe Barra will be exonerated by the Valukas report. They pointed to comment made last month by David Friedman, acting chief of the National Highway Traffic Safety Administration, which indicate that the agency sees no evidence that Barra knew of the lingering safety issue before December. The NHTSA fined GM $35 million last month, the maximum penalty, for not reacting quickly enough to its inquiries into how the ignition switch flaw, which can lead the ignition key to bounce out of the "on" position, shutting down the vehicle while in motion.
It's Barra's long tenure at the company that has raised questions about how she could have been left in the dark by lower-level engineers for so long.
In an interview with Forbes last month, former GM CEO Dan Akerson defended his successor, insisting Barra was not aware of the ignition switch problem until recently.
Problems with the ignition switch were identified as far back as 2001 during Cobalt pre-production testing. Despite mounting evidence, it took GM 13 years to issue a safety recall of 2.6 million cars to fix the flawed component.
© Copyright IBTimes 2023. All rights reserved.