GM, Ford, VW Dominate China's Auto Industry: Why Can't Chinese Companies Like SAIC, Dongfeng, Geely, And GAC Make Cars That People Want To Buy?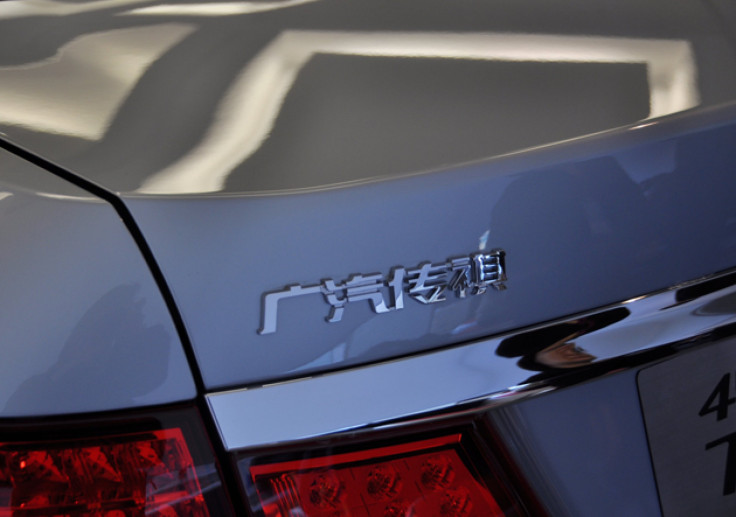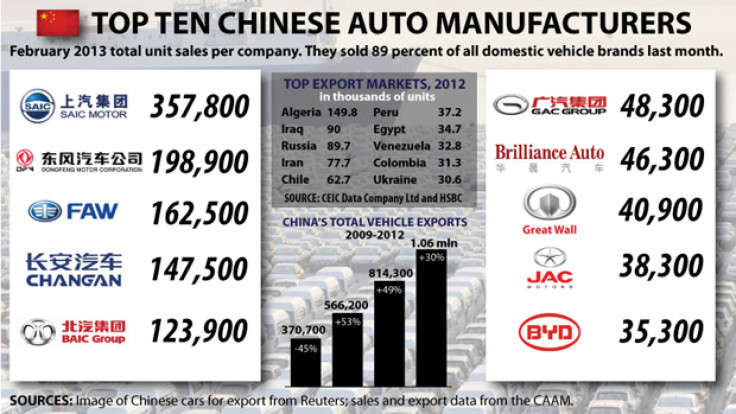 China's Guangzhou Automobile Group Co. Ltd., aka GAC Group, rolled into the North American International Auto Show in Detroit this January with three of its latest creations: a four-wheel drive hybrid sedan, an all-electric SUV prototype, and an extended-range plug-in concept car.
Well, saying GAC Group (HKG:2238) rolled into the Detroit Auto Show is a bit of an overstatement.
GAC, China's sixth-largest automaker by sales last month, chose a space in the cavernous lobby of Cobo Hall, beyond the doors of the massive auto exposition itself. The company put on a good show. Female models were flown in from the mainland to hand out crystal flutes of champagne and colorful hors d'oeuvres, while automotive journalists and car-company executives peered curiously under the hoods of the vehicles on display, getting glimpses into the domestic Chinese automobile market.
But it was impossible to ignore the obvious optics: GAC, like all Chinese vehicle manufacturers, is an outsider in the West: None of its current crop of cars will ever touch American blacktop, and it could be years before any Chinese auto sells successfully in any developed market.
"We need to keep in mind that China is still quite a bit poorer than Japan was at the time it started to penetrate the American market," said Barry J. Naughton, Sokwanlok chair of Chinese international affairs at the University of California at San Diego. "It might be that this is just a perfectly normal stage of development, and that we need to recalibrate our expectations. China is so big and important and has succeeded at so many things -- it just hasn't succeeded in this industry."
This is a strange predicament for a country that in 2009 became the world's largest producer and consumer of passenger cars and light trucks. In 2012, 19.27 million automobiles were made in China, according to the China Association of Automobile Manufacturers, or CAAM, up 4.3 percent from year to year. Far behind the Chinese in second place is the U.S., where 10.3 million vehicles were manufactured.
For the first time, China's automakers -- including most of the major Western brands -- exported more than 1 million vehicles last year, up from only 19,000 in 2001, while about 1.13 million foreign-made cars were imported into the country during the same period, up from 1 million the previous year, according to China's Ministry of Industry and Information Technology.
Excluding commercial vehicles, Chinese consumers purchased 15.5 million passenger cars and light trucks last year. By comparison, nearly 14.5 million cars were sold in the U.S. in 2012, according to WardsAuto.
Despite a robust 7 percent increase in Chinese auto sales last year, the domestic market share for Chinese brands continued to shrink, to 42 percent, a 0.4 percent decline from the year before -- and a steep drop from just over 50 percent in 2010, according to CAAM estimates.
And while Chinese companies like Shanghai-based SAIC Motor Corp. Ltd. (SHA:600104) and Wuhan-headquartered Dongfeng Motor Group Co. Ltd. (HKG:0489), the nation's top two automakers (excluding joint ventures with foreign companies), struggled to hold their own, Western multinationals such as the General Motors Co. (NYSE:GM), the best-selling brand in China with a 14.7 percent market share, and Volkswagen AG (FRA:VOW), with 14.6 percent, have thrived primarily through joint-venture agreements with large domestic auto companies.
"Chinese brands have suffered tremendously at home because of quality issues and because foreign brands are perceived by the Chinese consumer to be of much higher quality," said Greg Anderson, political-risk consultant for his Los Angeles-based Pacific Rim Advisors and author of "Designated Drivers: How China Plans to Dominate the Global Auto Industry."
Indeed, it's a well-deserved perception. When Brilliance China Automotive Holdings Ltd. (HKG:1114), which has a joint venture with both Bayerische Motoren Werke AG (FRA:BMW) and the Toyota Motor Corp. (NYSE:TM), tried to export its BS6 sedan to the European market in 2007, the vehicle earned only one out of five stars for safety by the German auto association Allgemeiner Deutscher Automobil-Club, or ADAC, which asserted that a driver would have little chance of surviving a side collision.
Brilliance responded to these tests by redesigning the car, which added significantly to the cost. But that didn't help. The company's damaged reputation never fully recovered -- and by 2010 the company had given up any immediate hope to sell into the Western market.
Brilliance wasn't the only Chinese car to suffer from safety concerns. In 2005, the Landwind X6 manufactured by Jiangling Motors Corp. Ltd. (SHE:200550) also failed its ADAC crash test, as indicated by this video on YouTube. Similarly, the Geely Otaka (made by the Zhejiang Geely Holding Group) and the Chery Amulet (made by Chery Automobile Co. Ltd.) also were shown to perform poorly in videos.
Effectively barred from selling in the West, Chinese automakers' biggest customers are still in underdeveloped markets. Last year, Algeria was the No. 1 importer of Chinese cars, and the other top markets read like the kind of places where typical consumers wouldn't be able to afford high-quality imported machines: Egypt, Iran, Iraq, and Russia were among them, and not one fully developed market entered into the top 10 list last year.
Brazil was a top importer in 2011, until the government imposed stiff tariffs on vehicle imports to protect local manufacturers. Now, some Chinese automakers are seeking to build plants there in hopes of taking a piece of the lucrative market. Chery Automobile is constructing a $400 million facility in Sao Paulo, set to become the first Chinese auto manufacturer in South America. And Anhui Jianghuai Automobile Co. Ltd. (SHA:600418) is also slated to break ground on a factory in Brazil.

One of the few Chinese companies to make inroads in developed nations is Great Wall Motors Co. Ltd., a privately held car operation headed by Chinese billionaire Wei Jian Jun. Since 2006, the automaker has been selling cars in Italy, as indicated by the Ooyyo Network. In 2009, it entered the Australian market. But sales are a sliver of an already small number of total exports. For example, the best-selling Chinese car in Australia last year was the Great Wall V-Series dual-cab ute (that's Aussie for pickup truck), as described by ProductReview.com.au: It sold 7,490 units.
A Joint-Venture Revolution
A little more than a decade after U.S. President Richard Nixon's historic trip to China, the American Motors Corp. made the first inroads into the market in 1983 by partnering with Beijing Automotive Works, China's first domestic auto company founded in 1953, to make Jeeps. Two years later, Volkswagen became the first foreign auto company to build a plant in China when it joined with the Shanghai Automotive Co., now SAIC, to build a sedan called the Santana, which was based on the VW Passat.
Those deals set the stage for a series of joint ventures backed by the Chinese government between Western and Chinese automakers. Now virtually every major American, Asian, and European vehicle manufacturer is collaborating with one or more Chinese counterparts.
The market leader GM formed its first joint venture in 1994 with SAIC, and the first GM car, the Buick Century, began rolling off the assembly line in 1998 and into showrooms a year later. By 1999, this partnership, now known as SAIC-GM-Wuling Automobile, was producing the Buick GL8 minivan. In 2005, the GM Chinese team began making the Chevy Sail, which costs about $15,000 and is the first compact sedan and wagon specifically targeting middle-class Chinese families. At 30,000 units sold a month, the Sail is one of the most popular brands on the Chinese market, along with the VW Passat and BYD F3 sedans.
The joint-venture policy -- whereby China allows foreign manufacturers to collaborate with one or two Chinese auto companies -- is designed as a way for Chinese automakers to learn from their more established global competitors. And it's an offer the Western companies cannot possibly turn down, considering the vast potential of the Chinese consumer base. Nevertheless, this arrangement has done little to help Chinese automakers overcome the huge obstacles that stand in the way of their competing around the world, or even at home.
A Crowded Sector
These challenges begin with a stunningly crowded Chinese automaker field, which has made it virtually impossible for individual homegrown companies to create a consistent unique identity and build loyalty among consumers.
Moreover, to be profitable, auto companies can't just make good cars, something China still hasn't mastered: They also have to scale production to cover the immense capital and brainpower needed simply to create the latest car or truck. The ability to scale -- to sell enough cars to enjoy even slim returns -- is virtually impossible for Chinese automakers, most of which are relatively young and untrusted and are competing against literally dozens of companies for customers.
In 1985, there were 114 native Chinese auto or auto-related companies. As of 2011, there were 115, despite stated efforts by the Chinese government to pare the sector down to a few major players, thus emulating the Japanese auto industry, which built a global reputation for quality and engineering around only a small handful of companies.
"[The Chinese government] started talking about consolidation in the 1980s and they even selected three big companies and three small companies that they wanted to consolidate the entire industry into," said political-risk consultant Anderson. "For every one manufacturer they manage to kill, another one pops up."
China Has Neither A Lee Iacocca Nor A Soichiro Honda
But even if Beijing had achieved its plan to consolidate the industry, it's doubtful that the remaining Chinese players would have enjoyed widespread success, in large part because of their organizational structure. All the major auto companies -- such as SAIC, Dongfeng Motor, China FAW Group Corp., Beijing Automotive Industry Holding Co., and Chang'an Automobile (Group) Co. Ltd. -- are state-owned enterprises. This means that the Chinese auto industry emphasizes sheer volume of output over profits, quality, and competition. Vehicle designs and brands are dictated by backroom top-down decision making, led not by innovators but by politicians.
Had these constraints existed in the West, it's difficult to imagine that GM would have produced the Corvette in 1953, when engineers Harley Earl and Robert McLean went against the corporate grain to come up with the idea for a high-performance vehicle at a family-car price. Similarly, there would not have emerged a creative genius such as Carroll Shelby, the late automotive designer who made a name for himself modifying sports cars to produce extraordinarily powerful avant-garde vehicles, such as the Ford Mustang-based Shelby GT350 or the legendary AC Cobra.
"The Chinese government by intervening aggressively to support certain kinds of firms probably ends up obstructing the kind of quirky inventiveness and bare-knuckled entrepreneurship that makes a difference [in the auto industry]," said U.C.-San Diego's Naughton.
Indeed, the global auto industry has always been driven by big personalities with transformational ideas. In the 1980s, Chrysler Corp. CEO Lee Iacocca -- who had earlier developed the Ford Mustang -- famously used his personal charisma, determination, and sheer will to plead with the public and Washington to save his company from near-bankruptcy. And Soichiro Honda, not well liked among his peers or the bureaucrats seeking to consolidate the Japanese auto industry in the 1960s, managed in less than 20 years to turn a motorcycle company into a significant international player, particularly in the U.S. auto market.

By contrast, running an auto company or any company in strategically important Chinese industries, including airlines, railroads, and telecommunications, is a good way for faceless bureaucrats to advance their careers. They don't need to answer to shareholders or worry about being inventive: As heads of favored industrial ventures, they enjoy a steady stream of government investment capital and public-sector orders. Moreover, while they spend a few years in the industrial sector, they aim to climb higher politically.
Take Zhu Yanfeng. In 2007, Zhu was named general manager of FAW Group, China's first car company -- hence the name First Automobile Works -- and the second-ranked producer of vehicles in China with output of 3.6 million units last year. Soon afterward, he left the industrial sector to become vice governor of northern Jilin province, where the company is based, and a member of China's powerful Central Committee.
Or Meng Xuenong. The 63-year-old spent much of the 1980s as a high-ranking executive at the Beijing Automobile Industry Co. before heading into politics as Beijing vice mayor and later governor of Shanxi province.

"[The Chinese state-owned businesses] do not encourage entrepreneurship and risk taking," said Lei Guang, founding director of the 21st Century China Program at U.C.-San Diego. "Executives are appointed because they're good bureaucrats. They have to look out for their political futures, to figure out the best way to move up in the political echelon within the party."
This desire to keep the auto industry on a short leash might be good for the short-term interests of mayors and provincial governments, but it comes at a price. Global auto sales gained 5.2 percent last year to nearly 82 million units, led by double-digit percentage growth in North America and the Asia-Pacific region. And the sales figure is projected to rise to 96 million by the end of 2015.
But China is not expected to play a very big role in this very big international pond. While Chinese automaker exports have risen from zero to a million in less than two decades, that's little consolation for a country that aspires to Honda, but instead mimics Lada.
And trying to woo car fanatics with relatively uninspiring electric boxes on the fringes of the Detroit Auto Show is not going to do very much to change that.

For more about GAC's appearance at the 2013 Detroit Auto Show, read IBT's coverage here.
© Copyright IBTimes 2023. All rights reserved.
FOLLOW MORE IBT NEWS ON THE BELOW CHANNELS