Gogo Unveils New In-flight Service: 5 Things You Need To Know About Gogo Text & Talk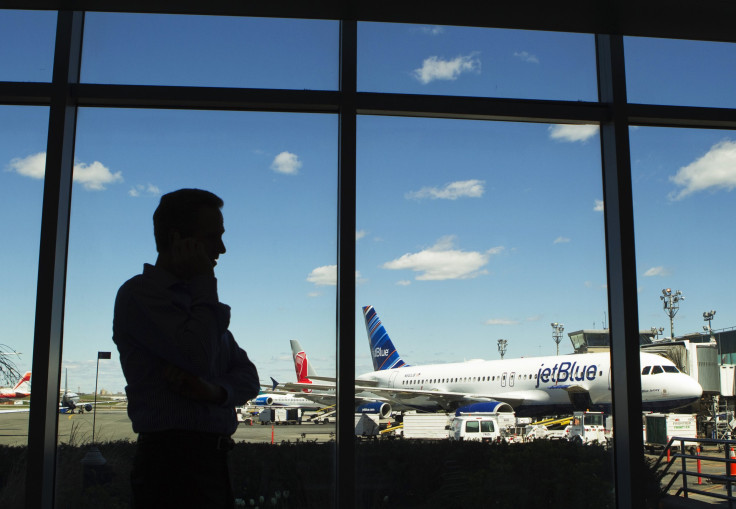 Days after the Federal Aviation Administration (FAA) determined that airlines can safely expand passenger use of portable electronic devices during all phases of flight, Itasca, Ill.-based Gogo Inc. (NASDAQ:GOGO) announced Friday that it's broadening its in-flight technology to allow smartphone users to make calls and send texts while in the air.
Airplane Wi-Fi is nothing new, but how will this new in-flight service work with talking and texting? Is it convenient? How much does it cost? We've outlined the five most important details about the new in-flight service from Gogo so consumers have a decent idea of what to expect from the Text & Talk technology by the time it launches.
1. Gogo Text & Talk requires a downloadable app. In order to talk and text with Gogo in-flight Wi-Fi, passengers need to download a "companion app," which basically helps extend the regular cell phone network to the airplane cabin. This way, all texts and calls can be routed through the airplane's Wi-Fi network rather than in-flight cell towers, which are called "picocells."
2. The new service works only with iPhones and Android devices. The new Talk & Text service from Gogo will be available for Apple and Android smartphones, but Windows Phones and BlackBerry devices are still in the dark. Gogo said it's looking to support those devices and others in the "near future."
3. Gogo Text & Talk will launch in early 2014. Specifically, Brad Jaehn, vice president of product at Gogo, said Gogo Text & Talk will hit the first commercial flights in "the first quarter of 2014." Gogo plans to spend the rest of 2013 testing and developing the service and its applications before its first major release next year.
4. In early tests, texts are great but calls are more dubious. CNET had a chance to experiment with the new Gogo Text & Talk technology on a private jet from Newark International Airport, and the company said texts were "sent instantly and received just as quickly," but voice calls were "problematic" and "at the mercy of the plane's Wi-Fi network." Considering Gogo won't launch this new service until early next year, we're expecting many of these kinks to be worked out by the time of its wide rollout.
5. Gogo has not yet set a price. Considering other "Internet passes" provided by Gogo, this new Talk & Text service is not likely to be cheap. For 24 hours of continuous access on the same airline, Gogo charges $14 per passenger. For unlimited monthly use of Gogo Wi-Fi on any Gogo-equipped flight, Gogo charges $50. And for unlimited Internet access on one particular airline, Gogo charges $40 a month. If initial access costs $14, it's possible Gogo will charge those users an extra $10 or more to annoy their fellow passengers by talking and texting throughout their flight.
Gogo boasts that more than 2,000 aircrafts use its in-flight Wi-Fi service, including Delta, Virgin America, United and American Airlines among its nine aircraft partners. Of those 2,000 airplanes installed with in-flight Internet from Gogo, 300 are equipped with the company's next-generation ATG-4 service, which increases the peak bandwidth by more than three times. Gogo is also working on upgrading airplanes to its new air-to-ground technology called Gogo GTO (ground to orbit), which combines satellites and Gogo cellular networks to produce speeds in excess of 60 Mbps -- a 20-fold increase from the original Gogo networks first installed in 2008. The Gogo GTO service will become available in the second half of 2013. Gogo will report its third-quarter earnings on Nov. 11 at 8:30 a.m. ET, before the market opens.
© Copyright IBTimes 2023. All rights reserved.