Gold Sets Record, U.S. Stocks Slip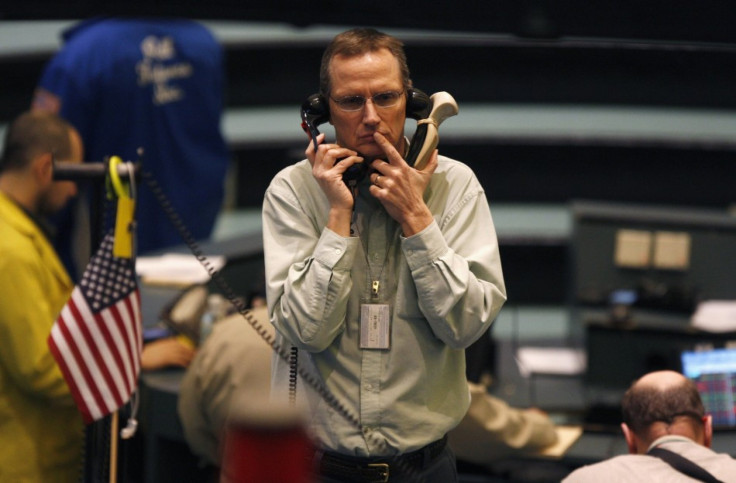 Gold set a record high on Friday on safe-haven buying but commodities rebounded after the U.S. dollar plunged to a record low against Japan's currency on speculation authorities will not halt the yen's surge.
European stocks closed lower on fears major economies were entering recession and concerns about regional bank funding. U.S. stocks see-sawed near break-even, though, as crude oil and other commodities rebounded on the dollar's slump.
Stocks trading was volatile, with miners rising on higher commodity prices while a 20 percent slide in Hewlett-Packard weighed on the Dow.
The dollar fell as low as 75.941 yen on trading platform EBS. It last traded at 76.360 yen, down 0.3 percent.
Currency traders were emboldened by a Wall Street Journal report citing Japan's top currency official as saying Japanese authorities do not plan to intervene in the market often.
The dollar's slump turned commodity markets, where crude oil prices rose about 2 percent at one point. ICE Brent October crude rose $1.55 to $108.54 a barrel.
The turn in commodity prices lifted material and energy stocks, and helped turn Wall Street from early sharp declines. The S&P materials index was up 0.2 percent.
Commodities are trading well with the weakness in the dollar, said Peter Boockvar, equity strategist at Miller Tabak & Co in New York. The euro rallied to the high of the day and some bottom-pickers from yesterday's sell-off have us higher.
Shortly after midday, the Dow Jones industrial average was down 27.40 points, or 0.25 percent, at 10,963.18. The Standard & Poor's 500 Index was down 0.20 point, or 0.02 percent, at 1,140.45. The Nasdaq Composite Index rose 4.89 points, or 0.21 percent, at 2,385.32.
Gold prices early in the session rallied almost 3 percent as investors sought refuge from hefty losses in stocks on Thursday. Gold retraced early record highs as European shares lifted from lows and the euro recovered some lost ground.
Spot gold jumped to record $1,877 an ounce and was last trading near $1,847, still on track for its biggest one-month rise in nearly 12 years in August.
Any time in the current environment you just need a little positive news (for the gold) market to retrace quite a bit, before stabilizing and resuming its uptrend, said Credit Suisse analyst Tobias Merath. There is clearly a stable uptrend over many, many months.
European shares flirted with two-year lows. The FTSEurofirst 300 index of top European shares provisionally close down 1.7 percent lower at 909.79. MSCI's all-country world stock index was off 1 percent.
U.S. Treasury yields inched up from lows last seen in at least 60 years on as some investors took profits from Thursday's bond rally.
The benchmark 10-year U.S. Treasury note was down 8/32 in price to yield 2.09 percent. The yield at one point on Thursday fell to 1.97 percent.
Yields have dropped almost a full percentage point on the 10-year note in August as disappointing economic data, the Federal Reserve's low interest rate policy and jitters over rising bank funding costs drove investors to safe-haven bonds.
At the moment the market is just looking for relative safe havens, said Mitsui Precious Metals analyst David Jollie. You can see that in the sell-offs across equity markets overnight. The strength of gold is the other side of the coin from that.
The U.S. dollar index slipped 0.6 percent to 73.835. The euro was up 0.6 percent at $1.4410.
© Copyright Thomson Reuters 2023. All rights reserved.