'The Good Wife' Season 6 Spoilers: Episode 6 Synopsis Released; What Will Happen In 'TBD'? [VIDEO]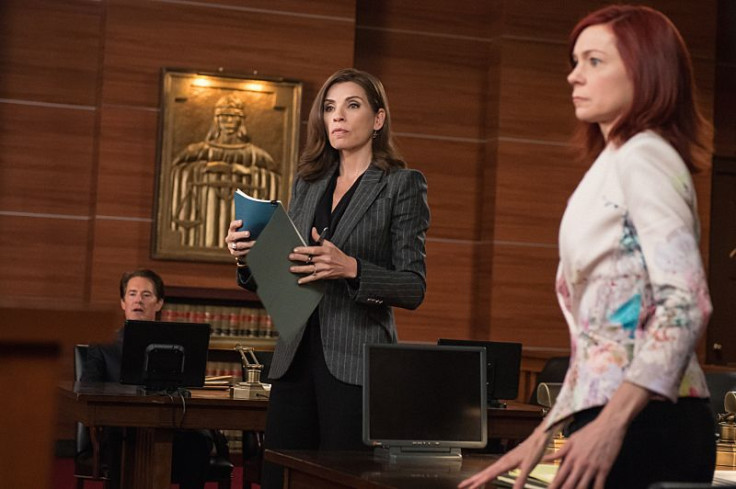 With Alicia's (Juliana Margulies) campaign for state's attorney underway, things are heating up in and out of the courtroom on Season 6 of CBS's "The Good Wife." In episode 5, Alicia was able to secure her husband's (Chris Noth) endorsement while also tangling with an old rival, Elsbeth Tascioni (Carrie Preston). The synopsis for episode 6, "TBD," reveals that Elsbeth is back again, but this time on different sides. Plus, Alicia might be running into a hiccup with her campaign.
In episode 5, Alicia and Elsbeth went head to head on a wrongful termination suit, but in episode 6 the pair will be forced to work together. The synopsis for the new episode reveals that the government will be bringing an economic espionage charge against clients of both Alicia and Elsbeth, putting them both on the same side. How will the two lawyers work together after butting heads in episode 5?
Plus, the promo for the new episode shows that Alicia's religion might be an issue in the next episode. The teaser video shows an interview with Alicia for her campaign during which the reporter brings up God. The promo leaves Alicia looking caught off guard by the question and fans wondering what she will say. Eli (Alan Cumming) has previously cautioned her to just identify herself as a "struggling agnostic," but time will tell how the increasing stubborn Alicia will handle the issue.
Watch the promo for episode 6 below:
Finally, episode 6 might be the beginning a change of venue for Florrick/Agos as the synopsis reveals Diane (Christine Baranski) will be looking to move the firm into the Lockhart/Garder office space, hiking the tension between the rival firms.
How will Alicia and Elsbeth fare as partners on the new case? Plus, how will Alicia respond to the big God question? Fans will have to tune in next week to find out. "The Good Wife" airs Sundays at 9 p.m. EDT on CBS.
Are you happy to see Elsbeth return to the show? Tweet your thoughts to @Ja9GarofaloTV.
© Copyright IBTimes 2023. All rights reserved.