Google Ads Will Feature You: How To Keep Google From Using Your Name And Profile Picture To Sell Ads

Google Inc. (NASDAQ:GOOG) announced Friday that it will begin selling users profile photos and names for use to marketers on Nov. 11, following in the footsteps of Facebook Inc. (NASDAQ:FB). The Mountain View, Cal.-based company calls it "shared endorsements," which will be used in ads on Google sites and across over 2 million sites in the company's ad network, according the New York Times.
Users who give a film a four-star review on Google Play, or follow Taco Bell on Google Plus could show up in ads for the film or fast food chain. Profiles and reviews will only appear only alongside advertisements targeting connections – people whom the users are connected to over Google Plus, YouTube or other Google services.
Google is notifying users of the change in its terms of service with a banner appearing at the top of some of the company's websites and services. The company already utilizes +1's, similar to Facebook likes, to to highlight the services and products that are favored by a user's connections.
Those under the age of 18 will automatically be excluded from shared endorsements, and Google already gives users the chance to opt out of the service – a different approach than Facebook has undertaken with user control over appearing in searches. Google explained in a statement to users that "feedback from people you know can save you time and improve results for you and your friends."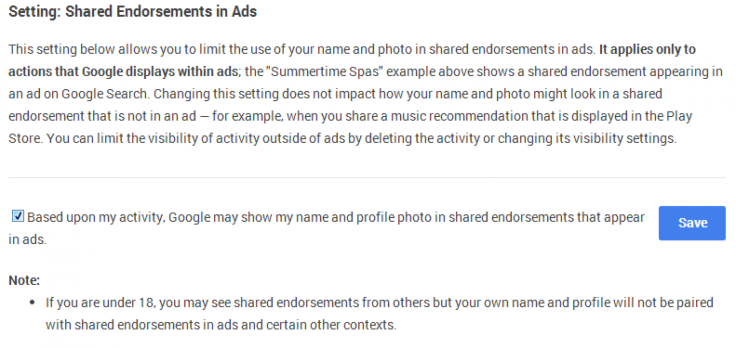 How to avoid appearing in Google's new ads
Opting out of Google's new terms of service, and keeping your profile out of the company's ad network is simple.
Guide your web browser to the shared endorsement setting, located here. Uncheck the box next to the statement "Based upon my activity, Google may show my name and profile photo in shared endorsements that appear in ads."
Users who had previously requested that their +1's not appear in ads will automatically have the new setting disabled.
© Copyright IBTimes 2023. All rights reserved.