Google Fires Back At Apple And iPad Mini With Mysterious Oct. 29 NYC Event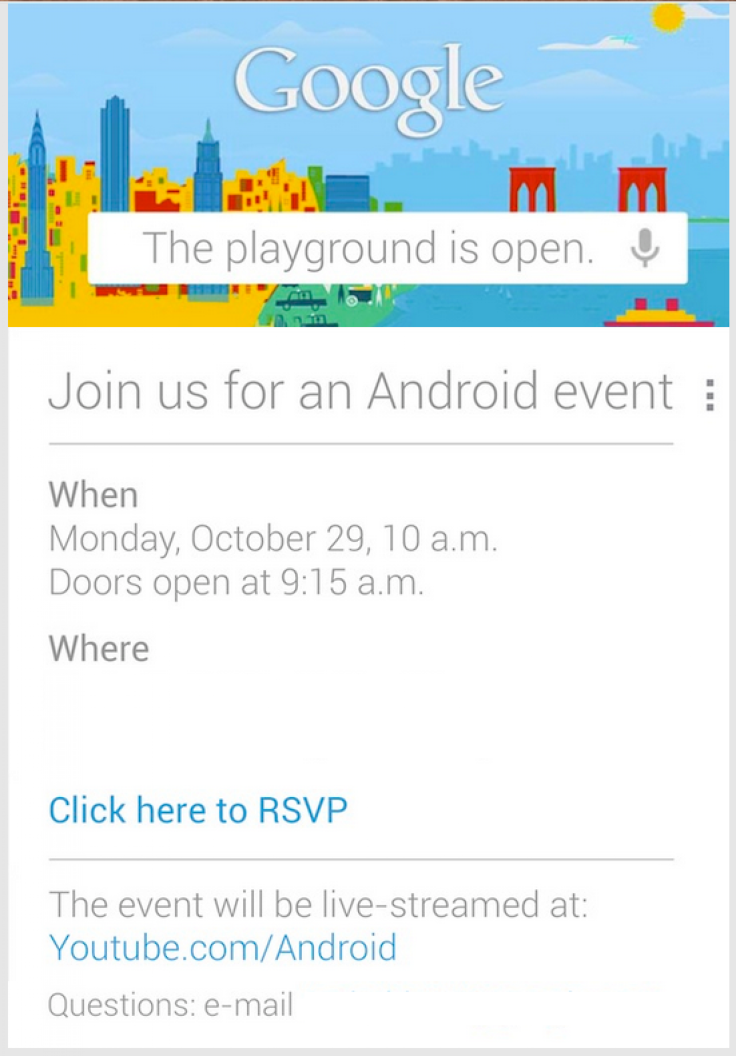 Coming hot on the heels of Apple's Oct. 23 iPad Mini event and the release of Windows 8, Google has scheduled its own mysterious announcement event on Oct. 29.
On Wednesday, Google sent out invitations to "an Android event" in New York City on Oct. 29. The invitations also bore the phrase "The playground is open" and an invitation to be at New York's Basketball City at 10 a.m. Google provided little information beyond that, however.
Tech specialists are equally unsure about what the event will hold. While everyone knew right away that Apple's Oct. 23 event would be all about the iPad Mini, bloggers seem to be on the fence about what this event will highlight.
Techcrunch speculates that Google's New York event will be all about the mysterious next iteration of the LG Nexus smartphone. According to the tech site, Oct. 29 has long been put forward as the Nexus' release date, so the timing of the event does seem to line up there.
But even with those rumors in place, Techcrunch isn't quite sure. The site also admits that the Oct. 29 event could be about a new line of Nexus 7 tablets as well.
CNET writes that the event might be used to launch updates for Android's 4.1 Jelly Bean operating system. While no one is exactly sure what the event will be about, everyone seems to be in agreement that Google means to "fire back" soon after Apple unveils the iPad Mini.
Gizmodo predicts that whatever Google's mysterious New York event is, it will be live-streamed on Youtube.com/android. So no matter what, anyone interested in seeing this mysterious announcement firsthand will be able to check it out.
Still, it would be nice to know what tech fans should be getting hyped about. Let's hope more news will be rolling in about Google's New York event in the coming days.
© Copyright IBTimes 2023. All rights reserved.