Google Glass And Drones To Assist Nepal In Fighting Poachers In Protected Areas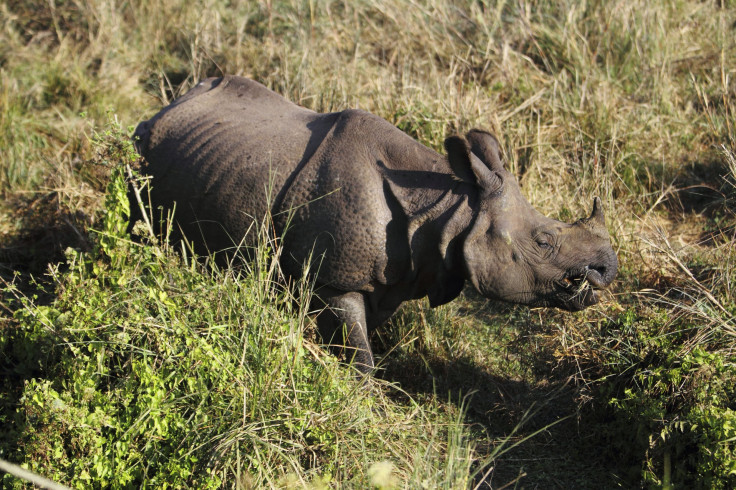 In an effort to curb poaching and the illegal trade of wildlife in the country, the World Wild Fund for Nature, or WWF, in Nepal is planning to harness a unique blend of technology.
The organization recently concluded a series of successful experiments, integrating an ID-based wearable monitoring system with Google Glass, and unmanned aerial vehicles, or UAVs, to efficiently track rhinos, tigers and elephants. Nepal is planning to implement the technology on the ground later this year, South China Morning Post reported Thursday.
"If successfully implemented, it could revolutionize our work," Sabita Malla, a senior researcher at WWF Nepal, told SCMP. She also expressed a hope that real-time tracking of rhinos, which are a frequent target of poachers for their horns, would significantly reduce such incidents.
The new tracking system allows researchers to track the movements of animals through a GPS-enabled, wearable electronic ID. The information is then directly transmitted to the Glass, using a custom-made application from Google, which allows trackers to capture the individual characteristics and movements of the animals. This technology also allows researchers to directly upload information to a central database from where it can be accessed by concerned authorities.
WWF Nepal also has plans to implement "smart patrolling" later this year, using a combination of GPS-equipped patrol units and UAVs, labeled conservation drones, to monitor protected areas.
Nepal tested UAVs in one of its national parks in 2012 while it is reported that WWF has, over the past two years, successfully trained 40 people to use these drones. From August, the drones will be used to monitor a national park in Chitwan, about 80 miles east of Kathmandu, and one in Bardia, near the Indian border, according to Scientific American.
Maheshwar Dhakal, an ecologist at the Department of National Park and Wildlife Conservation, told SCMP that the use of "cutting-edge information technology" would not only help researchers and local communities, it would also "assist the government in framing new policy and laws." However, he also cautioned against relying solely on technology for surveillance of vulnerable zones. He stated that technology was "only a part of the solution."
Nepal recently celebrated a "zero poaching year" in March. However, in May, a rhino was killed by poachers, highlighting the need to strengthen patrolling and monitoring in vulnerable areas of the country.
© Copyright IBTimes 2022. All rights reserved.
FOLLOW MORE IBT NEWS ON THE BELOW CHANNELS