Google+ Mark Zuckerberg account spotted: The REAL Zuckerberg or an imposter?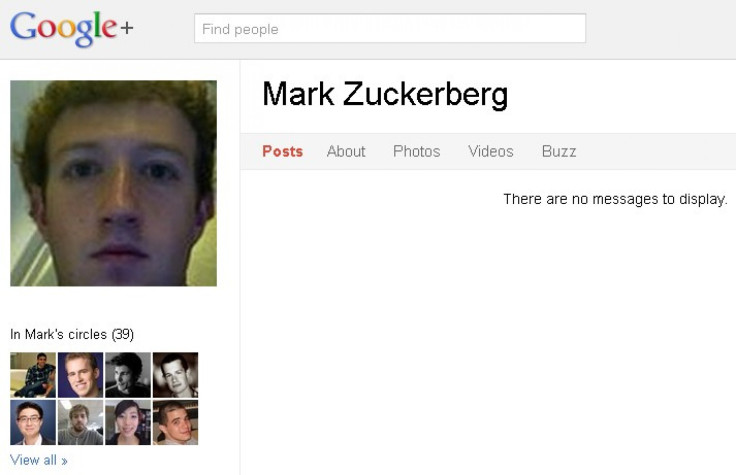 Internet search engine giant Google has suspended Google+ invites following an insane demand of its social networking service but not before a user with the name "Mark Zuckerberg" was spotted as one of the Google+ users.
The profile had the Facebook CEO's picture on it, but because Google does not have user authentication service, it cannot be confirmed whether it is "the Zuckerberg" who joined the new social networking website. As of Saturday evening, he had 22 people in his Circle and 2994 people added him on their Circles.
Robert Scoble, a respectable tech analyst, has posted on his Google+ that it is the Facebook CEO who has joined.
"Mark Zuckerberg texted me and said 'Why are people so surprised that I'd have a Google account?' I guess that confirms he is really here checking things out," Scoble said.
But of course, there is the question of whether the person behind Scoble's account is the real Robert Scoble and whether he is telling the truth or simply flattering Google.
Moreover, it is also possible that an imposter could have opened a Google+ account impersonating Zuckerberg.
In 2010, Michael Arrington of TechCrunch had impersonated Google CEO Eric Schmidt by creating a fake Facebook account. Arrington had supposedly created a Facebook account with Eric Schmidt's email (which didn't need verification to activate the account) and started adding friends. YouTube founder Chad Hurley and Facebook Vice President Elliot Schrage became Schmidt's friends, according to Arrington.
If it is indeed the real Mark Zuckerberg, what would be his intention?
Of course, there is no reason for the real Zuckerberg to stay away from having a Google+ account, as the new social networking service is threatening to poach on Facebook users and grab a bite of the success Facebook is currently enjoying.
Is Zuckerberg, worried that Google+ will take away the shine from Facebook, spying on his rival?
Or is he simply joining the site to socialize with his "Circles" of friends like the rest of 27-year-olds would do?
MySpace founder Tom Anderson is said to have accounts with Google+, Facebook, and Twitter.
Is it strange for the CEO of a social network site or a tech company to have an account with rival social network site or a rival tech company?
Leave your comments below.
© Copyright IBTimes 2023. All rights reserved.