Google Nest WiFi: Google Joins The Router Market With AI-Powered Tech Gear
This week, Google is officially joining the router market with a new breed of WiFi gear. The tech powerhouse has just revealed the Google Nest WiFi device, which, according to Google, will not only boost the internet coverage but also offers an Amazon Echo-like functionality.
First announced at Google Pixel Hardware event this week, the new device will consist of two parts: the bulbous cylinder Main Router and a separate cylinder-shaped device called Point that can be scattered around a home to increase internet coverage by 25 percent further than the previous internet service. The design of the new product offers a completely new look -- like an air freshener.
The Main Router
Google has made a vast improvement over its predecessor internet service, Google WiFi. The Google Nest Wifi's main router now supports AC2200 MU-MIMO Wi-Fi, along with a 4x4 (5GHz) configuration on the main Router and 2x2 (2.4GHz) antenna configurations on the Point device. However, the Main Router doesn't support the new WiFi 6 standard. Instead, the company is adding support for Bluetooth Low Energy technology and the Thread smart home protocol that will rival Eero.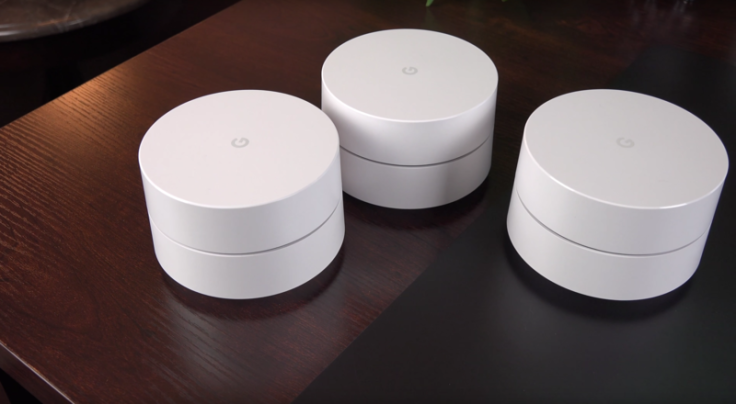 The Point (beacon)
The Point or beacon acts as a smart speaker and comes with the tech giant's Google Assistant technology. In other words, users can not only ask numerous questions like traffic and weather, but also broadband-specific questions like how fast the internet connection is. The beacon can also be used to stream music and even control other smart home devices. But, the most interesting feature is the ability to pause WiFi connection for certain devices around the home.
The beacon or Point will come in three different colors -- white, blue and brown -- while the Main Router will only have one color, white. Both devices are also designed to blend with the existing environment.
The two-pack Google Nest WiFi will cost around $269, but Google also offering a three-pack option for just $349. Google Nest Wi-Fi will be launched in the U.S. first and, then, in U.K, Canada, Australia, France, Japan, Germany, and Singapore. Preorders start now with delivery to start on Nov. 4 for the US-based customers only.
© Copyright IBTimes 2023. All rights reserved.