Google has officially released its file storage manager app for Android devices. Called Files Go, the new Google-made app is designed to help users free up storage space on their smartphones.
Files Go was first launched as a beta software last month and it went through some testing before it was made available to all Android users. The app is available to download from the Google Play Store for free and is compatible with all smartphones that are running Android 5.0 Lollipop or higher. Google's Files Go is also an essential app for Android Oreo Go Edition, which also launched today.
"Every day, millions of smartphones run out of space. While phones with 16GB or 32GB of storage are becoming more popular, many phones around the world have much less storage, often as low as 4GB… We all eventually reach that point where we have to choose what to keep or delete," Caesar Sengupta said, Google's vice president of the Next Billion Users Team.
"That's why we're excited to introduce Files Go, an app that takes a mobile-first approach to freeing up space, finding files faster and easily sharing them with others."
Google's Files Go app is now available on the Play Store and will work on devices running Android 5.0 Lollipop or later. Photo: Google
Files Go helps users free up space in their Android smartphone by suggesting which files to delete on their phones. This includes unused apps, large files, duplicate files or low-resolution videos and memes. Google says the app uses the latest mobile vision technology to detect these types of files that may be eating up storage space on a user's Android phone. The app is also able to offer to move files to an SD card if it detects that users has movable content in their phone, according to Engadget.
Files Go also makes it easier to find files faster. The app comes with smart filters that can automatically organize all of the photos, videos, documents, apps and all other files in a user's Android phone. Users will no longer need to navigate through different folders to find exactly what they need since all of it can be found within the app.
The Google Files Go app is also an easier way to back up files to the cloud. From the Files menu, users can select items they want to save and immediately back them up to Google Drive or on any other cloud-based storage service, like OneDrive or Dropbox.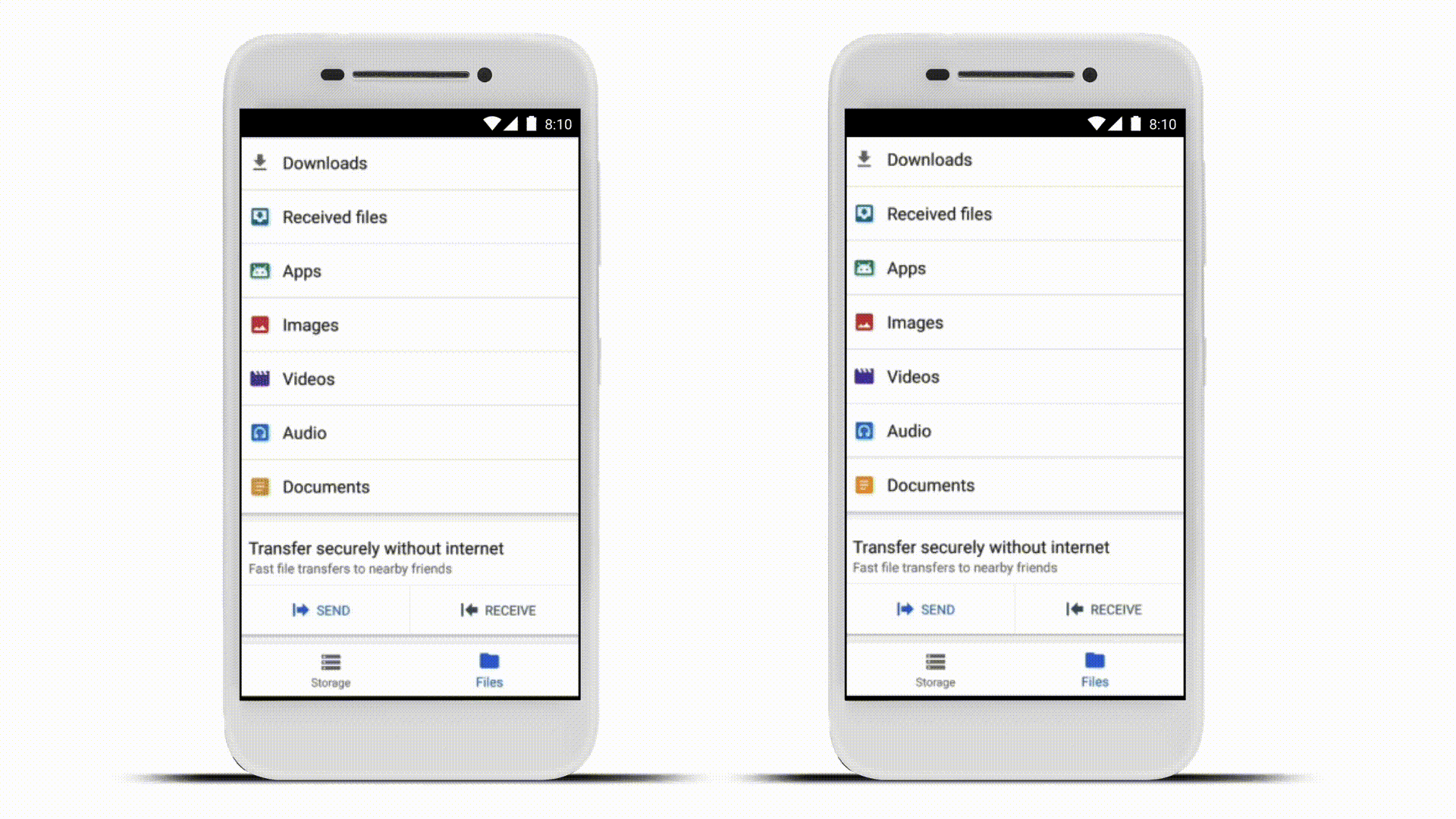 The most important feature on Files Go is instant offline file-sharing with people close by. The app is able to create a local hotspot which allows it to send files over Wi-Fi without consuming any data. Google says that transfer speeds could reach up to 125 Mbps and that file transfers are encrypted. This feature will only work if the sender and receiver are both using the Files Go app. The feature works pretty much like Apple's AirDrop feature for iOS and macOS devices.
Sengupta said that after Google's month-long testing, an average user will be able to save 1GB of space when they use the Files Go app. For anyone struggling with their phone's storage, Google's Files Go app seems like the perfect companion to make managing storage a lot easier.