'Gotham' Season 2 Spoilers: Episode 4 Synopsis Released; What Will Happen In 'Strike Force'? [VIDEO]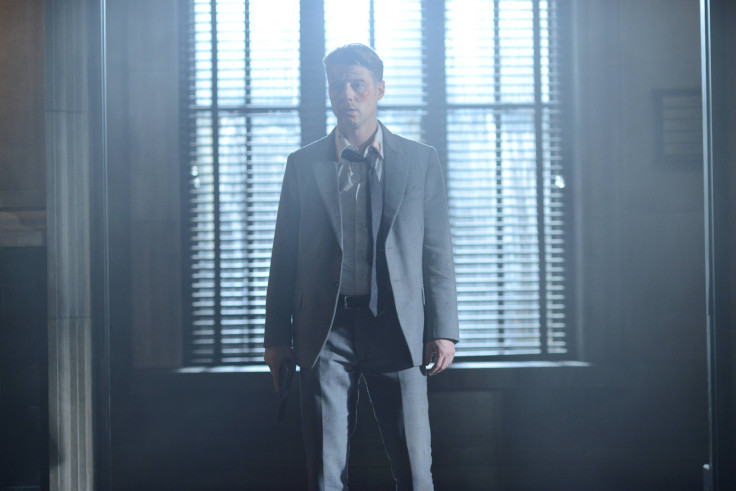 Theo Galavan (James Frain) shocked fans of "Gotham" in Season 2, episode 3 when he turned on Jerome (Cameron Monaghan) and stabbed him in the neck. Theo killed Jerome to try and make himself look like a hero in front of the city. With one villain gone and another continuing to rise to power, what will happen in episode 4?
The synopsis for episode 4, titled "Strike Force," reveals Jim Gordon (Ben McKenzie) and Bullock (Donal Logue) will get a new boss, Capt. Nathaniel Barnes (Michael Chiklis). Barnes is expected to be a big supporter of Gordon much like Capt. Sarah Essen (Zabryna Guevara) was. Barnes will begin to assemble a task force along with Gordon to try and stop the madness in Gotham City.
However, there could be slight problem in Barnes' plan. In the promo video for next week, it's revealed that part of Barnes' plan is to take down Oswald Cobblepot (Robin Lord Taylor) a.k.a. the Penguin. Gordon is only back in the position he's in because of Penguin's help, so how will Gordon handle this?
Speaking of Penguin, it looks like two of the shows biggest villains will be teaming up. Penguin will spend much of episode 4 trying to do a favor for Theo, as the two are each looking to seize control of the city. After becoming the new crime boss of the city, Penguin doesn't have the respect he feels he deserves so maybe Theo will help him achieve that.
Nygma (Cory Michael Smith) was absent in episode 3, but we will get to see the future Riddler return in episode 4. Nygma was last seen saving Ms. Kringle (Chelsea Spack) from the Maniax invasion on GCPD headquarters. Kringle was later shown with Nygma as he was getting medical attention following the attack. Could this move have finally changed Kringle's mind about Nygma?
The synopsis says Nygma will finally ask Kringle on a date, but what it doesn't say is which side of Nygma asks. We've seen Nygma's descent into crazy as he's starting to develop a split personality and the other half of him is very dark. Did the more confident more dark side of him seize control to ask Kringle or did Nygma do gather up the courage himself?
Watch the full promo video for "Gotham" Season 2, episode 4 below:
"Gotham" Season 2, episode 4, "Strike Force," will air on Fox on Monday, Oct. 12, at 8 p.m. EDT.
© Copyright IBTimes 2023. All rights reserved.
FOLLOW MORE IBT NEWS ON THE BELOW CHANNELS