Great White Shark Comes Dangerously Close To Swimmer During Competition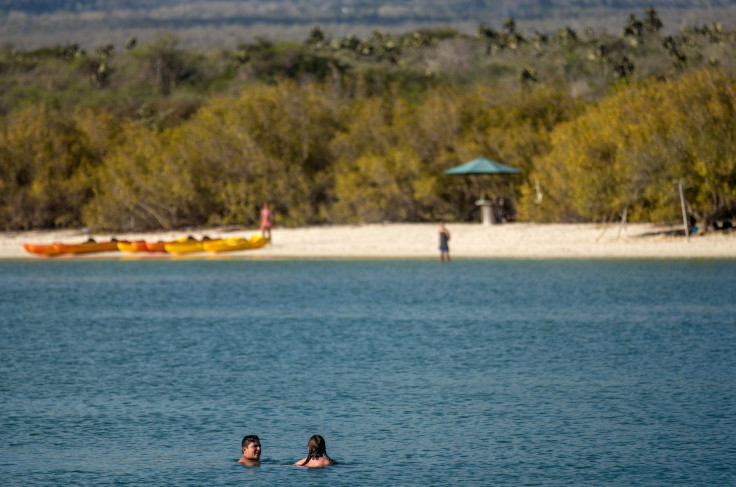 An Australian man came dangerously close to a great white shark during a swimming competition Saturday and lived to tell his story.
Lawyer Eli Ball, 34, of Sydney, said he encountered what appeared to be a 13-foot-long shark as he and about 2,000 other swimmers competed in the Rottnest Channel Swim, an annual 12-mile event held in Perth, Australia, according to reports.
"It was at the bottom of the sea floor; I'm not very good at estimating depths of water when I'm that far out to sea, but I'd say it was maybe 12 meters deep at that point," he told 6PR, a local radio station based in Perth.
Ball said he spotted the predator beneath him and immediately informed his fellow swimmers of the possible danger.
"The first thing I did was I stopped [and] yelled out, "and now there's a shark" or something like that," he told 6PR. "The thing that... I remember thinking to myself is, 'my goodness it's wide', it was very, very wide."
Some swimmers, including Ball and his teammates, swam over to the side of the team's boat for cover. Ball said the group revved the boat's engine in efforts to entice the shark to leave.
"You better believe I made my way hastily to the side of the boat," Ball told 6PR. "My skipper who was fantastic on the day came over to the window and asked me, 'where?' and I said, 'right under the boat, right under the boat."
However, the team's attempt to scare the shark failed. Ball noticed that it remained underneath, which prompted his team to notify race officials. The incident led officials to evacuate about 100 swimmers from the surrounding area.
But Ball was still allowed to finish. He completed the competition using a butterfly stroke, the first swimmer in the race's history to do so.
Ball said the shark ruined the event, but officials made the right decision.
© Copyright IBTimes 2023. All rights reserved.