Guatemala's Apex Court Overturns Former Military Ruler Rios Montt's Conviction On Genocide Charges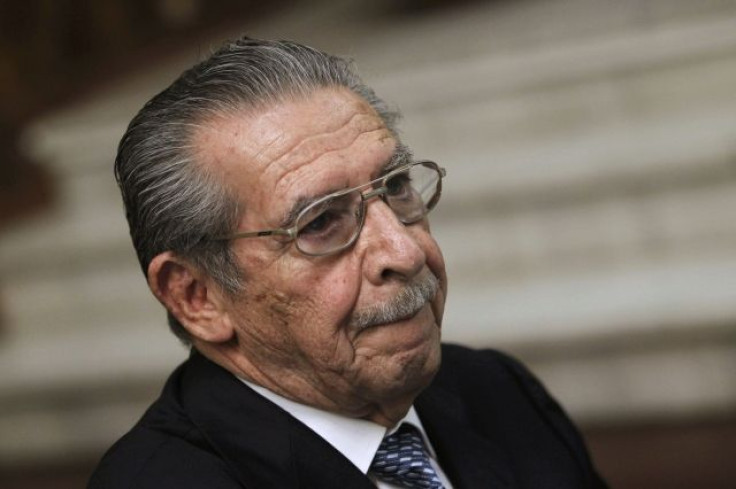 Guatemala's highest court on Monday annulled a conviction against former dictator Efrain Rios Montt, who was found guilty on May 10 of genocide and crimes against humanity for ordering the deaths of 1,771 people of the indigenous Ixil Mayan community during his rule in 1982 and 1983.
The country's constitutional court ruled that all the proceedings since April 19 be nullified, on account of one of the presiding judges suspending the trial because of a dispute with another judge over who should hear it, Reuters reported.
The court has not set a date to restart the trial.
On May 10, a three-judge Guatemalan tribunal sentenced Rios Montt, 86, to 80 years in prison -- 50 years for the genocide charge and an additional 30 years for crimes against humanity.
The retired general denied the charges, saying he was neither aware of the killings nor ordered them while in power.
When differences arose between the judges over handling of the case, several appeals were lodged with the constitutional court over alleged irregularities.
Among the complaints was one relating to Francisco Garcia, one of Rios Montt's defense lawyers, who had won an appeal to be readmitted to the case, after being dismissed for repeatedly trying to seek the disqualification of two of the three presiding judges.
Upon his reinstatement Garcia tried to disqualify the judges again, but his attempts failed and the case proceeded with the judges.
The constitutional court said the trial should not have proceeded until an official settlement was reached regarding Garcia's bid challenging the judges.
Rios Montt was transferred to a hospital last week for treatment after having spent two nights in prison.
He came to power through a coup in March 1982 in the middle of Guatemala's bloody war, in which Marxist rebels fought against the military regime.
Civilians, comprising mostly of indigenous Mayans, were caught in the civil war, and an estimated 200,000 died before a truce was reached in 1996, making the conflict one of Latin America's most violent wars.
During Rios Montt's 17-month rule until August 1983, when he was ousted by his Defense Minister Oscar Humberto Mejia Victores, he ordered the massacre of Ixil Mayan ethnic community members, whom his administration suspected were supporting the rebels.
© Copyright IBTimes 2023. All rights reserved.