Hallmark Channel 'Perfect Bride 2' Premiere: Meet The Cast, Watch Trailer
Pascale Hutton and Kavan Smith return as Molly and Nick in "The Perfect Bride: Wedding Bells," the sequel to Hallmark Channel's 2017 flick "The Perfect Bride." The new movie premieres Saturday during the network's June Weddings event. No need to wait until then to get all the scoop on the flick, which once again reunites the "When Calls the Heart" stars.
Here's what's to come when "The Perfect Bride 2" premieres.
"Former marriage counselor turned fitness instructor Molly White has built a popular brand of workout classes combining yoga and practical advice for couples on the verge of marriage as well as for those who've already tied the knot," the synopsis begins. Her classes are so popular that she considers leaving the gym and doing it all on her own.
"Her boyfriend Nick Dyson is in the same happy boat," the synopsis continues. "He's the wedding photographer everyone wants and now he's decided to go after his true passion of art photography."
With everything going well in their professional lives, the two are ready to take the next step in their personal ones. Nick and Molly are ready to get married, but that situation becomes a bit complicated when they both realize their past failed relationships are something they still need to mentally deal with.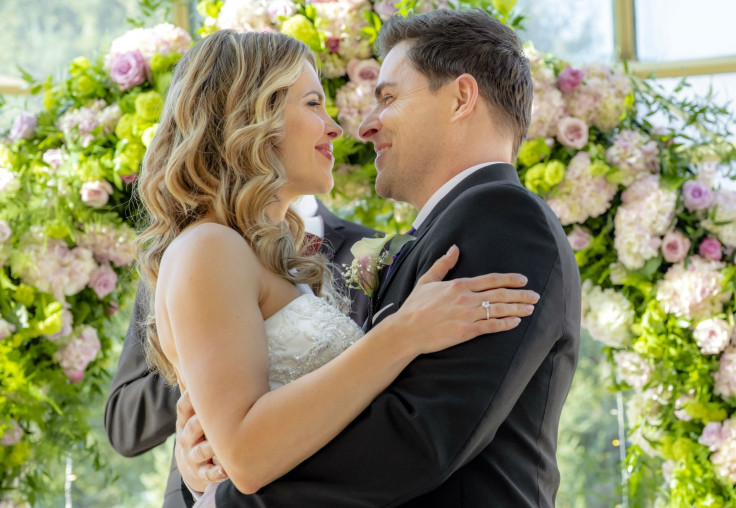 "In their attempt to go about their lives while not striving for the perfect wedding, Molly and Nick are thrown one curve after another," the synopsis says. "The venue where they want to exchange vows – the pavilion where they met and shared their first dance – is only available in six weeks unless they want to wait until the following year; the wedding dress that Molly has fallen in love with can't be finished in such a short time, and Nick's big art show is also in six weeks."
To top it all off, Molly's thrown for a loop when her business loan is denied and her ex-fiancé steps in to help finance her new venture. Still, she can't focus too much on the problems this might cause because she has her wedding to Nick to plan. The couple tries to keep going with the wedding details, as well as spend time on their professional projects.
"It's all getting quite complicated and Nick and Molly barely have time to make decisions about flower arrangements, the wedding cake or the seating plans, let alone have a conversation about how they're feeling about their fast-approaching nuptials," the synopsis reveals. "In fact, without checking in and listening to each other, as Molly stresses in her Bridal and Marriage Boot Camps, both she and Nick are mistakenly assuming that the other wants to postpone the wedding."
The problems keep coming when Nick's photos don't sell, Molly's business plans take a hit and the couple can't get the deposit back on the pavilion. Still, "it might appear that some of Molly and Nick's future are imperfect, but nothing matters when the bride and groom to be are a perfect match."
Catch "The Perfect Bride: Wedding Bells" when it premieres on Hallmark Channel on Saturday at 9 p.m. EST.
© Copyright IBTimes 2023. All rights reserved.