Hallmark Channel 'Switched For Christmas' Premiere: Meet The Cast, Watch Trailer
The final movie premiere of Hallmark Channel's Five Night Thanksgiving Movie Event stars none other than network fan-favorite Candace Cameron Bure with "Switched for Christmas."
Bure might be an all-star in the Hallmark family with many movies under her belt, but this one is extra special because her real-life daughter, Natasha Bure, is featured in the new film as well.
Along with the two Bure women, "Switched for Christmas" also stars Mark Deklin, who recently played Jack Bowman on "Designated Survivor," and Eion Bailey, who portrayed August Booth on "Once Upon a Time" for over 20 episodes.
In this new Christmas movie, Candace plays twins Kate and Chris in a dual-role she's been preparing her whole life for as she grew up learning the twin life from her "Full House" co-stars Mary-Kate and Ashley Olsen.
Along with Candace's roles, Natasha will play Chris' daughter, while Deklin and Bailey will each be a romantic interest for one of Candace's characters.
"In her chic suits, designer shoes and perfectly scripted single life, Kate Lockhart is senior vice president with Walker Real Estate whose home is a high-rise condo in Denver. When the planning of the office Christmas party unexpectedly falls to her, Kate reluctantly agrees," the synopsis explains.
Meanwhile, Chris is a single mom in the suburbs who juggles a household with two kids and working as an art instructor and running the school's annual Winder Wonderland Carnival.
"Due to busy lives and different goals, the two sisters have grown apart. Disappointed and disheartened by this, their father surprises them with an unexpected brunch meeting Both sisters lament how much better the other has it," the synopsis teases. "Both are convinced they could take on each other's Christmas event and breeze through it and that's when a playful idea hatches: trading places and assuming each other's life. After all, they used to swap for fun as kids. Establishing the rule of no romance allowed, they agree to their charade."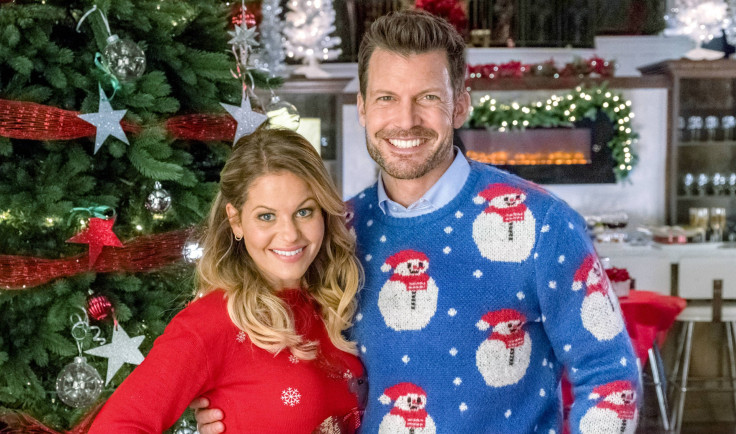 Chris, as Kate, begins her work at Walker Real Estate and is doing a good job of pretending to be her sister, but a co-worker Greg Turner (Deklin) senses a change in "Kate," and happens to really like this new version of her.
"Around Littleton High, Kate has successfully pulled off 'Chris.' Winter Wonderland gets a boost when a wealthy benefactor, Tom Kinder (Bailey) writes a check with the goal of re-energizing the festival," the synopsis says. "Tom's face registers with Kate, as he was a Christmastime crush of hers 20 years ago. From a chance meeting as teens at the festival ice skating rink, they were smitten. But a plan to meet later that night unraveled in a misunderstanding. Kate's heart sank as she threw away the mistletoe she was planning as a surprise to Tom."
It turns out that both the Walker Christmas party and the Winter Wonderland Carnival in Littleton are big successes and Kate and Chris have a renewed sisterhood, but when the truth of their switch comes out, what will happen to the new romances the two sisters were beginning with their respective love interests?
Find out when the premiere of "Switched for Christmas" comes to Hallmark Channel on Nov. 26 at 8 p.m. EST.
© Copyright IBTimes 2023. All rights reserved.