Halloween 2017 TV Specials: When And Where To Watch Halloween-Themed Episodes
TV is getting into the spirit of Halloween! Several TV shows are airing spooky episodes for the holiday and many networks are airing specials just for All Hallows Eve. Check out all the Halloween episodes and specials airing in the coming weeks. (Note: All times are EDT.)
Thursday, Oct. 19
"It's The Great Pumpkin, Charlie Brown" (8 p.m. on ABC) Charles M. Schulz's classic animated special airs. Linus hopes for a visit from the Great Pumpkin while Charlie Brown is invited to a Halloween party.
"Toy Story Of Terror!" (8:30 p.m. on ABC) The "Toy Story" gang goes on a road trip, but things go awry when they have to take a detour at a roadside motel. Tom Hanks, Tim Allen and the star-studded voice cast reprise their roles in this TV special.
Sunday, Oct. 22
"The Mick" (7 p.m. on Fox) If you missed "The Haunted House" when it first aired, Fox will rebroadcast it Sunday. A Halloween party at the burned mansion takes a turn for the worst.
"Bob's Burgers" (7:30 p.m. on Fox) Linda takes the kids to look for a wolf while a medicated Bob thinks Teddy is a werewolf. Zach Galifianakis and Pamela Adlon guest star.
"America's Funniest Home Videos" (8 p.m. on ABC) This holiday episode features a montage of kids' reactions to scary Halloween decorations.
"The Simpsons" (8 p.m. on Fox) In "Treehouse of Horror XXVIII," Maggie gets possessed, Lisa finds an alternate universe and Homer cannibalizes himself. Mario Batali guest stars.
Tuesday, Oct. 24
"The Middle" (8 p.m. on ABC) In "Halloween VIII: Orson Murder Mystery," Frankie and Brick try to solve a murder.
"Fresh Off the Boat" (8:30 p.m. on ABC) George Takei guest stars in "It's a Plastic Pumpkin, Louis Huang." Evan doesn't love Halloween, Eddie crashes a cool girl's party and Grandma is whisked away by a mysterious group.
"Black-ish" (9 p.m. on ABC) There's nothing more scary or intense than when a family plays Monopoly together. The Johnsons form alliances in "Advance to Go (Collect $200)."
"The Mayor" (9:30 p.m. on ABC) Courtney tries to keep the kids safe in "City Hall-oween" by throwing a Halloween party for the town. However, he realizes that doesn't address the bigger problems facing Fort Grey.
Wednesday, Oct. 25
"The Goldbergs" (8 p.m. on ABC) Adam and Jackie have to learn to compromise after a fight over Halloween costumes in "Jackie Likes Star Trek."
"Speechless" (8:30 p.m. on ABC) The DiMeo kids have crazy fever dreams after eating some bad Halloween candy in "N-I–Nightmare On D-I–Dimeo Street."
"Modern Family" (9 p.m. on ABC) In "It's the Great Pumpkin, Phil Dunphy," no one seems to share Phil and Claire's enthusiasm for Halloween this year.
"American Housewife" (9:30 p.m. on ABC) In this holiday episode, titled "Boo-Who?," Katie is excited to get the family's first "Boo," a Westport tradition where neighbors anonymously leave treats on each other's doorsteps. She's less enthused when she finds out it was left by mistake.
Thursday, Oct. 26
"Superstore" (8 p.m. on NBC) A dead body is discovered in Cloud 9, and Amy and Garrett find trouble after using a dating app on Jonah's phone in this Halloween episode, which is titled "Sal's Dead."
"Great News" (9 p.m. on NBC) In "Night of the Living Screen," Katie tries to impress her suburban friends by heading to a cool Halloween shindig with Portia.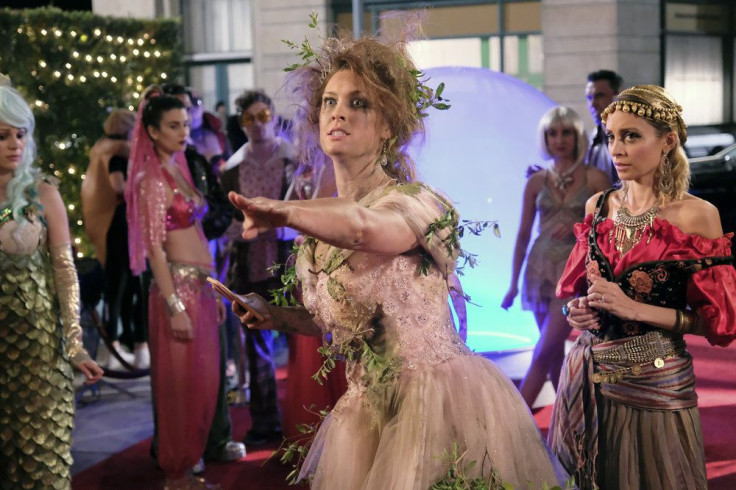 Friday, Oct. 27
"Michael Jackson's Halloween" (8 p.m. on CBS) In this animated special, two teens find a mysterious hotel that leads them to a journey of self discovery, and their night ends with a dance finale featuring an animated Michael Jackson. The special features the voices of Christine Baranski, Kiersey Clemons, Alan Cumming, Lucy Liu, Jim Parsons and Lucas Till.
"MacGyver" (9 p.m. on CBS) The team puts Halloween plans on hold when the Vice President's son is lost in the Bermuda triangle.
Saturday, Oct. 28
"The David S. Pumpkins Halloween Special" (11:30 p.m. on NBC) Tom Hanks returns as his Halloween character from last year's "Saturday Night Live." David and his sidekicks reveal the true meaning of Halloween in this special, which also features "Game of Thrones" star Peter Dinklage.
Sunday, Oct. 29
"It's the Great Pumpkin, Charlie Brown" (8 p.m. on ABC) The Peanuts special airs again on Sunday.
"Halloween Wars" (9 p.m. on Food Network) In the season finale, fans will learn who the ultimate Halloween baker is, and the winner walks away with a cash prize.
Monday, Oct. 30
"Dancing With the Stars" (8 p.m. on ABC) The pros and celebs have planned a "spooktacular" night of performances.
"Scorpion" (10 p.m. on CBS) In "Queen Scary," the team finds a "ghost ship" that could be on a deadly course.
Tuesday, Oct. 31
"The Chew" (1 p.m. on ABC) The cooking show is actually doing Halloween themed episodes starting from Oct. 23, but their Halloween episode will include a huge bash with multiple costumes.
"The Voice" (8 p.m. on NBC) This is a "Best of the Season" episode, but it will include a "Voice Halloween Confessional," which Kelly Clarkson will participate in.
"This Is Us" (9 p.m. on NBC) Jack and Rebecca have trouble taking their 10-year-olds trick-or-treating. Randall, Kate and Kevin have "life-changing Halloweens."
Friday, Nov. 3
"Hawaii Five-0" (9 p.m. on CBS) A string of murders seem to be imitating Hawaiian folklore in "Kama'oma'o, ka 'aina huli hana."
© Copyright IBTimes 2023. All rights reserved.