Halloween Drinking Games 2016 To Play At Home And At Parties For All Hallows' Eve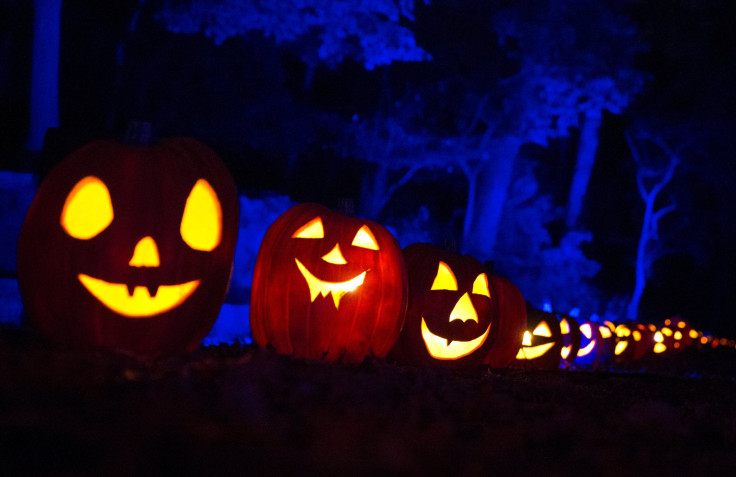 Whether you're staying in with a few friends or throwing a party this weekend for Halloween, adult-friendly games are an amazing alternative to hitting the town — and what better to way to celebrate than with a round of drinking games?
Mix up one of these creepy cocktails and play a round of one (or all) of these Halloween-themed drinking games.
1. Bobbing For Boozy Apples: Easy, fun and best for large gatherings, this game requires you to fill a large bucket or basin with boozy punch and apples. Each apple should have a number carved into its side to indicate how many shots the bobber has to take when they select it.
2. Halloween Horror Flick Games: The possibilities are endless, and movie drinking games allow everyone to tune into a scary movie or two. Turn on any flick and take a shot when someone gets killed, or finish a beer every time you think the killer/monster is dead. Play out the rules as often or as little as you like. For extra ideas, check out this Hocus Pocus drinking game from Pinterest.
3. Spooky Beer Pong: Not much changes with this college classic. Grab those red Solo cups and a pack of ping-pong balls that resemble eyeballs. If you want to get really festive, add some green, purple or black food coloring to some of the beers. It might not sound appetizing, but neither does pounding Coors Light.
4. Name That Bone: This activity might not be the best game if you hated physiology, but it's fun and fitting for the holiday. Buy a cheap, plastic skeleton or use a cutout and hang it where everyone can see. Each person has to name a bone in the human body. Every time an answer is wrong, take a shot.
5. Rummy Mummy: You might remember this game from your childhood years, and the rules still apply: This game requires two teams of people each armed with rolls of toilet paper. Each team selects a "mummy" and races to see who can wrap up the member in toilet paper first. The finished mummy has to consume all of his or her drink (after being spun around quickly — there's the dirty trick) while the next team member is wrapped in T.P. There is no set penalty for the losing team, but losers could down another drink.
6. Hungry Pumpkin or the Halloween Version Of King's Cup: Gear up for another popular college drinking game with this festive take on King's Cup. Brush up on the original rules here, grab a deck of cards and find a carved, clean pumpkin. In accordance with the rules, dump your drink into the pumpkin — and cross your fingers you don't have to drink the boozy concoction at the end.
7. Monster Mash Drinking Game: This game could get tricky if you play after a round of drinks or two. Players should stand around in a circle and count off in order. For every number divisible by three, someone has to shout "mash." With numbers divisible by five, the player should yell "monster." A drink should be taken by those who mess up.
© Copyright IBTimes 2023. All rights reserved.