Halloween Recipe Ideas 2015: How To Make Candy Apples And Other Easy Treats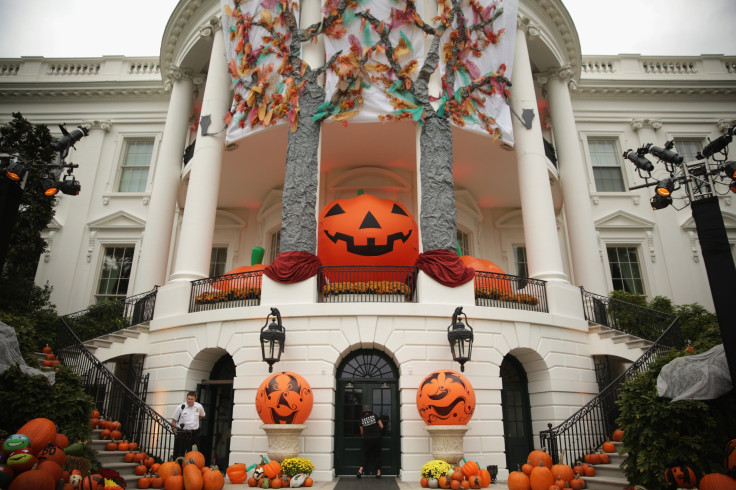 No tricks here, just treats. Everyone knows Halloween is the start of the holiday season and it's a perfect opportunity to get in the kitchen. Spooky foods aren't hard to make if you're creative. Add candy corn to cookie batter, splatter spaghetti sauce like blood or scatter gummy worms liberally, and you're set. Still searching for ideas? Read on for seven fun Halloween recipes.
1. Make MyRecipes' Brew-Ha-Ha Punch by mixing two cups of sugar into two quarts of water, adding two envelopes of lime powder and pouring in 46 ounces of pineapple juice. Finish with a quart of ginger ale. Stir together and serve -- extra points if you put it in a cauldron.
2. These "poison" apples from Country Living look downright scary, but they're tasty. In a saucepan, stir together 1 and 1/2 cups sugar, 1/2 cup of corn syrup and 3/4 cups of water. Use a candy thermometer to check the temperature periodically. Once it reaches 310 degrees Fahrenheit, pull it off the stove and add 1 teaspoon of black food coloring. Dip Granny Smith apples in the candy and let cool, then skewer with sticks.
3. Searching for something more savory? Mummy dogs are a classic October treat. Take a hotdog, slice almost all the way through long ways and stuff with a cheese stick. Then wrap with strips of premade bread dough, like Pillsbury's crescent rolls. Bake for about 15 minutes at 375 degrees, dot on mustard "eyes" and enjoy.
4. Babble's ghost pretzels are super simple. Take thick pretzel sticks and dip in melted white chocolate, then let cool. Melt dark chocolate separately and use a toothpick to dot on two eyes and a mouth. Refrigerate and serve.
5. You don't even have to bake to make doughnut vampires from SheKnows' instructions. Buy a dozen of your favorite flavor and push a set of plastic fangs in the hole like a mouth. Decorate with white, black and red icing, making eyes, blood and a widow's peak. So cute. So easy.
6. Cobwebs and cookies aren't normally a good combo. But Delish's spider-inspired chocolate-dipped Oreos certainly are. Melt semi-sweet chocolate chips in a bowl and dip Oreos in it. Place on parchment paper. Then, melt white chocolate chips in a Ziploc and cut the corner. Carefully pipe three concentric circles on the top of each Oreo, then use a toothpick to draw diagonal lines through them. Let cool and serve.
7. We'll end with something healthy: Weelicious' ghost bananas and tangerine pumpkins. For the first, slice bananas in half and add two miniature chocolate chips for eyes and one regular for a mouth to each. Then peel tangerines and stuff the top with half-inch sticks of celery. Fun and frightful -- what more could you want?
© Copyright IBTimes 2023. All rights reserved.
FOLLOW MORE IBT NEWS ON THE BELOW CHANNELS