Halo World Championship 2016 Live Stream: Watch The Best Teams In The World Compete For $2.5M Prize Pool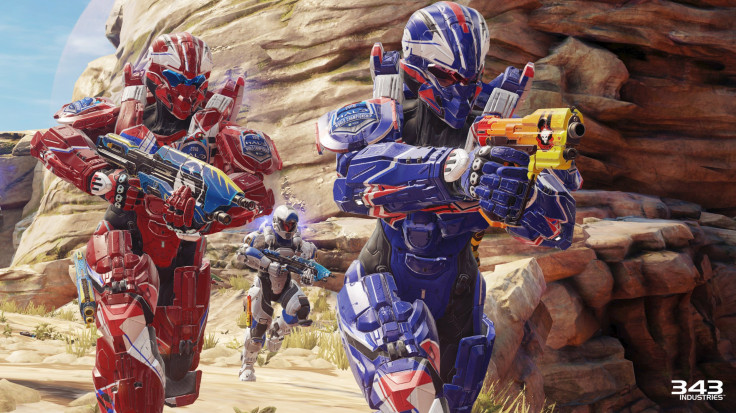 The Halo World Championship 2016 takes over Hollywood this week. The 16 best "Halo" teams from around the world will compete for a prize pool of $2.5 million. The winning team will earn bragging rights and $1 million. Playoffs begin Friday with the finals taking place Sunday. The Halo World Championship 2016 live stream begins at 9 a.m. PDT (noon EDT).
The 16 teams advanced from a pool of 900 teams over several months. "Halo 5: Guardians" is the official game of the championship. Per the Halo World Championship rules, the global finals features eight teams from North America, four teams from Europe and Africa, one team from Latin America, one team from Asia and two teams from Australia and New Zealand. For the playoffs, the 16 teams are divided into four pools. Each team will play against the other three teams from their pool. The top two teams advance into the Bracket Stage. The eight teams will compete in a single-elimination format to advance to the semifinals. All matches until the semifinals will be a best-of-five with the semifinals and finals featuring a best-of-seven format.
North American teams are favored to have a strong showing in the Halo World Championship. Evil Geniuses and Counter Logic Gaming are considered to be among the best teams in the world and are early favorites to compete for the $1 million grand prize, according to ESPN. Team Allegiance, Denial eSports and Team Liquid are other strong North American teams that are expected to perform well over the weekend.
That's not to say the Halo World Championship will be without a few surprises. Any tournament can feature upsets, especially with strong teams from around the world. Epsilon eSports and Team Infused are considered the best European teams, which could mean dashed dreams for some of the strong teams. Team Infused has a better chance of qualifying in Group B as their major competition will be Evil Geniuses and the somewhat inconsistent Renegades. Epsilon eSports is in what ESPN calls the "Group of Death" having been paired with Counter Logic Gaming and Cloud9 and the relatively unknown Team Skyfire from Australia.
Friday's matches, beginning at 12:25 p.m. EDT (9:25 a.m. PDT), include Evil Geniuses against Renegades, Team Infused against Exile5 and Team Liquid against Allegiance on the Main Stage. You can watch all of the Main Stage action from the Halo World Championship 2016 below.
Watch live video from Halo on www.twitch.tv
The second stage features some intriguing matches Friday beginning at 12:25 p.m. EDT (9:25 a.m. EDT). Epsilon eSports competes against Cloud9 and Cloud Logic Gaming in Group D agction while Denial eSports competes against Team Immunity.
Watch live video from ESL_Halo on www.twitch.tv
© Copyright IBTimes 2023. All rights reserved.