Hands Up, Don't Tweet: Police Departments Across The US Struggle With Social Media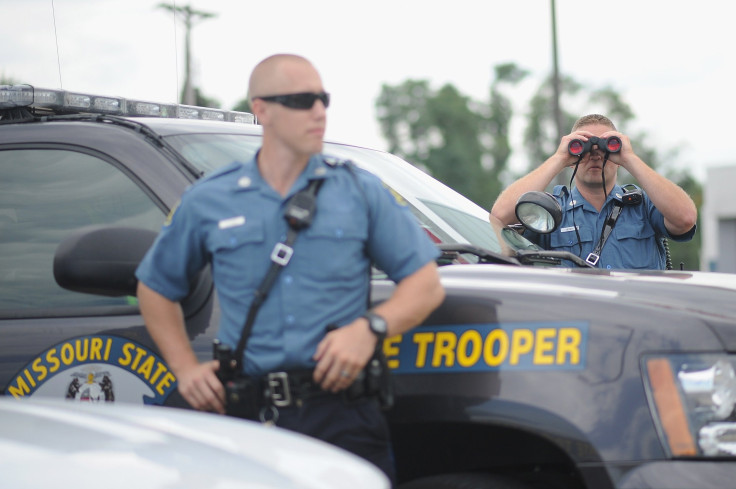 Last Friday evening, Texas police officer Darren Goforth stopped at a Chevron station to fill his cruiser's gas tank when a man approached him from behind, pulled out a loaded .40-caliber Smith & Wesson, and shot 15 times. A day later, the police arrested a suspect, but so far they have provided no motive for the slaying.
"Our assumption," said Sheriff Ron Hickman, of the Harris County police department, is that Officer Goforth was targeted "because he wore a uniform."
In a press conference held over the weekend, Hickman linked the murder to the Black Lives Matter movement, a social justice movement that has largely played out over Twitter and Facebook. "When the rhetoric ramps up to the point where calculated, cold-blooded assassination of police officers happens, this rhetoric has gotten out of control," Hickman said.
Hickman seems to be making the argument that the murder was fueled, in part, by a social media campaign. And to combat it, Hickman wants to advance a social media campaign of his own, called #AllLivesMatter. It may seem innocuous -- hokey, even -- but the tweet marks an important turning point.
For the last few years, cops have stayed mostly silent on social media, even as anti-police hashtags like #BlackLivesMatter, #HandsUpDontShoot and #ICantBreathe trend internationally. But the frustration seems to be bubbling over, and many police departments want to participate in the dialogue.
It doesn't always work out for the police, though. Immediately following the sheriff's press conference and subsquent tweets, many within the Black Lives Matter community felt slighted by his remarks. DeRay Mckesson, a leader within the movement, responded to Hickman's comments, saying, "It is unfortunate that Sheriff Hickman has chosen to politicize this tragedy and to attribute the officer's death to a movement that seeks to end violence."
Police are at a crossroads with social media. They want to participate -- and turn social media into an actual "conversation" -- but more often than not, they're left scratching their heads, wondering what to actually say or do. Increasingly, they are turning to a onetime television journalist and self-styled social media expert who has been travelling the country since 2008, linking up with local police departments to train them on the subtle art of Facebook and Twitter.
Lauri Stevens, the founder of Laws Communications, based in Washington, D.C., says police officers need to be extraordinarily cautious in using social media. "Most of them jump on Facebook and Twitter before they really know what they're doing with it," she says.
Stevens is regarded as something of a social media impresario by police officers around the country. In 2010, she launched the biannual SMILE conference, the self-described "world's premiere" three-day summit on law enforcement social media. She's even developed -- and trademarked -- her own social media method, called "C.O.P.P.S." (Citizens, Objectives, Plan, Policy, Schedule), which is used by police officers in Dallas, Toronto, and even Belgium. Scott Mills, an officer in the Toronto police department, calls Stevens the "world leader for training and education about the use of social media."
Stevens says that police social media fails are commonplace. Take, for instance, the New York City Police Department's 2014 attempt to get citizens to post friendly pictures of local cops using the hashtag #myNYPD. The hashtag certainly went viral -- but for all the wrong reasons. People used it as an excuse to post images of police officers wielding batons and dousing people with pepper spray.
Instead of fighting hashtags with hashtags, Stevens pushes cops to use social media as a tool for community outreach. While it's important to respond to specific events -- especially officer-involved shootings -- that's not where officers will make their mark. Creativity and transparency, she says, can go a long way.
Perhaps the most successful example of a Stevens-inspired outreach campaign is the world-famous "Shake It Off" cop. The now-viral video, which boasts over 36 million views, was uploaded by the Dover, Delaware, police department in January 2015.
The idea was spawned by Mark Hoffman, the public information officer for the Dover City police department. After attending the 2013 SMILE conference, he says, he was inspired by Stevens to start thinking about ways to share more positive images of police officers within his squad.
"The one thing I can say about my staff is that they are very open-minded about my ideas," he says. Hoffman suggested the idea to officer Jeff Davis. "I was like, 'What's funnier than this big burly guy singing Taylor Swift?" Hoffman says. "Within the first hour, it had 50,000 views. By that night, it had 1 million. By 10 p.m., 'Good Morning America' was asking us to go on the show."
Hoffman believes the video acted as a "relief valve" of sorts. "There was so much tension," he says. "We were just coming off Ferguson. Baltimore was starting. When we released it, there was a flood of emotions. We got letters from chiefs of police saying, 'Thank you for what you did for police; you just saved our profession.'"
Stevens, 54, who started her career as a TV journalist and later worked as a professor of interactive media, suggests first responders could do a better job of "telling their story." The next SMILE conference, to be held next month in Niagara Falls, will feature police speakers from around the world. The emphasis of the conference, Stevens says, is to focus "on how social media has been used to build new relationships and develop trust and confidence with communities." The conference is growing. The first event had 64 attendees. She predicts over 150 will attend the next one.
2014 SMILE attendee Barbara Childress, the chief of police in Richland Hills, Texas, had been skeptical about social media going in, but after meeting Stevens at last year's conference, Childress signed her department up on Facebook and Twitter. Childress says that she refrains from reacting to anti-police social media campaigns.
Instead, the accounts highlight positive stories about the officers in the department.
"Using social media, we try to put our officers in a light that people understand," Childress says. "They're people, just like you."
FOR FREE to continue reading
✔️ Unlock the full content of International Business Times UK for free
offer available for a limited time only
✔️ Easily manage your Newsletters subscriptions and save your favourite articles
✔️ No payment method required
Already have an account?
Log in
© Copyright IBTimes 2023. All rights reserved.