Hawaii Airlines Plane Makes Emergency Landing After Cabin Is Filled With Smoke, 7 Passengers Taken To Hospital
Seven passengers including two children were taken to a hospital after smoke filled the cabin and cargo hold of a Hawaiian Airline flight, forcing it to make an emergency landing at Honolulu airport.
Five adults and two children of the Hawaii Airline Flight 47 from Oakland, California, were taken to the hospital as they were suffering from "smoke related symptoms." The passengers were evacuated after the emergency landing, but no one was seriously injured in the ordeal. The flight had 184 passengers and 7 crew members.
Hawaiian airlines released a statement at 6 p.m Thursday saying that the smoke was caused due to a problem in the engine, when oil leaked on to the hot parts of the engine and the air conditioning pressurization system. The performance of the engine was however not affected.
"We have since determined that a seal failed in the aircraft's left engine, causing oil to leak onto hot parts of the plane's engine and air conditioning pressurization system, resulting in smoke in the cabin," the statement said.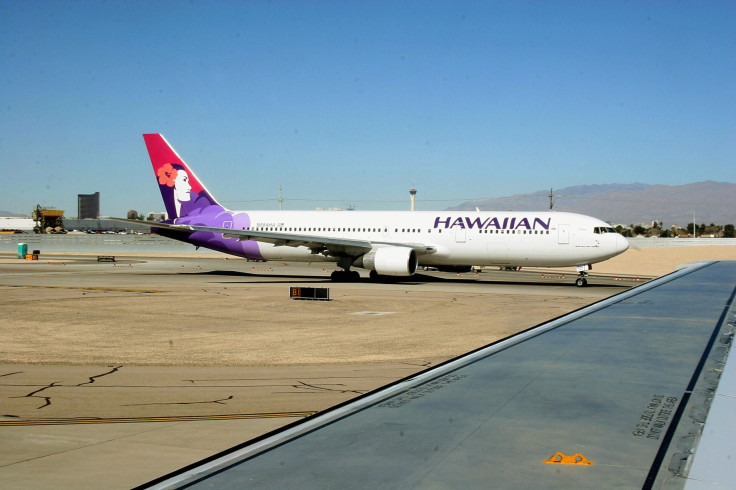 According to the passengers, the cabin was filled with smoke all of a sudden and it began to get thick. The flight attendants passed wet clothes around to help passengers breathe in the smoke. Oxygen masks were not deployed for the passengers as there were fears of a fire on board. The captain declared an in-flight emergency and landed the plane in 20 minutes, after notifying the airport authorities.
Upon landing the evacuation took place immediately, as responders were already in position. The only injuries that happened were "bumps and bruises," as people had to come down the emergency slides during evacuation, Hawaii News Now reported. The plane landed in Honolulu airport at 11:36 a.m.
Airport Fire Chief Glenn Mitchell said that there was very little smoke in the cabin area when it was inspected after the plane landed, while the cargo hold had no smoke.
The emergency landing and the evacuation process resulted in a runway being closed at the airport, but other than that no major disruptions were reported. Since halon, a fire suppressor, was used in the cargo hold the passengers could not collect their luggage at the time of evacuation, but they were later reunited with their belongings.
The airlines apologized to the passengers for the incident and thanked them for their co-operation in the evacuation, which took place swiftly and in an orderly fashion.
© Copyright IBTimes 2023. All rights reserved.