Here Are The October 2013 'Big Eight' US Auto Sales Numbers: GM, Ford, Chrysler, Toyota, Honda, Nissan, Volkswagen, Kia/Hyundai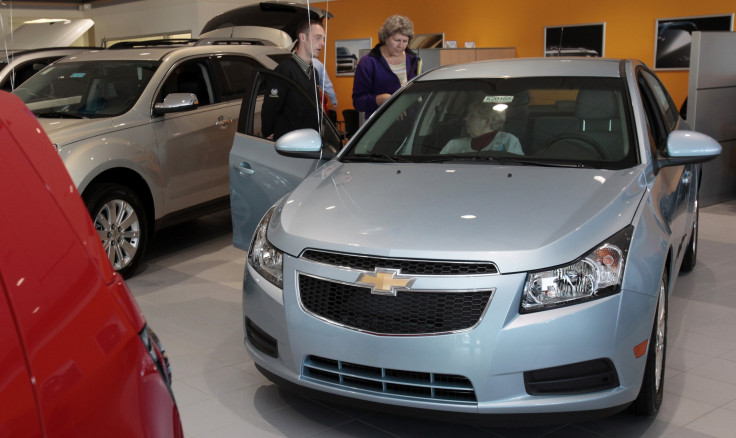 It's that time of the month again.
The world's eight top auto manufacturers are releasing their October U.S. auto sales figures. Auto-industry analysts forecast total monthly sales to come in at about 1.23 million passenger cars and light truck sales, up 12 percent from about 1.09 million in October 2012. The seasonally adjusted annualized rate, the key monthly metric that gauges the health of the industry and consumer sentiment, is expected to be around 15.4 million units, up from 14.3 million in the same month last year.
UPDATE Nov. 1, 4 p.m. EDT
Total U.S. car sales for the month: 1.2 million. The key seasonally adjusted annualized rate drops to 15.2 million from its 2013 September peak of 16.1 million.
UPDATE Nov. 1, 2:25 p.m. EDT: Kia Motors America & Hyundai Motor America
The South Korean sibling automakers saw their combined sales rise an ever-so-slight 0.6 percent thanks to growth in the U.S. subsidiary of Hyundai Motor Co. (KRX:005380) and no thanks to a retreat by the U.S. unit of Kia Motors Corp. (KRX:000270). The two automakers are typically twinned in industry metrics because they share significant operations, such as research and product development and marketing.
In essence both companies getting pummeled in the highly competitve field of crossovers and small cars. They don't do well in luxury and have no trucks to sell in a market that loves them, leaving them with little to offset declines in their core models.
Hyundai lifted sales last month by 6.5 percent to 53,555 units on higher demand for its best-sellers, especially the Sonata mid-size sedan (up 18.5 percent to 19,872) and the Elantra compact (up 2.5 percent to 14,876). Duds for the month: the Tucson crossover, Veloster compact three-door and the Genesis full-size luxury sedan.
For the first 10 months of the year, Hyundai saw a 2 percent increase in volume, to 601,773. Kia lost ground, with sales from January to October falling 4.4 percent to 456,137 units. Last month, sales fell 6.3 percent to 39,754 as consumers shied away from its best-selling Optima mid-size sedan (down 11 percent to 11,492), Sorento mid-size crossover (down 15 percent to 8,142). The Soul subcompact did better, with 8,240 deliveries last month, or 3.2 percent growth from last year.
UPDATE Nov. 1, 1:32 p.m. EDT: American Honda Motor Co.
Honda said Friday it sold 114,538 units in the U.S. last month, a 7.1 percent rise from last year as consumers continue to embrace the Japanese automakers perennial hits: the CR-V crossover, which had its best October since 2006, and the Civic subcompact, whose sales leaped 32 percent over the previous year.
"Despite consumer uneasiness early in the month, real demand remains strong across the Honda brand and we remain on track to achieve number one retail sales this year for our core models," John Mendel, executive vice president of sales at American Honda, said in a statement announcing the figures.
The Accord compact, Honda's second best-selling vehicle behind the more economical Civic, last month topped 300,000 units sold in the U.S. so far this year, but sales fell 11.2 percent to 25,162. The Odyssey minivan also stumbled, falling 7.7 percent to 8,968.
Civic Hybrid sales really took off, albeit on small volume, jumping nearly 156 percent to 1,158. The Accord Hybrid just arrived at dealerships this week, so it remains to be seen if it will take off in a smiliar fashion.
Honda's premium Acura division saw sales rise 17.5 percent to 14,296 units on robust demand for the ILX entry-level luxury sedan, the MDX mid-size luxury crossover and the RDX entry-level compact crossover.
UPDATE Nov. 1, 12:51 p.m. EDT: Nissan U.S.A.
The U.S. subsidiary of Nissan Motor Co. Ltd. (TYO:7201) said Friday U.S. sales jumped 14.2 percent to 91,018 on strong purchasing volume for the Rogue and Pathfinder crossovers and Frontier pickups. The Nissan Segment had a record October with 81,866 deliveries, and Nissan's luxury Infiniti Segment made a 4.5 percent climb from the same month last year, to 9,152 units.
"Nissan's record October performance demonstrates that a Washington shutdown was not enough to shut down our sales momentum," Fred Diaz, Nissan U.S.A.'s sales chief, said in a statement, referring to the 16-day partial government shutdown in October that spooked dealers but didn't last long enough to scare away consumers.
October losers included the Altima mid-size sedan. The company's best-selling vehicle descended 11.5 percent to 21,785 from last year on strong performance from comparable models from competitors, such as Ford's Fusion.
Nissan has the best-selling electric car in history, the Leaf. EVs make a sliver of any automaker's business, but the Leaf set an October U.S. sales record at 2,002 units, up 26.8 percent for the month and 183 percent for the first 10 months, at 18,078.
Nissan Motor released on Friday poor fiscal second-quarter earnings due to a massive global recall of about 900,000 cars (most of them in Japan) to fix a defective accelerator component, but sales performance in the U.S. has clearly provided some tailwind that helped the company post a slim global net profit and mitigated the damage the recall inflicted on operating profit in the quarter. The company posted a 2 percent rise in net income of 107.8 billion yen ($1.1 billion) on 25.69 billion yen in revenue, a 16 percent rise. The company also announced a major management shuffle that includes installing Jose Munoz as head of North American operations.
UPDATE Nov. 1, 12:21 p.m. EDT
The Detroit 3 automakers have sold a combined 558,470 passenger cars and light trucks in the U.S. in October, a 9.8 percent increase from the same month last year. For the first 10 months of 2013, GM, Ford and Chrysler (including a relatively small number of Fiats sold in the country by Chrysler's Italian parent) sold 5.9 million vehicles, a 13.6 percent increase from the same period last year. This means almost 38 percent of all vehicle sales in the U.S. went to the Michigan automakers.
UPDATE Nov. 1, 11:28 a.m. EDT
Michelle Krebs, senior analyst at auto-market-information provider Edmunds.com explains why Volkswagen had another dismal month in the U.S.: "Volkswagen is still struggling to keep up with the industry as it discontinues old models and awaits the arrival of new ones. Volkswagen also doesn't have the product breadth to capitalize on the truck and small SUV boom. The company will have a lot of ground to make up to achieve its ambitious goal to sell 800,000 vehicles -- about double this year's anticipated sales -- in 2018."
UPDATE Nov. 1, 11:14 a.m. EDT
Alec Gutierrez, senior analyst at automotive information and pricing provider Kelley Blue Book points out that despite the Chevrolet Cruze's decline in sales last month, retail sales for the popular compact sedan were strong.
"GM had a very strong month, surpassing our expectations thanks to still strong sales of trucks and SUVs as well as a rebound in the Cruze and Malibu which were off in September," he said. "The Cruze enjoyed its best October ever in terms of retail volume, an impressive feat considering the competition which includes an all-new Corolla and Civic."
As GM CEO and Chairman Dan Akerson said in a conference call this week after the company reported its third-quarter earnings, Cruze inventory is a little higher than it should be due to lackluster fleet sales -- mainly involving orders from auto-rental companies. Akerson said he expected some increased fleet sales volume through the rest of the year.
UPDATE Nov. 1, 10:55 a.m. EDT
Nissan Motor Co. Ltd. (TYO:7201) released its second-quarter results on Friday and they weren't good. In fact, they were so bad CEO Carlos Ghosn canceled an event he was supposed to attend in South Korea in order to address the poor results, according to a Wall Street Journal report.
Nissan slashed its profit forecast by a big 15 percent to 355 billion yen ($3.6 billion) as net profit rose a disappointing 2 percent while operating profit fell nearly 20 percent as the company took a one-time hit on the recall of about 900,000 vehicles to fix defective accelerator components. Ghosn announced major management shifts at Nissan.
Watch Ghosn explain:

UPDATE Nov. 1, 10:42 a.m. EDT
GM estimates October's seasonally adjusted annualized selling rate to settle at 15.6 million for the past 12 months, in line with estimates for the year of more than 15.5 million. In 2012, U.S. buyers purchased 14.4 million units. Next year, many analysts see U.S. auto sales recovering to prerecession numbers above 16 million.
UPDATE Nov. 1, 10:30 a.m. EDT: General Motors Co. (NYSE:GM)
The world's second-largest auto company said Friday total GM vehicle U.S. sales jumped 15.7 percent on strong demand for Chevrolets, especially the Impala and the Malibu, which jumped 40 percent and 63 percent, respectively.
The new light duty 2014 Silverado and Sierra trucks accounted for 76 percent of the company's light-truck deliveries last month.
"Chevrolet, Cadillac and Buick-GMC all performed well in the month, and the sales tempo really picked up after the government shutdown ended," Kurt McNeil, GM's vice president for U.S. sales operations, said in a statement. "We are particularly pleased with our truck momentum."
The premium Cadillac brand with its new XTS full-size luxury sedan and the ATS compact luxury car jumped 9.5 percent to 14,792.
Losers for the month: the Cruze, down 16 percent to 16,087, and the Buick LaCrosse mid-size sedan, which dropped 7 percent to 3,850. Buick, however, saw the biggest jump of GM's four brands at 31 percent to 17,555 units total. GMC increased nearly 16 percent to 38,841. Chevrolet was up nearly 15 percent to 155,214.
UPDATE Nov. 1, 10 a.m. EDT: Volkswagen Group of America Inc.
The German automaker hasn't had its best year in the U.S. Total October sales were down 18 percent to 28,129 as the maker of the Passat sedan and the GTI is facing stiff competition in segments it used to dominate, especially in the compacts.
All models but the GTI and the Beetle Coupe saw sales fall year-over-year. The GTI rebounded from a previous month decline, to 1,032 units or 6.8 percent, while the new Beetle convertible lifted Beetle into positive territory despite falling sales of the coupe version. The Chattanooga, Tenn.-built Passat full-size sedan was down 13 percent to 7,258 while the company's best-selling Jetta (the sedan and the SportWagen) fell to 11,710, or 13 percent.
The U.S. subsidiary of VW put a positive spin on its numbers by pointing to its expected annual U.S. deliveries.
"After more than doubling our sales over the past three years, it is a significant recognition of the strength of our products that we are on course to close out a second consecutive year with over 400,000 vehicles delivered for the first time in 40 years," Jonathan Browning, the subsidiary's president and CEO, said in announcing October's numbers.
UPDATE Nov. 1, 9:20 a.m. EDT: Ford Motor Co. (NYSE:F)
Ford knocked it out of the park last month, reporting the best October sales performance since 2004 on strong retail demand for the Ford Fusion sedan, the Fiesta mini and the America's perennial favorite, the F-Series pickup truck, which topped 60,000 unit sales.
Total sales hit 191,985 units, up 14 percent from October 2012, with the Fusion leaping 71 percent to 21,740.
"October was simply an outstanding retail performance," John Felice, the company's vice president, U.S. marketing, sales and service, said in a statement announcing the monthly sales figures.
Ford's premium high-margin Lincoln brand did well, too, up 38 percent to 3,828. Losers for the month include the Focus compact (down 17.5 percent to 15,108) and the C-MAX compact multipurpose vehicle (down 20.5 percent to 2,530).
Also on Friday, Ford announced a recall of 2,618 of its Focus electric cars because of a potential loss of power to the wheels due to software problems. The company doesn't say how many Focus EVs it sells in its monthly report, but EV volume is low for all automakers. The recall doesn't affect the fuel-burning Focus.
Chrysler Group LLC
First to report sales, as usual, is Chrysler, the Detroit 3 subsidiary of Italy's Fiat SpA (BIT:F). Here are the figures: The maker of the Jeep Wrangler 4X4 and Dodge Caravan minivan saw a 22 percent year-over-year increase in total volume sales, to 140,083 units. The Auburn Hills, Mich., company delivered 18 percent more of its best-selling Dodge Ram pickup, to 29,846, and 20 percent more of its newly designed Jeep Grand Cherokees, to 14,263.
Chrysler said Friday this was the best performance for the month since 2007, a year prior to the demise of the auto industry amid the economy-battering subprime-mortage meltdown, showing that the company is well on its way to recovering from its 2009 bankruptcy that cost American taxpayers $1.9 billion.
"After a choppy start to the beginning of the month, Chrysler Group sales accelerated in the second half of the month with renewed consumer confidence and the launch of our all-new Jeep Cherokee," Chrysler's head of U.S. sales Reid Bigland said.
© Copyright IBTimes 2023. All rights reserved.