Here's The Crazy Amount Of Cellular Data Snapchat Consumes And How To Stop It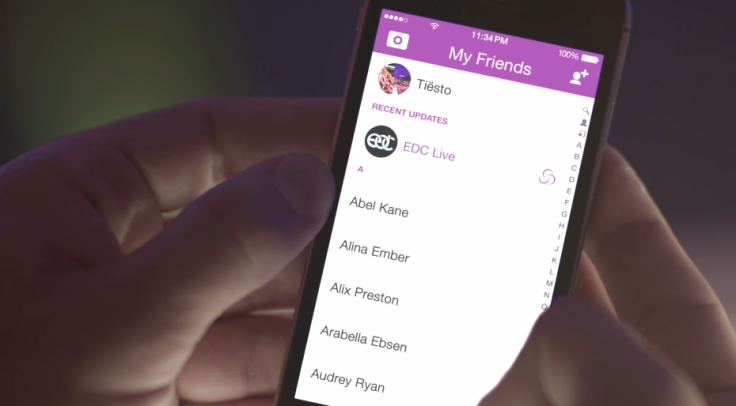 Snapchat messages may disappear, but your cellular data bill won't. A lot of users of the ephemeral messaging service are finding out it can be an expensive data hog, and the addition of live video feeds and Snapchat's "Discover" section for media isn't helping.
In the UK, Snapchat accounts for 75 percent of cellular messaging data, mobile carrier Vodafone CEO said in recent earnings call, Digital Trends writes. The app's heavy data consumption was spotted in March after the company launched its Discover network, where users can view news from participating media companies. Average weekly data consumption sparked from 100 MB to 600 MB per week in the U.S., according to data analysis from 7Park Data.
Since the app's early days, users have questioned how much data Snapchat consumes. One user took to Quora in March 2012 to ask "Does sending pictures via Snapchat use up a lot of cellular data?" where Snapchat CEO Evan Spiegel responded. Snapchat images are typically 30 to 50 KB, Spiegel wrote and pointed to streaming video as a potential culprit.
But since that response, Snapchat has added several new features -- including video messaging, live feed viewing and media-curated stories, that have all added to data consumption. We tested several functions to determine how much data the app can use. These tests were done on an iPhone with iOS 8.3 and Snapchat version 9.8. First, we cleared our cellular data usage statistics by going to "Settings > Cellular > Reset Statistics." Then we performed a function, checked the data usage under 'Settings' and reset before moving to the next task.
For reference, 1 GB = 1000 MB = 1,000,000 KB. A 1 GB data plan on AT&T costs $25 per month. Here's the results:
As a user, sending a message:
Sending A Text Message: 20.1 KB
Sending A Picture Message: 13.0 KB (5-second photo to one person); 15.6 (5-second photo to two people)
Sending A Video Message: 1.9 MB (10-second video)
As a recipient, receiving a message:
Viewing A Text Message: 17.3 KB
Viewing A Picture Message: 867 KB (10-second photo)
Viewing A Video Message: 891 KB (10-second video)
Beyond one-to-one messaging:
Viewing Snapchat 'Our Story': 679 KB (46 seconds of Tuesday's Berlin story)
Viewing Snapchat Discover: 2.7 MB (30 seconds of using CNN)
After a few minutes of using Snapchat, we had gone through 7 MB of data, or 0.7% of a 1 GB per month data plan. For further comparison, 1 GB would be about 100,000 photos, or 1000 videos, or 1000 views of "Our Story," or 400 uses of Discover.
Another striking note was that going in and out of Snapchat causes data usage to spike. After taking a 10-second picture message and leaving the app, usage was 124 KB. Then 197 KB. And then 240 KB. That's because the app is can continuous run in the background. Users can limit that drainage by deselecting background running. For Android, go to "Settings > Data Usage > Snapchat > Restrict Background Data'. For iPhone, go to 'Settings > General > Background App Refresh > toggle off Snapchat."
The best fix: cellular data drainage can be completely elimnated by choosing to run Snapchat only when connected to WiFi. For Android, go to 'Settings > Data Usage > Snapchat > Restrict App to WiFi.' For iPhone, go to "Settings > Cellular > toggle off Snapchat under Use Cellular Data For."
FOR FREE to continue reading
✔️ Unlock the full content of International Business Times UK for free
offer available for a limited time only
✔️ Easily manage your Newsletters subscriptions and save your favourite articles
✔️ No payment method required
Already have an account? Log in
© Copyright IBTimes 2023. All rights reserved.