Higher Open Expected For US Markets: Oil Price Up
Higher open expected for the U.S markets Wednesday as key stock index futures looked higher on Wednesday morning.
Market participants in Wall Street are awaiting the outcome of the Federal Reserve's rate cut plan by noon.
At 03:30 a.m. ET, Dow Jones futures were up 70 points, suggesting a positive open of more than 66 points. Futures on the S&P and Nasdaq were also high.
The U.S. central bank is expected to cut interest rates the first time since the financial crisis in 2009. Expectations are that a quarter-point rate cut will follow.
The Fed may announce the decision at 2:00 p.m. ET, during Chairman Jerome Powell's press conference.
While the hype on rate cut supported risk asset prices worldwide in recent days, trade war concerns erupted again.
On Tuesday, President Donald Trump in a series of tweets accused Beijing of not keeping its word on buying more U.S. agricultural products dashing hopes on a trade deal despite the revival of talks in Shanghai on Wednesday.
But China insists it bought U.S. agricultural products.
On data, ADP payrolls for July will be released at 08:15 a.m. ET and Q2 Employment cost index figures and the Chicago Purchasing Manager Index (PMI) data for July will follow.
In earnings, General Electric, Occidental Petroleum, and Spotify will report earnings before the bell. Qualcomm, Vale and Sturm Ruger will release results after market close.
Oil price jumps
Oil prices surged on Wednesday, supported by a drop in the U.S. inventories and investor expectations on a rate cut.
Brent crude futures jumped 0.6 percent at $65.12 a barrel by 0842 GMT while the U.S. West Texas Intermediate crude got a hike of 0.3 percent to $58.25 per barrel.
PVM Oil Associates analyst Stephen Brennock believes rate cut would support oil prices as it would expand the U.S. oil demand and add downward pressure on the dollar.
The U.S oil reserves fell last week, per data from the American Petroleum Institute on Tuesday. The crude inventories were down by 6 million barrels to 443 million barrels.
The Middle East remains tense and is supporting oil prices. The U.S. urged Germany to join France and Britain to secure the Strait of Hormuz after Iran's seizure of a British tanker.
Asian markets down
Stocks in Asia fell Wednesday as investors awaited the U.S. Federal Reserve's announcement on interest rates.
Trade concerns exacerbated after President Trump's warning to Beijing that pulled Asian shares downward. Trump cautioned China against skipping a trade deal and its plan to wait for the 2020 polls to get over.
Asserting he would be back in power, Trump said trade deal time that time would be a harsher one than he could finalize now.
Japan's Nikkei 225 fell 0.86 percent while the Topix index fell 0.66 percent. Shares of Sony jumped after the company posted a record first-quarter profit.
Mainland Chinese stocks were down with the Shanghai composite losing 0.67 percent. Hong Kong's Hang Seng index closed early but the index fell 1.31 percent. South Korea's Kospi closed 0.69 percent lower. Australia's /ASX 200 slipped 0.47 percent.
Indian shares were down Wednesday tracking broader Asia market cues around new concerns on the U.S.-China trade war.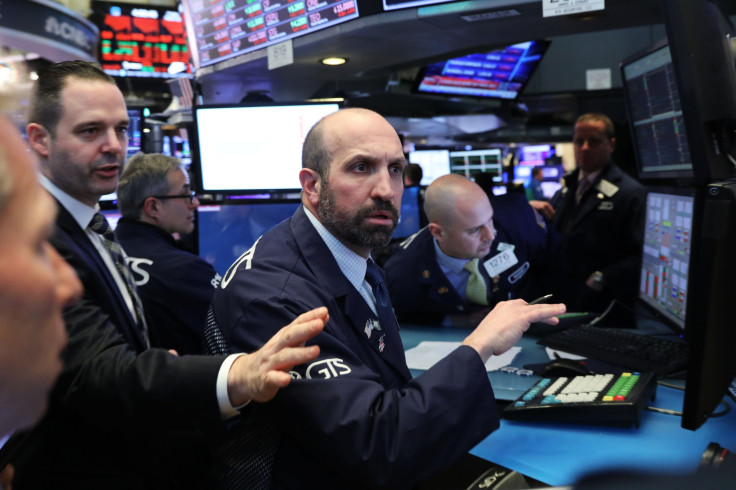 Weak corporate results also haunted India's stock market indices and are looking worse since September 2018.
The NSE Nifty fell 0.6 percent as of 0500 GMT, while the benchmark BSE Sensex crashed 0.54 percent.
"Earnings continue to disappoint in this season as well, reinforced by slowdown commentary from companies across sectors," commented Rajesh Cheruvu, chief investment officer at Validus Wealth.
In Europe, stocks were cautious and traded around the flatline on Wednesday morning as investors awaited the decision on the interest rate cut at the U.S. Federal Reserve.
The pan-European Stoxx 600 was mostly unchanged by mid-morning.
Gold price steady
Gold prices stood steady on Wednesday as investors awaited the outcome of the Federal Reserve's meeting and announcement to cut interest rates.
Spot gold was flat at $1,430.69 per ounce as of 0723 GMT.
The U.S. gold futures inched up 0.1 percent to $1,443.60 an ounce.
"Most of the people are staying on the sidelines due to the Fed meeting. If the Fed does reduce rates, gold may come down a little as a 25 basis point cut is already priced-in," said Brian Lan, managing director at GoldSilver Central in Singapore.
© Copyright IBTimes 2023. All rights reserved.