Hillary Clinton Welcomes Abbi And Illana To Her Headquarters In 'Broad City' Season 3 Clip [VIDEO]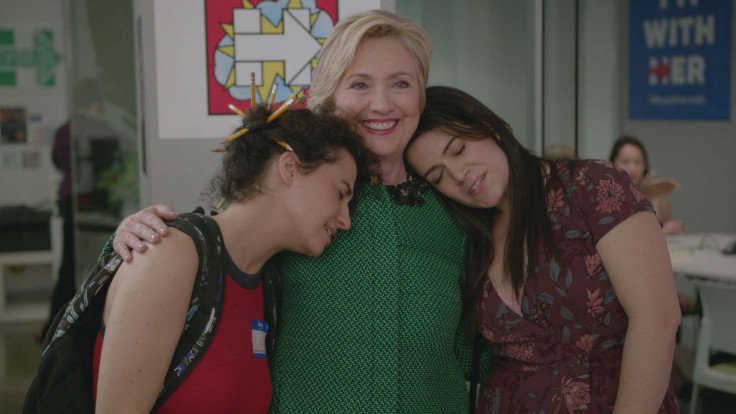 The 2016 Presidential campaigns are in full swing. Candidates have been doing their best to win the support of voters and have even used different forms of entertainment to do so. Bernie Sanders, Hillary Clinton and Donald Trump have all appeared on late night talk shows and "Saturday Night Live." Wednesday night, Clinton will find herself in primetime again when she appears on episode 5 of Comedy Central's "Broad City" Season 3.
In the clip, Abbi (Abbi Jacobson) and Illana (Ilana Glazer) are walking around Clinton's campaign headquarters while enjoying the fact they are breathing in the same air as Clinton. It appears Illana was working there for a day so she's showing Abbi around her desk and describes what she's been up to.
Suddenly, Abbi spots Clinton and everything turns into slow motion. Clinton is then shown walking towards them and she winks as light fixtures burst behind her. Abbi and Illana get really excited and the presidential candidate gives them a second to compose themselves.
Watch the full clip below:
Clinton teased her appearance on the show in December 2015 when she posted a photo on Twitter with Jacobson, Glazer and Amy Poehler. According to E! Online, Clinton was on set for about 45 minutes and got the opportunity to talk to the cast between takes.
At a SXSW panel over the weekend, The Verge reported that Jacobson said the show is not "making a political stance" by having Clinton on. Glazer also added that they're "trying to make good TV" and feels Wednesday's episode will be "good" because of Clinton's appearance.
"It was really more that this is something Ilana's character would do. And Hillary, regardless of where we stand — and we love Hillary — Hillary is such an iconic figure right now and she has been," Jacobson explained.
"Broad City" Season 3, episode 5 airs Wednesday on Comedy Central at 10 p.m. EDT.
© Copyright IBTimes 2023. All rights reserved.