Hong Kong Chief Executive Accused Of Starting 'Cultural Revolution'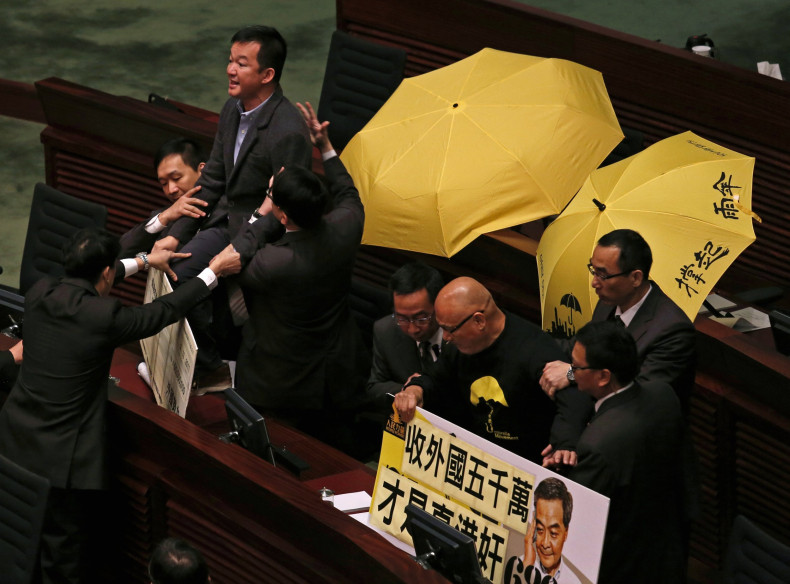 Hong Kong Chief Executive Leung Chun-ying was accused Thursday of "murdering democracy," and policies he planned to introduce, addressed in a speech the day before, were likened to Mao Zedong's Cultural Revolution. Academics and lawmakers harshly criticized Leung's policy address, which ended in a dramatic shouting match and lawmakers walking out.
"Are you trying to stir up a Cultural Revolution in Hong Kong? Are those criticisms your only reflection on the youth issue after the Umbrella Movement?" said Lee Cheuk-yan, chairman of the Labor Party, during the Legislative Council meeting on Thursday, according to the South China Morning Post. He was referring to the 2014 Hong Kong protests, loosely known as the Umbrella Movement, that tried to preserve its "One Country, Two Systems" governance, which grants Hong Kong some autonomy from Beijing. "Are you trying to suppress freedom of speech until 'One Country, Two Systems' is destroyed?" Lee said.
Leung was asked to explain his criticism of University of Hong Kong student publication Undergrad in his policy address, in which he said student leaders were "encouraging independence" and putting forward "fallacies concerning nationalism," according to Channel NewsAsia. Leung rejected that he was guilty of anti-intellectualism and preventing free speech. "I keep saying that freedom of speech is a core value, which we uphold. Anybody can speak freely and anyone can comment. That is in essence the freedom of speech," he said. He added that the kind of dialogue Undergrad provided would not help steer Hong Kong toward "universal suffrage," and that working closely with Beijing was the key to the answer, according to BBC Chinese.
Lee then called Leung "a murderer of universal suffrage" -- the Hong Kong term for the right to elections free from mainland China's influence -- because he had put forth policies that deny that right.
In the 90-minute session, some lawmakers snubbed Leung in various ways. Labor Party member Cyd Ho Sau-lan sat with her back to the chief executive throughout the session, while four other lawmakers shouted and threw objects at Leung before being removed from the room, according to South China Morning Post.
Angry callers also phoned in to yell at the chief executive in a Q&A radio show, which Leung participated in to explain the policy address he gave the day before. He had proposed greater engagement with mainland China on education issues by helping Hong Kong students join mainland study programs at least once in primary school and once in secondary school. But listeners were not happy with Leung's idea. "I also hope that my kids can go to Britain, not just to mainland China ... and not [have to compete for school places] with kids of mainland Chinese mothers," said a Ms. Ho who phoned in. She questioned why the government is encouraging pupils to visit mainland China while Leung's children graduated from British universities, according to the South China Morning Post.
The University of Hong Kong polled 640 residents Wednesday on Leung's policy address, and 35 percent said they were not satisfied, 30 percent said they were, and 24 percent said they were undecided. "He didn't really address those key issues, especially for the young people – they're concerned about their employment, housing and future," said Albert Chan Wai-yip, a legislator from the People Power party, according to Channel NewsAsia. "But the government only provides money to go visit China."
© Copyright IBTimes 2022. All rights reserved.