How Apple Inc. Could Become The World's First $1 Trillion Company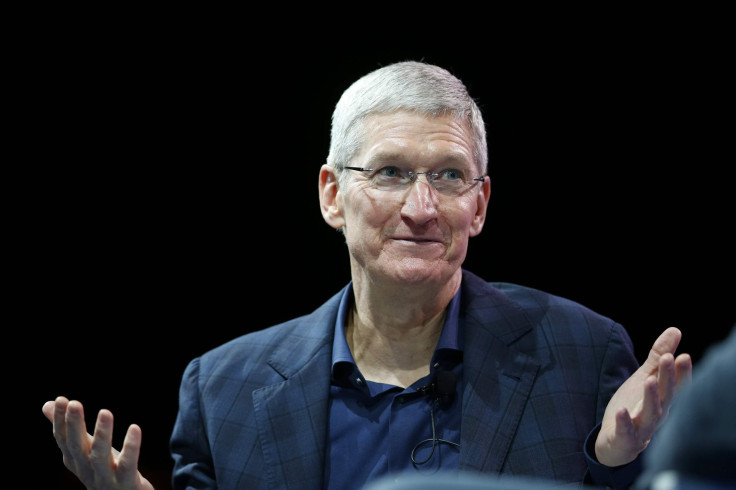 Apple's market cap passed $700 billion for the first time Tuesday, making it roughly $300 billion more valuable than the world's next most valuable company, Exxon Mobil. In fact, the company's valuation is so high that it's worth more than Google, Samsung, HTC, BlackBerry, Lenovo, HP, Cirrus Logic, SanDisk, Sony, Broadcom and Pandora Media combined.
Tim Cook has proved a savvy CEO, seeing Apple shares climb 48 percent this year. Already steering the most valuable company in the world, he's poised to see it become the first trillion-dollar company too. What will it take to actually get there?
An iPad renaissance
The Mac and iPhone arms of Apple's business are powerhouses, but iPad sales have been on the decline. People initially thought tablets would replace their laptops, but the devices now serve to augment them, serving as near laptops when one's not easily brought along.
"The iPad is not really going away," said Tim Bajarin, president of Creative Strategies. The major selling point on the iPad's "improvement" lately is that it keeps getting thinner and thinner. This is hardly enough to attract more consumer interest, to make a thin thing thinner still. It needs to appeal to a brand-new swath of potential buyers, such as businesses. Bajarin said that "Apple will be using iPad for enterprise this year."
Apple is on track to sell 71.5 million iPhones this quarter, according to KGI analyst Ming-Chi Kuo. A boom in iPad sales to various companies would certainly help stabilize this barely wobbly leg on the table of Apple's business, making it that much easier to cross the $1 trillion mark.
TV no longer a hobby
Apple long playfully referred to its Apple TV set top box as "a hobby." But this descriptor is no longer valid, as it's sold millions of the things to eager customers. Hearsay abounds at the intersection of Apple and television, and a full-on Apple television set has been rumored for some time.
"[Apple] can't rely on the iPhone as they have done to get to $700 billion, and they need a new product to further dominate the home and consolidate their dominance in terms of premium content and apps beyond the iPhone and iPad on to the TV," said Nick Spencer of ABI Research.
"I suspect that there's a pretty good chance that Apple is going to [...] bring a better experience to television," said Bajarin. He's skeptical about an Apple-branded television set, though: "What makes sense is to deliver greater intelligence [to an existing television] through a more powerful Apple TV box that delivers more content through a better UI."
Whatever Apple plans on the television front, it could potentially become the next must-have gadget and earn them loads of cash.
Become a luxury brand
Apple continues to sell premium products with high margins while still seeing tremendous demand. By tapping into a wealthier, higher-end clientele, they can find the next source of growth. Selling a gold Apple Watch for $5,000 is a nice opening move in this department.
Middle-class customers are hardly being ignored, however. Apple's mid-tier pricing is still getting aggressive, as it consistently reduces prices on previous generations of gadgets when it releases a new line. A 16 GB iPhone 5S with contract, for example, is just $99. The base model of the iPad Mini is currently down $80 from its launch price to $249
Health care offerings?
Apple has already made big steps into health care and fitness tracking, and the Apple Watch is sure to be an important piece of that puzzle. True to Apple form, its specific plans in this arena are unknown, but the Apple Watch will have some Fitbit-like systems for measuring steps taken in a day and gauging the distance you jog, things of that sort. Bajarin is bullish on this front: "Five years from now we'll look back at what Apple has done for health care [as one of the most important things it did for the industry]."
If Apple invents the next gotta-have-it health tracker that also happens to be an interface to the rest of its ecosystem, then it's only good news for the company.
Strictly by the numbers
Apple's stock is currently sitting at $118.54 per share, and David Zeiler points out that it would need to climb to $167 for the company to breach $1 trillion. Put another way, Apple would need to earn $55 billion to $66 billion in net income, shattering records in the process.
"In some ways [Apple has] been aided by the weakness of their competition and the vulnerability of the Android ecosystem, but that just proves that their strategy of ecosystem ownership is a winning a clearly differentiated strategy, even in the face of commoditization," said Spencer. "That said, the growth at the top end of the market is slowing, but Apple has it largely to themselves, especially now that they have a phablet." Apple's state of the union is as strong as it's ever been. By no means does it need to hit that $1 trillion mark, but it's closer to doing so than any other company in the history of companies, so spectator breath is bated.
Bajarin finds the notion doubtful. "I think it is a bit unrealistic. First of all, we've never had a trillion-dollar company, and second, I don't think Apple will actually go after the market to achieve those kinds of numbers."
Ultimately, Apple will only do what it has always done — create consumer tech products so desirable that lines wrap around the block on launch dates that approach the vibe of a red-carpet event.
© Copyright IBTimes 2022. All rights reserved.
FOLLOW MORE IBT NEWS ON THE BELOW CHANNELS