How eHarmony Stays Relevant In The Age of Tinder And Match Group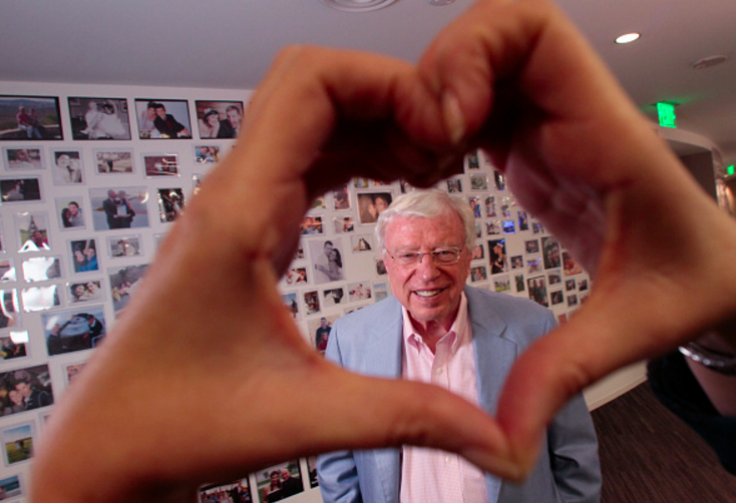 LOS ANGELES — Startups are known for their pivots, but some stick to their principles, even in the face of generational and technological change.
Take, for example, eHarmony: "It was a group of people who said, 'We know how to do this one thing. If the world is not interested in this one thing. We will go out of business,' " Grant Langston, eHarmony's vice president of brand marketing, told International Business Times inside eHarmony's new headquarters in the Westwood neighborhood of Los Angeles.
That "one thing" was match people for serious relationships online with a lofty goal to achieve marriages and drive divorce rates down. When the founders pitched the idea in the early 2000s, people would laugh. At that time, the online dating industry was primarily for "having sex very quickly with someone you don't know very well," Langston said. If you wanted a relationship, you went to family, friends or perhaps church.
But 16 years later, eHarmony is one of the leaders with an estimated 11.9 percent of the $2.4 billion online dating industry, according to IBISWorld. However, it is David to the Goliath of the publicly traded Match Group, the behemoth that owns Match.com, PlentyOfFish, OkCupid and only recently, a mobile app that has turned that dating world upside down, Tinder.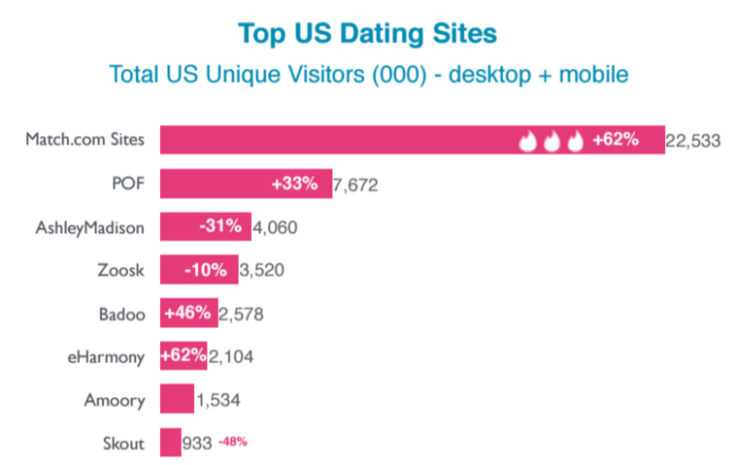 The brand is also extending beyond the dating world. Next month, eHarmony launches Elevated Careers, a shot at matchmaking for the job market. It may not be the last expansion. "Every problem that seems to result in poorly matched people, we want to be there," Langston said.
Back in the early days, there was talk of acquisition from Match Group, but eHarmony chose independence, and it still is. Instead of being under the watchful eye of Wall Street, eHarmony remains privately held and majority-owned. When asked what they define themselves by, Langston highlighted more than 1 million marriages and a divorce rate of less than 4 percent. That's far less than the 40 percent rate in the U.S.
That single-digit divorce rate was the company's founding mission, but it's not stopping there, and in fact, eHarmony's customers have been changing. In recent years, the site has attracted a younger audience. Historically, eHarmony's average user was between 33 and 54 years old. Yet, for the last five years, the company has got the attention of more seniors. In the last two years, the 20-somethings have become a bigger part of the business.
It may be, in part, a Tinder effect; the app allows users to arrange meet-ups based on swiping through photos. Poor experiences on Tinder can drive more people over to other options. "For a lot of people that think they have no interest in online dating, Tinder is a magnet," Langston said.
Whoever is coming receives the same eHarmony experience. The company does have landing pages targeted for different demographics and a separate app, called Compatible Partners, for people interested in the same sex. However, the experience is generally the same with a common goal to create serious, long-lasting relationships.
"What I see from the outside is they're a relationships company. Match is a relationship company, but I think eHarmony picks up where Match leaves off," said Mark Brooks, an online dating app consultant.
The long-term success of the matches, and therefore, of eHarmony stems from three factors, Langston said: "The questionnaire is long; that keeps the creeps away. We charge the most; that keeps the people who aren't serious away. We also are doing pretty good matching based on research."
But the eHarmony experience is not loved by everyone. In fact, the app has one of the lowest overall ratings on app stores, according to sentiment analysis on reviews pulled by and analyzed by Applause. It costs a hefty $59.99 per month to join, which ads another barrier to the less committed.
Still, eHarmony is witnessing a positive trajectory in its mobile audience. In 2016, registrations through mobile have accounted for 66.4 percent of signups. In 2011, mobile accounted for 19.2 percent of signups. The company has reached its highest number of subscribers at 778,000 in 2015.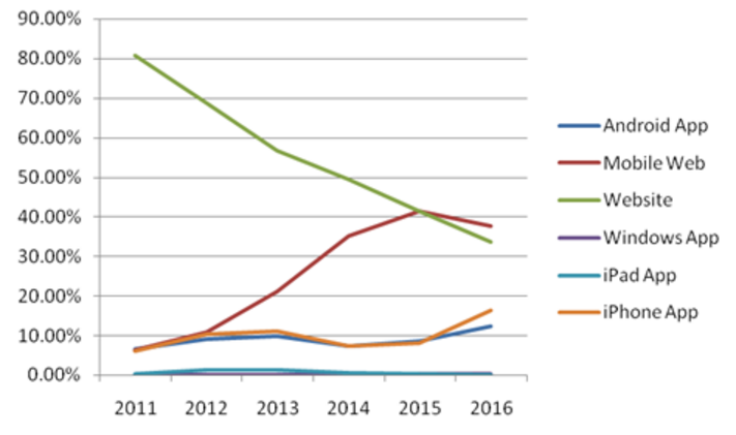 With Tinder, a name, an image and a swipe on your smartphone can lead to a match. With eHarmony, members need to answer to hundreds of questions, and if you don't pay up, you don't see any images. Tinder has branded itself to be a matching experience like when you see someone across the room in a bar. But eHarmony is working to match for relationship satisfaction — and love.
EHarmony users are "building a résumé for the job they really want," said Chris Monberg, co-founder and chief technology officer of Boomtrain, a machine learning company. He cautioned against defining love based on listed desires and not actions.
Jonathan Beber, research scientists at eHarmony, outlined how the company optimizes connections and defines the matching algorithm. "We are trying to predict how happy and satisfied with their relationships these users would be. But does happiness and satisfaction really define love?" Beber wrote in an email.
Social media will also become more integrated into the matchmaking experience with the future addition of Facebook data to the algorithm later this year. That data currently fuels Tinder's algorithm, by matching interests and mutual friends, but has so far been left out of eHarmony's system.
Beber defined love by three aspects — commitment, passion and intimacy — but not every match may have all three. The definition and research derives in part from founder and CEO Neil Clark Warren's expertise in the matter. With its decade-plus of experience, eHarmony is not a young player in Silicon Valley, or the larger dating industry of Los Angeles. And at 81, Warren is far much older than other leaders in the field like Tinder's 29-year-old CEO, Sean Rad.
But Warren's company is seen as still able to innovate. At this year's iDate, an internet dating conference, eHarmony was awarded the title of most innovative company. That's not to say there haven't been stumbles. When eHarmony tried a marketing push for the casual dater, retention rates, subscriber numbers and time spent on the site sank.
"There were a couple of years that the company was sliding because we had no business anymore. No community," Langston said. Warren was in retirement at the time, but he came back to retake the CEO role in 2012.
Venture capitalists hoped for success back in 2004 when eHarmony secured $110 million in funding. "They had the healthiest metrics. They had a clear differentiation. Their retentions were through the roof," Brooks said.
Even so, some of their greatest successes come from one of the most antiquated mediums: commercials on broadcast television. EHarmony started with radio ads, then added TV. While the first spend was about $400,000, they saw all the money return.
About 70 percent of eHarmony's subscribers come from TV.
TV doesn't seem to be going away any time soon for eHarmony. "I don't think we make any bones about saying I would love to not spend money on TV. I would love to diminish our spending on TV, but TV people just come into our product with a velocity that we don't get from any other channel," Langston said.
And while they're growing the digital ad presence, they aren't spending time everywhere. Despite the growing audience of millennials, eHarmony hasn't taken to one of the most popular apps in the age group: Snapchat. "It takes so much bandwidth to be on it and to constantly pump it out for something that expires. It's strategically left out," said Kerianne Mellott, director of social media at eHarmony.
However, eHarmony's social presence extends to Facebook, Twitter, Instagram, Pinterest, Google+ and YouTube. With social media, Langston, who founded the company's social presence, encourages Mellott to stick to the brand message but also to be "absurdist." "I can't be absurdist for my audience on TV," he said. "They're too square."
© Copyright IBTimes 2022. All rights reserved.
FOLLOW MORE IBT NEWS ON THE BELOW CHANNELS