How To Enable Lockdown Mode On iPhone For Extra Security
The Lockdown mode is a feature available on Apple iOS 16 devices designed to help protect users against sophisticated cyberattacks. Once the feature is enabled, restrictions are placed on apps, browsing, and phone functions making it less convenient for the average person but a helpful measure for more high-profile users.
"While the vast majority of users will never be the victims of highly targeted cyberattacks, we will work tirelessly to protect the small number of users who are," Apple said in a press release. "That includes continuing to design defenses specifically for these users, as well as supporting researchers and organizations around the world doing critically important work in exposing mercenary companies that create these digital attacks."
To help ensure the security of its new feature, Apple is offering a bounty of up to $2 million for any flaws that researchers can find in the new mode.
Here's everything you need to know about the lockdown mode and how to activate the feature on your iPhone:
How does lockdown mode work?
The Lockdown mode isn't just designed to protect you from potential threats - it also blocks message attachments (aside from images) and link previews and disables web technologies like just-in-time (JIT) JavaScript compilation, unless they're from a trusted site. By taking these precautions, Lockdown mode offers the user both peace of mind and enhanced protection against the dangers of the online world.
When switched on, certain features on the iPhone will be blocked to protect the user's privacy. For example, users will not receive any incoming invitations or service requests from Apple services like FaceTime unless they have contacted the caller first. In addition, any wired connections with computers and other accessories will also be blocked when your iPhone is locked.
The security feature is launched with iOS 16, iPad 16, and macOS Ventura. Any iPhone, iPad, or Mac that supports this update will be able to run Lockdown Mode, including the new iPhone 14, 14 Plus, 14 Pro, and 14 Pro Max.
Who should use the lockdown mode?
Lockdown mode on iOS 16 can be a useful tool for people who find themselves in situations where they need to be extra careful about their security. This includes politicians, journalists, and other public figures who may be at risk of being targeted by hackers. For example, if you're a journalist working on a sensitive story, Lockdown mode can help keep your information safe.
How to enable the lockdown mode?
The Lockdown mode can be enabled by going to the Settings app, tapping on the "Security & Privacy" option, and then selecting the "Lockdown" option. This will ensure the device is secured and only trusted apps and services are allowed to access your data.
The user will be given a comprehensive list of features that will be inaccessible while the mode is enabled, so please make sure you are content with that before proceeding. The feature will remain activated until manually deactivated.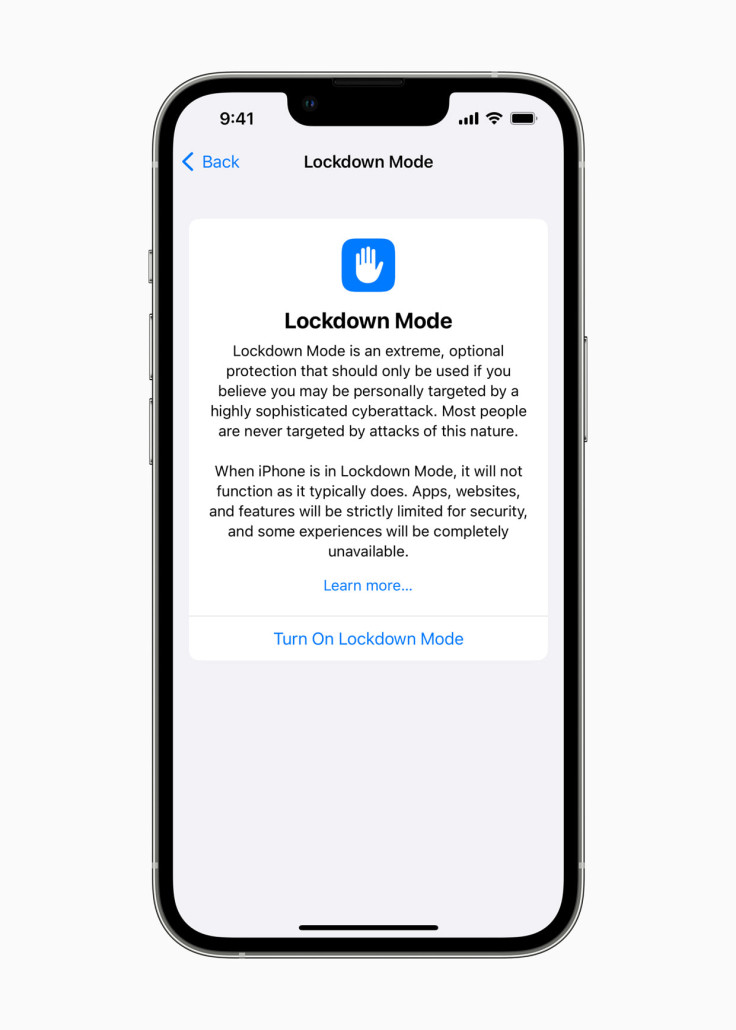 © Copyright IBTimes 2023. All rights reserved.