How To Make Christmas Cookies 2016: Easy Recipes To Spread Holiday Cheer All Through The Season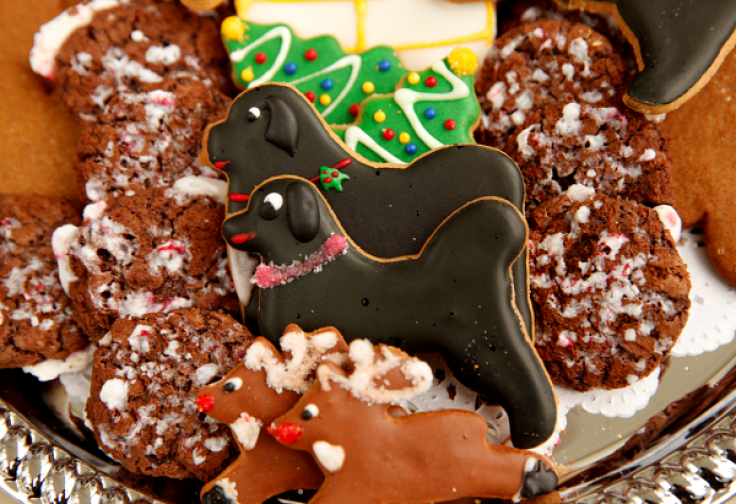 Presents aren't the only thing to look forward to during the holiday season — the sweet treats and festive desserts are also highly anticipated at Christmas time. It's no secret that cookies are Santa's favorite, so here's a list of a few fun and interesting takes on holiday cookies that may entice Kris Kringle to leave a few extra gifts under the tree.
Check out the holiday cookie recipes below:
Funfetii Shortbread Bites: Rub butter over a 13-by-9-inch baking dish and line with two parchment paper sheets. In a bowl, mix one cup of salted butter with 2/3 cup of granulated sugar with an electric mixer until well combined. Adjust the mixer setting to low and slowly add 2 1/4 cups of all-purpose flour. Once the mixture is combined, add in 2 1/2 tablespoons of nonpareils sprinkles. Press dough evenly into the prepared pan and chill in the refrigerator for about 20 to 30 minutes, after which lift the dough from the pan using the parchment paper and cut the dough into 1/2-inch squares. Add more sprinkles if desired, and then transfer the cookies from the parchment to an unbuttered baking sheet. Bake in an oven set at 350 degrees for 8-12 minutes.
Christmas Light Sugar Cookies: Mix three cups of all-purpose flour and 1/2 teaspoon of kosher salt in a bowl. Using an electric mixer on medium speed, mix two sticks of unsalted butter, 2 ounces of cream cheese and one cup of sugar in a separate bowl for 2-3 minutes, adding in a large egg and a teaspoon of almond extract and 1/2 teaspoon of pure vanilla extract. Gradually add in flour mixture until well combined. Divide the dough in half and flatten into disks before wrapping in plastic wrap and chilling for at least an hour in the refrigerator. While the oven is heating to 325 degrees, line two baking sheets with parchment paper. Roll one of the dough disks on a floured surface until dough is about 1/4 inch thick. Cut cookies with a 3-inch bulb-shaped cookie cutter and make a hole in the top of each cookie with a skewer. Repeat the steps for the second dough disk, and then bake cookies for 11-12 minutes. After allowing the cookies to cool for about 5 minutes, spread a thin layer of white vanilla frosting, decorate with desired candy and thread licorice through the cookie holes for the wire.
Biscuits and Jam Cookie: While the oven is preheating to 425 degrees, line two baking sheets with parchment paper. Pulsate 3 1/2 cups and 2 tablespoons of cake flour, 1/2 cup of granulated sugar, 1/2 cup of packed light brown sugar, two tablespoons of baking powder, one teaspoon of baking soda and one teaspoon of kosher salt in a food processor four to six times. Add in two sticks of cold, unsalted butter and one cup of large unsweetened coconut flakes and pulse to combine about 15 to 25 times or until mixture looks like coarse meal. In a separate bowl, whisk together a large egg and 1/2 cup of heavy cream, leaving two tablespoons of the mixture to the side. After mixing, add remaining egg mixture to the butter mixture and pulse again 20 to 30 times, or until the mixture begins to pull away from the bowl. Spread dough onto a lightly floured surface and knead together four to six times. Pat dough into 1/4 inch thickness and cut cookies using a 2 1/2-inch cookie cutter. Brush one side of the cookie with the leftover egg mixture and sprinkle with raw sugar. Place cookies one inch apart on the prepared baking sheets and let bake for seven to nine minutes. After cooling, spread 1/2 cup of strawberry jam on half of the cookies and the top with the remaining cookies.
Milk And Cookie Shots: Preheat oven to 350 degrees. Grease the cups of a muffin tin and fill each one with one tube of premade chocolate chip cookie dough (Nestle or Pillsbury raw cookie dough for example). Bake cookies for 10 to 12 minutes or until they are lightly golden. Immediately after removing cookies from the oven, use the bottom of a shot glass to press down the center of each cookie. Set tray aside and allow cookies to cool for 20 minutes. In a bowl, combine one cup of semisweet chocolate chips with two tablespoons of coconut oil or butter and microwave in 25-second intervals, stirring in between, until the chocolate chips are completely melted. Line each cookie dough cup with the melted chocolate and place in the refrigerator to cool for about 15 minutes. In a shaker filled with ice, combine one part Baileys Irish Cream with one part milk, shake vigorously and then pour the drink into each cookie shot cup.
© Copyright IBTimes 2023. All rights reserved.